GRANDVIEW — After surviving (dominating) one playoff rematch, the Grandview Zebras are set for another rematch when they square off against the East Chambers Buccaneers in the Class 3A Division I Region III area playoffs Friday in Brenham.
Grandview blasted Rockdale, 42-7, in the bi-district round last week in a rematch of last year's bi-district meeting. And now the No. 2-ranked Zebras (10-1) and Buccaneers (10-1) will meet in the postseason for a second consecutive season and the third time in five seasons.
Last year, Grandview used a gutsy two-point conversion in overtime for a 36-35 win over East Chambers in the state quarterfinals.
"I expect it to be like the first two times we've faced them," Grandview coach Ryan Ebner said. "They're a well-coached team. Coach [Russ] Sutherland's been there every time we've played them. He's got prior knowledge and a lot of film on us like we've got a lot of film on them. There are similarities with the two of us from last year, then there's things that have changed. I just know they'll play hard and they'll be well-coached."
With last year's overtime battle an example of how good both teams were last season and likely are this season, it's a bit of a super-sized second-round matchup, but that's just how the brackets worked out this season with East Chambers winning the District 12-3A title while Grandview finished second in District 9-3A.
"The coach from Rockdale and I were talking earlier, and you look across the state and there are certain good teams that end up getting knocked out early by each other year in and year out," Ebner said. "It's just kind of the nature of the beast. That's what the situation is here. It's fun to watch two good teams go head to head, but at the same time you know a really good team is going home this early, a team that could do some damage down the road."
In last year's win over East Chambers, Grandview turned the ball over six times and overcame a 14-point deficit. But what allowed the Zebras to stay in the game and win was East Chambers committed five turnovers of its own. Ebner said they've got to take better care of the ball this time around.
"It's like any game — you can't have a bunch of turnovers and expect to have a chance to win," Ebner said. "The only reason we had a chance to win last year was because they had a bunch of turnovers as well. That's definitely a point of emphasis on our side and I'm sure theirs as well."
One big difference in the matchup from last season will be at quarterback for the Bucs as last year's starter, Kam Smith, is out with injury, with freshman Jacoby Perrault filling in. East Chambers' offense operates out of the spread and can line up under center in a Wing-T formation, but no matter the alignment, the Bucs want to run the ball.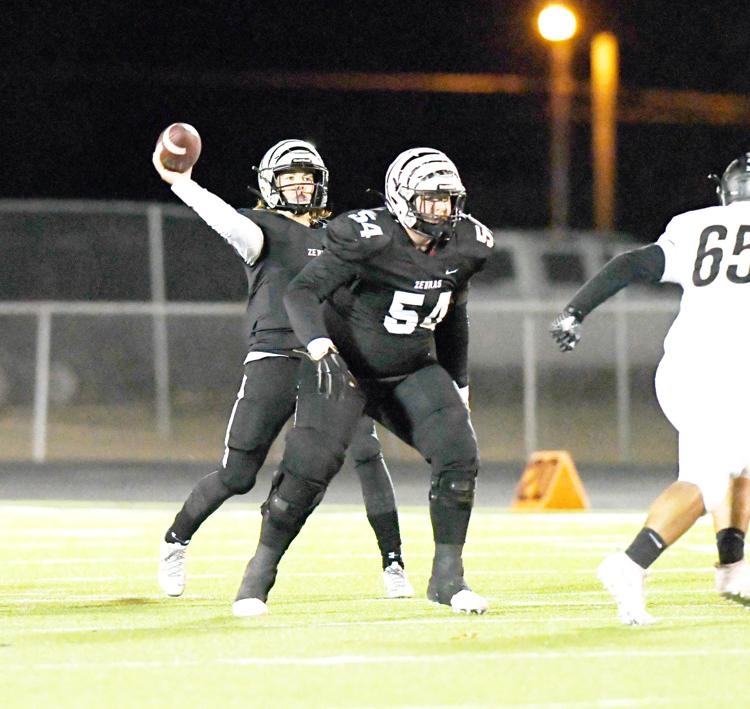 "They're going to do a lot of misdirection and motion, so you'll have to balance out your defense and then take the keys they give you," Ebner said. "We have to be real conscience of where No. 4 and No. 21 are at. But at the same time, you can't relax on the other guys and just get locked onto those two guys, because the other guys they have are capable of scoring as well."
East Chambers is led by running backs Nolton Shelvin (No. 21) and Ernest Ceasar (No. 4) on offense. Shelvin has 1,340 rushing yards and 23 touchdowns on 105 carries while Ceasar has 1,115 rushing yards and 16 touchdowns on 94 carries. The duo averages 12.3 yards per carry.
"That's who they're trying to get the ball to," Ebner said. "They're both very similar. They're shorter guys but they're very quick, both have good open-field speed, both can catch the ball out of the backfield. They're slot types playing the tailback position. They're interchangeable and they do a good job of getting them on the field at the same time. But they also have three or four good receivers and a couple of good tight ends."
Grandview's defense, which allows just 12.6 points per game, throughout this season has been a true team effort, with nearly every player making impact plays every few weeks. Clay Hale provided an enormous impact defensively last week, while others such as Antonio Arellano, Austin Boyd, Dametrious Crownover, Cade Fedor, Elijah Golden, Dane Jentsch, Michael Lehnhardt, and Matt Lehnhardt, among others, have each come through big on a consistent basis.
On the other side, East Chambers boasts a stingy defense of its own; the Buccaneers have allowed just 11.4 points per game this season and have four shutouts on the year.
"They have a lot of very aggressive players on that side of the ball," Ebner said. "They're well-coached, they fly to the football and they've got athletes that can cover you. You can tell they're prepared. They do a good job of running to the football and being very aggressive and tackling well."
Linebackers Isaiah Hart and Christian Simien are the Bucs' leading tacklers, and Ebner said they're all over the field.
"They do a lot of stuff with those two guys," he said. "They move them around, lots of blitzing with them, and they're good at it. They're both very aggressive players with high motors who play with a lot of intensity. They're definitely players we have to be on the lookout for."
Jentsch has matched last year's impressive sophomore season by guiding the Zebra offense to 41.3 points per game along with stellar play from Boyd, Tremayne Gullatte, Golden, and an offensive line that has been faced with multiple hurdles, but overcome each one.
With the type of athletes East Chambers has in the form of Shelvin and Ceasar, Ebner said special teams will be a key area in the matchup as well.
"It's a little bit like it was last week with Rockdale and what they could do on special teams," Ebner said. "You don't want to give them many opportunities with a bunch of grass in between you and them. We're working on limiting those chances but at the same time finding ways to get down there and be good tacklers."
Kickoff is set for 7:30 p.m. Friday from Brenham's Cub Stadium.
The winner between Grandview and East Chambers moves on to the third round and will face the winner of No. 5 Diboll and No. 7 Cameron Yoe.