GRANDVIEW — Through two rounds, the Zebras have more than been up to the test in defending their state title, but No. 2 Grandview will face its toughest test yet Friday vs. No. 8 Cameron Yoe.
The Zebras (11-1) and Yoemen (11-1) are set for a 1 p.m. kickoff Friday from Waco ISD Stadium in a Class 3A Division I Region III playoff battle between two of the more successful Class 3A programs this decade.
Grandview has wins of 42-7 over Rockdale in bi-district and 43-29 over East Chambers in area, while Cameron Yoe has playoff victories of 56-7 over West in bi-district and 21-6 over previously undefeated and No. 5-ranked Diboll in area.
This showdown features two teams that have experienced tremendous success over the last several seasons. Grandview, the 2018 state champ, is in the third round of the playoffs for the fourth time in five seasons, and Cameron Yoe boasts one of the more impressive résumés across the state this decade as a three-time state champion from 2012-14.
"I think it's going to be one of those big games between two solid programs," Grandview head coach Ryan Ebner said. "It's a good matchup. It's one of those matchups people will be interested in. We're hoping for a good crowd. You know both teams will be prepared to play and be fired up. The story of this year is pretty similar for both of us. We both got second and both district opponents are possibly waiting for you in the next round. We're on similar paths. But it's a matchup of two teams that are going to be well-coached and prepared and the kids will be fired up to play. I think it will be a really good game."
"Everybody's good at this time of the year. You just prepare and make sure you're ready to go come Friday afternoon."
Cameron Yoe has out-scored opponents this season by an average of 30.3 points per game as the Yoemen average 47.3 points per game offensively and allow 17 points per game defensively. 
Grandview has out-scored opponents this season by an average of 27.4 points per game as the Zebras score 41.4 points per game offensively and allow 14 points per game on defense.
Cameron Yoe's lone loss of the season was a 51-38 defeat at the hands of Troy on Sept. 27. Grandview's lone loss of the year was a 26-21 defeat Nov. 1 at Whitney. Both of those losses came to the two teams (Troy and Whitney) squaring off in the other Class 3A DI Region III battle.
The 29 points East Chambers scored last week were the most the Zebras have allowed all season, but Grandview will face arguably a tougher offense to defend this week vs. a balanced Cameron Yoe attack.
"They're pretty balanced overall," Ebner said. "They're pretty basic and simple, and they're just good at what they do. They're going to take a look at the field offensively and see what you're lined up in and try to take advantage of the space or alignment. They'll execute. There's not a ton of plays they're going through, it's just how well-coached they are and how athletic they are and how well they execute."
The Yoemen are led by lethal duos both at the running back and wide receiver positions while senior quarterback Braden Brashear distributes the ball to those four key players. Brasher has completed 67 percent of his passes for 2,834 yards with 35 touchdowns against seven interceptions (according to stats on MaxPreps).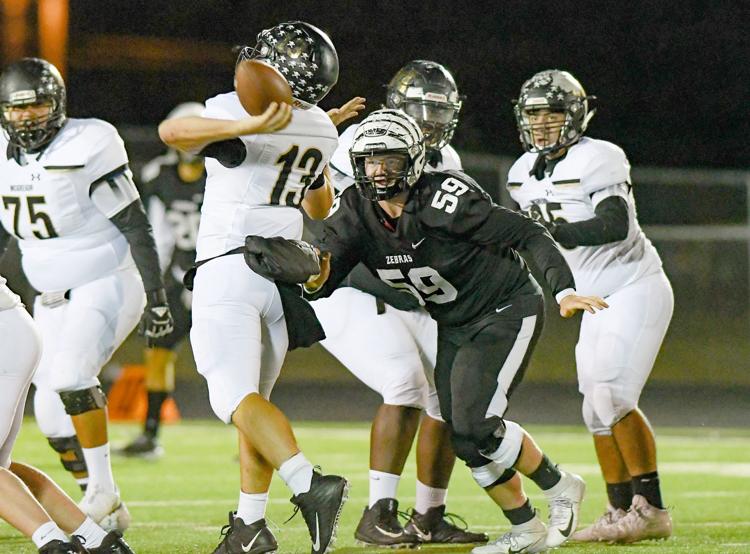 "[Brashear] has done a good job of getting the ball to their playmakers' hands," Ebner said. "He does a great job of taking the coach's plan and executing it. He's a good player. He's a coaches son."
Cameron Yoe running backs James Debose and Nico Vargas have combined for 2,044 rushing yards and 30 rushing touchdowns while receivers Kobe Young and Za'korien Spikes have combined for 1,983 receiving yards and 25 receiving touchdowns on 94 receptions.
"We'll have to be good tacklers," Ebner said. "We'll just have to make sure we're sticking to our fundamentals and usual stuff — using our leverage and make sure we're tracking and do the things to get their guys to the ground. Other than the usual stuff, we have to give them different looks. You can't give the same look over and over and over or they'll just pick you apart. So we'll have to do a good job of mixing things up defensively and executing them."
While Grandview's defense gave up a season-high in points last week, it was also one of the Zebras' top rushing performances offensively as senior running back Tremayne Gullate rushed for 234 yards and two touchdowns on 26 carries while quarterback Dane Jentsch added 76 rushing yards and two touchdowns on 11 carries.
A repeat of that type of performance would go a long way for the Zebras vs. Cameron Yoe's defense.
"Defensively, they line up in a 3-4 and just run around and make plays," Ebner said. "You've got to do a couple things here and there to exploit what they do and you have to execute."
The Yoemen are led defensively by Vargas at linebacker (108 tackles) and Eduardo Gil at defensive line (60 tackles, 21 tackles for loss), but Cameron Yoe's strength on defense is in its secondary.
"Nos. 25 and 76 at linebacker and defensive line stand out," Ebner said. "But their secondary as a whole does a really good job of working together. They're very athletic. We're going to have to do a good job of reading what they're giving us between Dane and the receivers and make sure we're executing it the right way."
Cameron Yoe has recorded 18 interceptions on the season, led by four from Young and three from Calvin Stewart (who also has six passes defensed).
While turnovers always play a role in any game, both of these teams have excelled in winning the turnover battle this season.
Grandview boasts a plus-14 turnover margin (25 takeaways, 11 turnovers) while Cameron Yoe has a plus-nine turnover margin (25 takeaways, 16 turnovers).
"For both teams, you don't want to lose the turnover battle," Ebner said. "It's a hard enough game to win, but it's easy to lose if you're giving away possessions. Every possession taken away is a score taken away. You don't want to end any drive in a turnover. You want to do everything you can to end a drive with some points on the board. As always, no matter who you're playing, turnovers are a big deal."
In addition to winning the turnover battle, despite the immense talent at the skill positions on both sides, Ebner said he believes the game will be won by whichever team controls the line of scrimmage.
"They've got some size that is pretty equal to ours in the trenches," Ebner said. "They play really, really hard up front on both sides. Their offensive line does a real good job of working as a unit with their footwork and the steps they take. Their D-line does a great job of getting after it and playing hard. This game will be won or lost down there."
In the end, if the Zebras can play their style of football, Ebner said he likes their chances to move on.
"It's always going to be business as usual," Ebner said. "We're going to do the things we know we can control and handle, and then have a plan for adjustments if things aren't going right. But it's always about taking care of the name on our chest and doing what we know we're supposed to do. We're not looking to go out there and reinvent the wheel; we're going to play Grandview football. We're going to take it one play at a time, give our best on each play, and then move on to the next play."
The last time Cameron Yoe and Grandview met came in the 2015 playoffs. It was also a third-round game held at Waco ISD Stadium, where the three-time defending state champion Yoemen knocked out the Zebras with a 42-28 win in a game that was closer than the final score indicated. 
In that meeting, the game was tied 28-28 with under 7 minutes remaining when the Yoemen took a 35-28 lead. On the ensuing possession, Grandview quarterback Zach Smith was wrapped up and pushed back nearly 10 yards before he lost the ball; surprisingly, no forward progress was called on the sack as the officials gave possession to Yoe, which then scored a touchdown five plays later to put the game out of reach with 2:36 left.