GODLEY — The District 4-4A Division II runner-up Godley Wildcats received the second-most representation in all-district voting with 16 players earning honors across superlative awards and first- or second-team accolades.
Godley trails only district champion Glen Rose's 21 all-district selections, as the Tigers received four superlative awards in addition to nine first-team and eight second-team selections.
Despite finishing in second place with its lone loss in league play to Glen Rose, the Wildcats received only one superlative award. Aside from that, Godley coach Curtis Lowery said he thought his Wildcats were well-represented in all-district voting.
"I was pleased with our representation," Lowery said. "I thought we had strong candidates for first team. Any time you come in second place in district, it's hard to get those superlatives. I think we had strong candidates for superlatives, but that's the way it is if you don't win district. But I thought our kids had a pretty good showing."
Representing Godley with the Wildcats' sole superlative award is sophomore Jesse Torres as the league's defensive newcomer of the year.
"Jesse played D-line and linebacker for us," Lowery said. "He was a great player for us. He was very multiple. He's a big athlete that can play on the line of scrimmage or can play linebacker. He made big plays for us. As a sophomore to step in and get a superlative like that, it's a pretty special deal. We look forward to seeing the things Jesse can do in the future. He can play offense for us, too. He's a very versatile athlete."
Torres had 66 tackles, nine tackles for loss, two forced fumbles and two fumble recoveries for the Wildcats.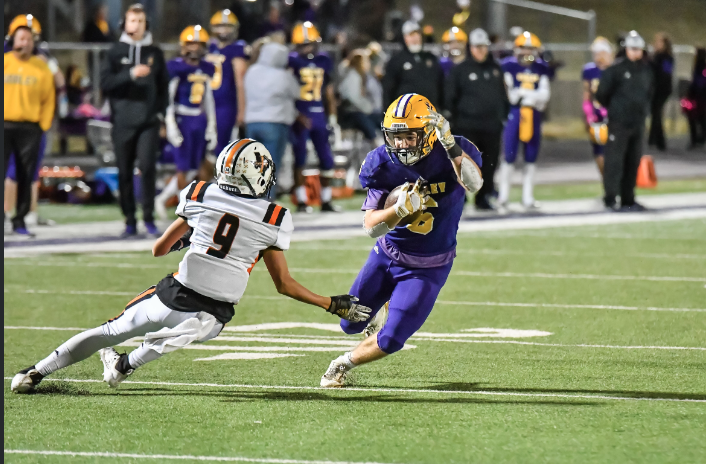 Godley junior running back/linebacker Kolby Bartlett received first-team honors on offense and defense to headline the Wildcats' first-team recipients.
"Kolby is a true workhorse," Lowery said. "He played every snap on offense and every snap on defense and didn't rest on either side of the ball. He's a tremendous football player. He's got a huge heart and loves the game."
Bartlett rushed for 1,405 yards with 12 touchdowns on 199 carries and added 21 receptions for 231 yards and three touchdowns on offense. Defensively, Bartlett registered 84 tackles with nine tackles for loss.
Joining Bartlett as a first-team offense recipient are three other skill position players on the Wildcat offense in junior quarterback Ethan McBrayer, junior wide receiver Brenen Hawkins, and senior wide receiver Caden Midkiff.
In his first year in Godley, McBrayer completed 159-of-276 passes for 2,738 yards with 33 touchdowns and just five interceptions to go along with 341 rushing yards and eight touchdowns on 52 carries.
"I think he was definitely deserving of first-team all-district accolades," Lowery said. "With Ethan coming in being his first year in this system, he'll just get more comfortable in our system. I thought he did a great job this season. Ethan is a workhorse, too. He does a great job of preparing for games. I look forward to seeing what he does in the future."
Hawkins led the Wildcats with 50 receptions for 963 yards and 14 touchdowns while Midkiff hauled in 45 catches for 714 yards and 12 touchdowns as Hawkins and Midkiff (along with Parker Priddy) formed a lethal receiving corps for McBrayer.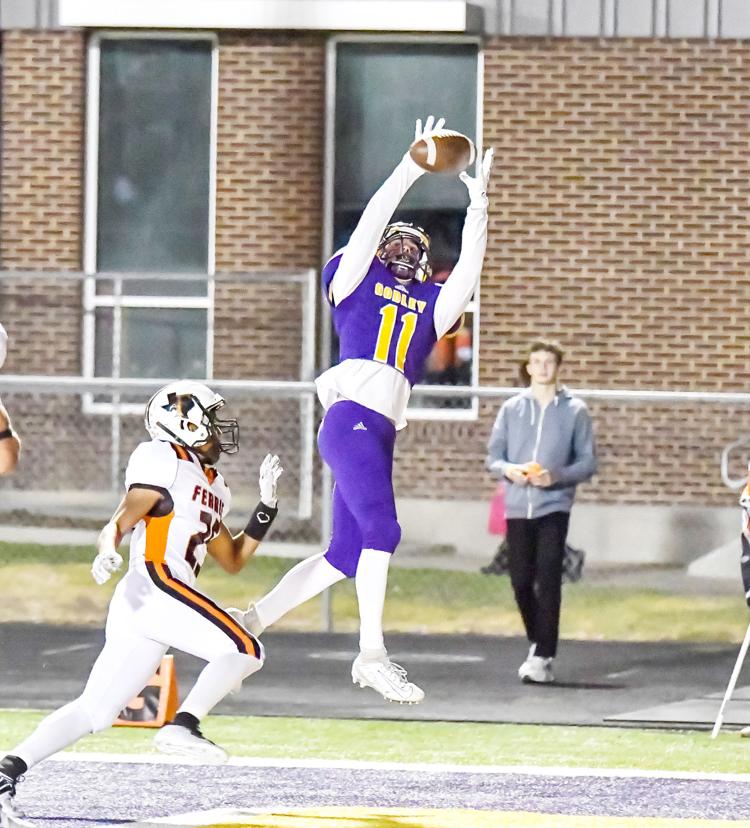 "To have two big targets like that on the outside, guys that will go up and make plays, they make Ethan's job easier," Lowery said. "He just has to put the ball in the vicinity and they go make plays. They did a good job of that all year long and they're both very deserving of first-team all-district."
In addition to Bartlett's first-team nod on defense, the Wildcats received three more first-team defensive selections in senior defensive end Landon Stevenson, junior defensive tackle Collin Black, and junior safety Parker Priddy.
Stevenson was a force to be reckoned with up front as he led the Wildcats with 106 tackles and 22 tackles for loss with two sacks, three fumble recoveries, two forced fumbles, and one interception.
"Landon's a playmaker," Lowery said. "It's not always easy as a defensive lineman to be a playmaker but he's the guy that anchored our defensive line. Whenever we needed a big play, Landon always seemed to come up with a big play in a big situation. We're going to miss Landon."
Black's play in the interior of Godley's defense was key, and, despite being consistently double-teamed, he recorded 66 tackles with six tackles for loss and two sacks.
"It's a really good honor for Collin because he was double- and triple-teamed all season long," Lowery said. "Whenever you're double- and triple-teamed, that allows your linebackers and other linemen to go make plays. He's a dominant player and it takes more than one to block him and that's what you need at that spot."
Priddy was all over the place for the Wildcats as a key contributor on offense, defense, and special teams, but his presence in the secondary on defense earned him first-team accolades on that side of the ball. Priddy had 64 tackles, six tackles for loss, three interceptions, four passes defensed, and one forced fumble and one fumble recovery.
"Parker is an emotional player," Lowery said. "He gets up for games and he plays with a lot of intensity. He played well on both sides of the ball. He's an all-state safety. He did great things for us. He's our quarterback in the secondary there."
Leading Godley's all-district second-team honors are offensive linemen Colton Rasco, Caleb Handy, and Cody Miser.
"This is the only time if you're an offensive lineman that you want to be recognized," said Lowery, a former offensive lineman at Stephenville and Texas Tech. "Usually if you're recognized in the middle of the season it's a negative thing. Our guys did a great job. We had a lot of guys playing out of position there. Our starting offensive line only played the first game and the 11th game of the season together. That's the only time we played with our starting offensive line. So for three of them to get second-team all-district, that's pretty good."
Other second-team all-district selections for the Wildcats include defensive lineman Tim Zamira, linebacker Josiah Caro, linebacker Mario Hernandez, and safety Joe Gutierrez.
Venus received five first-team selections in wide receiver Luke Schaefer, wide receiver Pla Shee, linebacker Wyatt Lucas, defensive lineman Aldo Tamayo, and offensive lineman Ray martin. The Bulldogs also garnered four second-team selections in linebacker Mark-Anthony Rivera, utility Blane Parks, running back Andrew Handlin, and wide receiver Ismael Lucio.
Glen Rose junior quarterback/safety Austin Worthen was voted the district's most valuable player, Glen Rose senior wide receiver Braylen Meador garnered offensive MVP, Glen Rose senior linebacker/tight end Ricky Douglas was utility player of the year, and Glen Rose junior defensive end Cory Aper was named lineman of the year.
Hillsboro senior safety Jaace Miles was the district's defensive MVP, Ferris sophomore kicker Victor Pablo was voted special teams player of the year, and Ferris sophomore guard Hayden Hartman was the offensive newcomer of the year.