GODLEY — Every time the Godley Wildcats take the field this season, senior defensive back Clayton West makes sure to soak in every moment because a little more than a year ago he was unsure what his future held.
On July 5, 2019, West was involved in a life-changing incident when he was accidentally ran over by a one-ton truck on his family's dairy farm. The result was a severely damaged left leg, which doctors considered amputating.
Not only did the accident nearly take his leg, but as West recalls the accident, he said at one point his head was about a foot away from getting ran over by one of the tires — inches away from potentially losing his life.
After his grandfather rushed him to the Cleburne hospital, West was taken by helicopter to Medical City Fort Worth where he immediately underwent emergency surgery.
"At that point, they were contemplating to amputate my leg or salvage what they could and risk infections," West said. "My doctor later told me it was a coin flip to try and save it or amputate it. After that first surgery, they were going to try to do skin grafts but they said there still was a chance I wasn't going to have this leg from the knee down."
With the uncertainty after the first surgery or two, West said he had a million thoughts going through his head.
"But my first thought was, 'I'm not going to get to play my junior season of football,'" West said. "I was heartbroken with that fear that I wasn't going to get to play football again."
Godley Coach Curtis Lowery said he didn't believe he'd ever see West on the football field again with how extensive the damage to his leg was.
"The injuries were so severe and they called it like a degloving: it took all the muscle, all the skin, all the ligaments up from the knee and pushed it all the way down to his foot," Lowery said. "The bone was exposed. It was pretty severe."
West had five surgeries in a span of nine days — from skin grafts to plastic surgeries to muscle repair surgeries — and he lost 40% of his calf muscle. He even suffered from aftereffects of the injury by having a shortened Achilles as a result of being in a boot that restricted his movement.
"By the time I got out of the hospital, I was wheelchair-bound for a month," said West, who spent 22 days in the hospital. "I started my physical therapy the middle of August and I immediately started grinding trying to get what I could out of it. I didn't know if I would be able to play football again. I talked to my surgeon and he said I wouldn't have the strength I had before but he said it's amazing how the human body can compensate for injuries like this."
After that discussion with the doctor, the comeback — in West's mind — officially started.
"At that point, I decided I was going to try as hard as I can," West said. "I've played football for Godley every year since seventh grade. I never missed a workout or practice before I got ran over. I decided I had come too far and worked too hard to give up on something after an accident I couldn't control. I knew I had to be there for my teammates."
Just as West wanted to be there with his teammates, his teammates were there for him throughout the entire ordeal.
"A ton of people came to visit me: my teammates, every Godley football coach on the entire staff came to visit me," West said. "I can't say enough about how thankful I am to have such a great head coach in Coach Lowery and a great defensive coordinator in Garret Mabry. They're a great group of guys who were so supportive to me."
Lowery said the Godley football program is a family and when one of their family members is hurting, they're there for them.
"We're all in this together," Lowery said. "Good or bad, it doesn't matter, we're all in it together. He's a part of our family. If something bad happens, we're there for each other. If something good happens, we're there for each other. These are life lessons that these kids are learning. You stick with each other through thick and thin and have a common goal and if something happens and you falter, you pick your brother up and you keep moving forward."
After the accident and hospital stay, West said he was itching to get back with his team. The first event he went to was Godley football's photo day.
"I weighed about 140 before the accident and when I left the hospital I weighed 102 pounds," West said. "I lost 32 pounds in 22 days. I went to our team photo shoot and that was the first time I'd seen some of my teammates for a while. Some of them didn't recognize me because I was so pale and fragile. I was walking with a walker at that point.
"I actually put pads on and took pictures for team photos. They had a scrimmage that day so I stayed on the sidelines and stood for the whole scrimmage just to be there with my teammates. I was crying when I got home because I was in so much pain because that was the first time in a long time I stood that much."
West attended every Godley home game for the 2019 season and stood on the sidelines to support his team. After working hard in physical therapy, the biggest confidence boost for West came when he was able to walk without any assistance.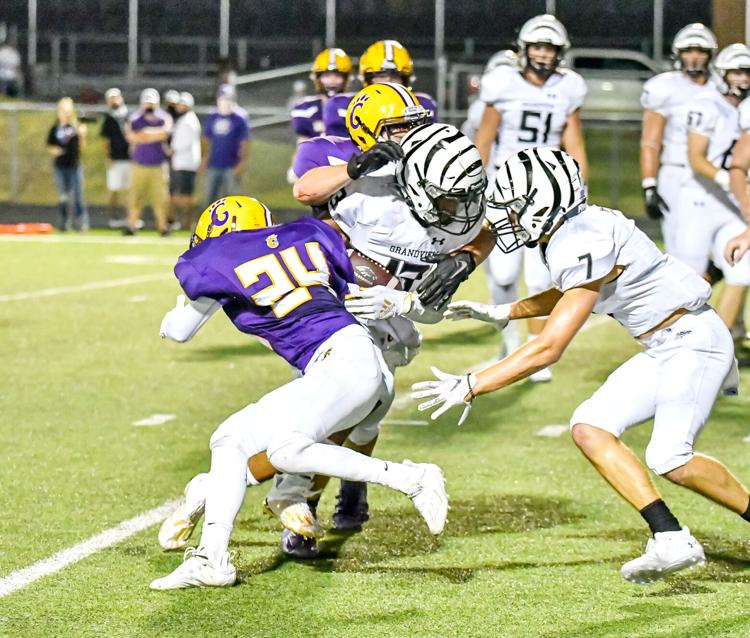 "When I got to where I could walk without a cane or walker, I knew I'd be able to get back from this," he said. "Two months after the incident, I was lifting weights and running with the team again. I was working trying to get that strength back. My doctors called it a medical miracle with how quickly I recovered."
As miraculous as West's recovery was, there were certainly bumps in the road.
"I must say I've never really been afraid of anything before, but when I was in the hospital I developed anxiety," West said. "I was so fearful that I was going to lose my leg and I was never going to play football again and that nothing would ever be OK. I would say my biggest fear was that I wasn't going to be the same as I was before."
In addition to the support he had from his Wildcat family, West said his grandmother, Raylene West, was his rock through it all.
"My grandmother is 70, and she stayed with me 24 hours for the 22 days I was in the hospital," West said. "She never left my side."
Raylene West said she couldn't be more proud of Clayton, who she's raised since he was 3 years old.
"I've never seen a stronger kid than he is," Raylene West said. "That leg, I mean there were a couple times we thought he was going to lose it, but he just hung in there and worked so hard to get back.
"His goal from the start was to play football, which he's made it back that far, but my goal was just that he could walk again. He's done really well. We're really proud of him. He's a really strong young man."
Lowery said what West overcame says a lot about his commitment and work ethic.
"Clayton's a really sharp kid. He's really smart," Lowery said. "He understands if you want anything in life, it's not going to be easy. He never had a bad attitude about it. He knew it was going to be an uphill battle and he faced it head on and day by day got better and better. He's committed to our program. I respect him and everything he's done for our team and what he means to our team."
Despite battling his way back against the odds, West said the injury has drastically altered his athleticism.
"Before the accident, I was running a 4.7 in the 40, but that speed isn't the same as before," West said. "I had to change my game plan of how I'm going into these games and playing. The whole thing with my Achilles being shortened, I don't know how to explain it to somebody who hasn't experienced it, but I can't put my foot flat on the ground all the way. I had to relearn how to walk and run. I'm still recovering getting that full range of motion back in that ligament. How to balance, how to cut, all of that was extremely difficult. I'm still learning how to move like an athlete again.
"Still to this day, I'm at a high risk for a ruptured Achilles. There's so much pressure on that ligament, every time I play football there's a chance I'm going to hurt it again. It's kind of changed the way that I view the game. It's made me a lot more appreciative of being out there."
When asked why it was so important for West to make it back on the gridiron, he said it was a matter of being there for his teammates and making his community proud.
"Every seventh-grade football player dreams about playing varsity in front of their hometown and doing something to make their town, family and brothers proud," West said. "I would say that's what motivated me the most is I worked so hard to be a part of this team for so long, if there was a chance I could come back and play, I would do whatever it took."
One of West's teammates, running back and linebacker Kolby Bartlett, said West has been an inspiration to him and the team.
"It says a whole lot about his character and determination," Bartlett said. "When I heard the news, I was devastated for him. It was heartbreaking. I love Clayton as a brother and hearing the news was just awful. But to see him overcome his almost immovable obstacle makes me so proud to call him my friend. When I visited him in the hospital, he inspired me by never being too down in spirit, no matter how much pain he was in. It was incredible to watch. And I know my teammates are proud and happy for him as well."
After an unfortunate recent injury to a teammate, West is now in line to see even more playing time the rest of the season.
"Logan Payne is probably our best cover guy; he's a great player," West said. "He played great cornerback for us. He fractured his arm in the Glen Rose game and then played with a fractured arm against Ferris and broke it the rest of the way. So I'll be getting more playing time, which I'm ready to do. I want to do whatever I can to help the team."
West said he was a starter earlier this season but admitted he had a tough time re-learning how to be the best player he could be, giving up a couple of deep passes, but he's confident he's got it figured out now.
"I was starting for the first four games of the season," he said. "... I've worked on my technique and I think I've got that fixed. Every time I'm out there, it makes me thankful that I didn't give up. Those hard workouts, hard sessions full of pain, sleepless nights from being sore, it was worth it. It makes me glad I didn't give up."
The Wildcats had a bye on Friday before they're scheduled to face Hillsboro in week 10 in a battle for second place. West said they're hoping to make their mark in Godley football lore the rest of this season.
"Right now, we're viewing Hillsboro as the biggest game of all of our high school careers," West said. "That's how we're going into the game. … We want to be more prepared for this game than we've ever been.
"Our goal for the season is get past the first round of the playoffs and see what we can do. I believe only seven teams have made it past the first round in Godley history and we want to be the eighth. To do that, we need to beat the Hillsboro Eagles."