While the Yellow Jackets matched last year's 5-5 record with a 5-5 mark this season, head coach Casey Walraven said he felt like Cleburne football took another step forward in 2019 despite finishing short of a playoff berth.
Two years ago, Cleburne was 5-4 entering its regular-season finale against Burleson, but the Jackets had already been eliminated from postseason play. This year, Cleburne was 5-4 entering its regular-season finale against Burleson, but the Jackets had a chance to make the playoffs with a win over the rival Elks. In the end, Burleson's balanced offense was too much for Cleburne's defense as the Jackets finished 5-5 and missed the playoffs.
But Walraven said there was definite improvement this season despite finishing with the same record and missing the playoffs for a third straight season.
"I think we continued to see growth in our program, on and off the field," Walraven said. "Even though we were 5-5, you could tell we took another step forward as far as being more competitive and having a chance to really do well. We were 5-5, but we were nine points away or a few plays here and there from being 8-2. I feel like even though the record stayed the same, we definitely showed improvement as a program."
In 2018, Cleburne's five wins came in its first five games of the season, then the Jackets struggled simply being competitive in a grueling five-game stretch vs. four playoff teams. This season, Cleburne dropped an ugly loss to Arlington Seguin but the Jackets showed their progression by nearly beating Burleson Centennial and Midlothian along with a huge win over Everman.
In 2018, Cleburne lost to Burleson Centennial by a score of 45-0 but the Jackets lost to the Spartans, 56-55, in overtime. In 2018, Cleburne lost to Midlothian, 57-34, but the Jackets led Midlothian through most of this year's meeting before the Panthers scored a late touchdown for a 19-14 win. Those two games alone, along with a 28-21 win over Everman, are proof of the improvement Walraven refers to.
When asked to grade Cleburne's season overall, as well as the Jackets' offensive and defensive units, Walraven went with B-minus for all three areas.
"Overall for this season, with the high expectations I have, I would probably give it a B-minus or a C-plus," Walraven said. "Probably closer to the B-minus. Last year would've been a C-plus, I guess. The biggest part I was proud of was dropping three in a row then being able to find a way to win a big game in a big setting against Everman. That shows not just the physical growth but the mental growth with us being able to do that. Then the next week leading the Midlothian game for the majority of the game.
"I think they showed they're starting to believe and it's not just a goal on a piece of paper. They feel like it's something they can achieve. Even though we didn't complete what we wanted to this year, I feel like we're making advances towards doing that."
Offensively, the Jackets averaged 36.3 points per game, led by junior quarterback and two-year starter Gunner Hammond. Cleburne found offensive success this season despite having to replace all five offensive linemen and an all-district first-team receiver.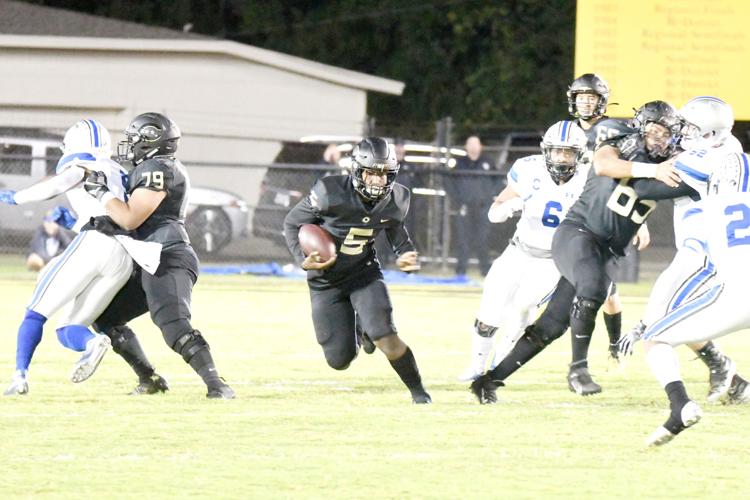 "I'd probably give our offense about the same grade, around a B-minus," Walraven said. "We were probably 15 yards or so away from averaging 500 yards a game. That's quite an accomplishment. Losing what we lost from last year with the whole offensive line and Jamari [Bradley] out on the edge, I think for us to score more points per game and have more production yardage-wise showed a lot of growth schematically and improved execution from our kids. 
"The coaches did a great job of taking a younger, inexperienced offense and we developed it into something pretty solid for the year. I wish we could've been more consistent here and there, but at the end of the day we gave ourselves a chance."
After a sophomore season in 2018 that started strong but ended with some struggles, Hammond was more consistent and showed improved execution as the Jackets' quarterback in 2019.
"Gunner started to understand and grasp the entire offense," Walraven said. "He wasn't just out there playing backyard football. As a sophomore, he had times where it's just, 'drop back and see what happens.' But this year he matured in making sure he went through his progressions the way he was supposed to and stayed patient. He was a better leader and he was just more of a quarterback instead of just a thrower."
Defensively was where Cleburne struggled with consistency, and most of those inconsistencies hinged on the type of offense the Jackets went against. Facing run-first teams like Everman, Midlothian and Burleson Centennial, Cleburne's defense was stellar. But facing balanced offenses with vertical passing threats such as Chisholm Trail, Aledo, and Burleson, the Jackets struggled.
"We were very, very good against triple-option teams, better than the majority of the state," Walraven said. "That showed a lot of discipline on our part. Athletically, I feel like it plays to our kids better. We don't have to get in space a whole lot defending those offenses. So that part helped. It's a physical environment when you play those teams and you have to be disciplined. And those are two things we were good at.
"A lot of the spread teams that could run and throw, it got us in some trouble at times. We've got to continue to be better in space. I think that's what hurt us. We know athletically we're not quite as fast as some teams, so we have to be real precise with angles and being great open-field tacklers and things like that. But one thing remains consistent and that's how hard they played throughout the year. We were a very relentless, aggressive defense who flew around. You've got to be proud of that part. But in the offseason, we'll have to work on playing in space better. That's where our weakness was."
While Cleburne graduates a small senior class from its football team, there were several key players that helped the Jackets take steps forward the past two years after going 0-10 in 2017, led by Braxton Bailey, Jaxon Bigham, Isaak Cunningham, and Wesley Free.
Walraven said he applauds the seniors that stuck it out when he arrived and made sweeping changes within the program.
"We were able to see a lot of growth from the ones that stuck it out," Walraven said. "They were young and a lot of these guys were on varsity when times were really tough. We wanted to get things right off the field before we could get them right on the field. They had to learn how the program was going to be at a young age. I'm sure they had some conflicting times in their minds of getting asked and demanded a lot of things on and off the field. But I'm proud of these seniors who stuck it out and helped get it to where we are today and on the brink of starting to break through. ... There's several guys who I'm sure glad I got to coach them and am thankful for what they've done for the program."
Moving forward into the 2019-20 offseason, Walraven said as coaches they'll just raise the bar a little more like they've done each of the past three seasons.
"We're going to continue to tighten up on the details," Walraven said. "We couldn't do now what we were doing the first year; it wasn't realistic. The next year we tightened it more and raised the bar. And we're going to do it again. We're going to raise the level of detail."
After showing the ability to compete with some of the area's teams and losing several close games, Walraven said the coaching staff now has tangible evidence to use and show the players how close they are to turning things around.
"Now they can actually see it," Walraven said. "You say all the time as a coach that every play can make the difference. Well, now we can sit there and point at nine plays and we're 8-2. So they can see that and understand it now because they actually experienced it.
"They see what 8-2 vs. 5-5 looks like as a very small gap on a handful of plays. You have to understand every day in offseason and every small detail you focus on disciplines and trains your mind and body to be prepared for those moments so that those nine plays go our way next time. They got to experience those things instead of coaches just preaching it to them."
The 2020 season will be a special one for Cleburne football as it celebrates its 100-year anniversary of its 1920 state championship.