The Class 5A Division II state champion Aledo Bearcats headline the District 5-5A Division II all-district team while Burleson, Burleson Centennial, Midlothian and Everman each received double-digit selections as well.
Aledo (15-1) went undefeated in district play, extending its district winning streak to 91 games, as the Bearcats received 25 selections on the all-district team across superlatives and first- and second-team honors, led by senior quarterback Jake Bishop as the district's MVP.
The Midlothian Panthers (8-3) garnered 18 selections followed by runner-up Burleson Centennial's 16 selections after the Spartans went 10-2. Fourth-place Everman (4-7) and fifth-place Burleson (6-4) each received 11 selections. Arlington Seguin, which went 1-9 overall and finished tied for last place, had eight players receive all-district honors. Sixth-place Cleburne (5-5) received six selections as did Joshua (1-9), while Waco University (4-6) had four all-district selections.
Cleburne coach Casey Walraven said he was proud to see six of his players get recognized for their play, but added they're more concerned about things from a team perspective.
"I think it is what it is on these things," Walraven said. "We tried to get more but at the end of the day it's all voted on. We feel like we're more team-oriented anyway. But we're happy that a couple of the kids got recognized, for sure."
Representing the Yellow Jackets, who finished one win shy of a playoff berth, are senior linebacker Braxton Bailey and senior tight end Ethan Steck as the only Cleburne players to receive first-team recognition.
Bailey finished a spectacular three-year career for the Jackets as the leading tackler in Johnson County. Bailey, who was also a Class 5A all-state honorable mention selection, finished the season with 163 tackles, including 23 tackles for loss, with five sacks, three forced fumbles, and three fumble recoveries
"He was a unanimous selection at first-team linebacker so that's pretty cool that every single team recognized him as a first-team selection," Walraven said. "I'm really proud for a kid like Braxton, who's great on the field as well as off the field and just his passion for the game. He meant a ton to us, not just as a defensive player but as a presence every day. I'm really proud to see him get rewarded for all his work and all his accomplishments."
Steck had 22 receptions for 373 yards and five touchdowns, but his impact was felt beyond his receiving stats, Walraven said.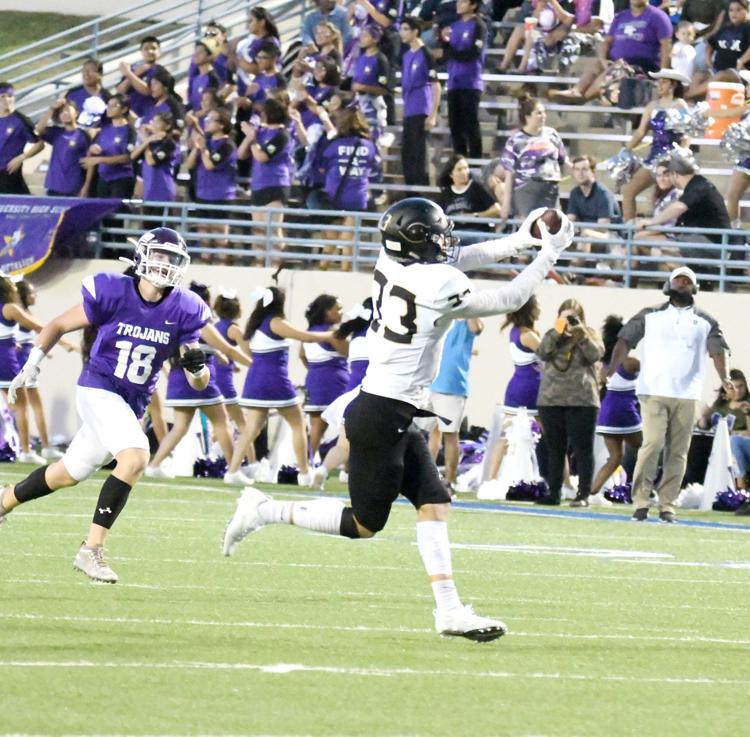 "I think they saw the threat of him in the run game and in the pass game," Walraven said. "He did a great job of blocking as an attached tight end then he was a multiple threat in the passing game at H-back and tight end and he flexed out some. I think teams had to worry about what he added to our offensive scheme. I think that's a big reason why he was selected."
Cleburne received four selections on the all-district second team, including three on offense in junior quarterback Gunner Hammond, senior receiver Isaak Cunningham, and junior receiver Gavin Naquin, while junior linebacker Nico Keramidis was on the second-team defense.
Hammond completed 175-of-267 passes for 2,462 yards with 25 passing touchdowns to go along with 733 rush yards and 16 rushing touchdowns. Cunningham and Naquin finished tied for first in Johnson County with 61 receptions while Cunningham led the county with 867 receiving yards to go along with seven touchdowns while Naquin hauled in 698 receiving yards and six touchdowns.
"It's a deep district at receiver and quarterback," Walraven said. "I think all three of those guys are very deserving. They were obviously the leaders of the offense. Their efforts got rewarded for it. We've seen a lot of growth out of Gunner from one year to the next. He was more of a quarterback this year instead of just a passer and a gunslinger back there. I was real proud to see that.
"With Gavin's transition from quarterback and being an unselfish team player and his commitment to make the team better, I'm glad he was rewarded for that. He had a great season at receiver. Isaak's had three really good years for us so it was great to see him get rewarded with it after being such a great presence for us on the edge. All three of them very deserving."
And Keramidis' was second in the county during the regular season in total tackles with 128 and 12 tackles for loss.
"Nico is another guy like Braxton who has such a strong passion for what he does and how he puts the team first," Walraven said. "It's great to see him be able to have the success he had on the field this year. We're going to need him to be very big for us next year and he's already stepped up for us in that leadership role. He's a team-first guy and he works at every part of the game he can work at. Very deserving for him to get that."
Honorable mention for Cleburne includes senior linebacker Jaxon Bigham, junior linebacker Sterling Bryant, junior running back Cleo Chandler, junior safety Anthony Chanta, senior defensive lineman Wesley Free, junior cornerback Braden Gunn, sophomore lineman Jace Lowe, junior defensive lineman Blake Mitchell, senior offensive lineman Rithiik Patel, junior offensive lineman Josh Rodriguez, senior offensive lineman Margarito Rojas, and junior offensive lineman Joe Turrubiartes.
Cleburne Football is excited to finally announce our 2019 5-5A All-District nominees. We have two that have earned First Team honors. These two are deserving of this. Congrats! #JacketDNA pic.twitter.com/fvjqW9FqUV

— Cleburne Football (@CleburneFB_) December 23, 2019
SPARTANS SNAG 16 ALL-DISTRICT SELECTIONS
Leading the way for the Spartans are superlative recipients in senior wingback Jaylon Jackson as the co-offensive player of the year and sophomore linebacker Connor Cunningham as the co-defensive newcomer of the year.
Jackson was one of the state's most explosive players as he averaged nearly 14 yards per carry with 1,262 rushing yards and 15 rushing touchdowns, to go along with being a dangerous threat in special teams as a returner, to share offensive player of the year honors with Aledo's JoJo Earle.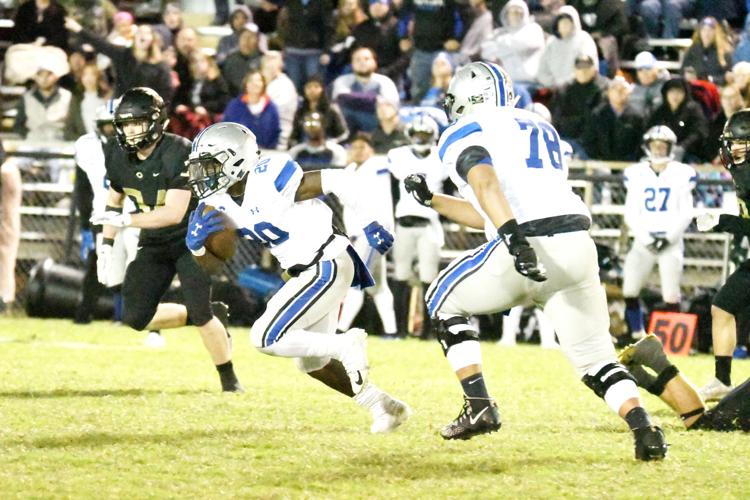 "While it's obvious the things he does on the field, it's also the things that people don't see every day: his work ethic and being a great teammate and his desire to be great," Geller said. "Those are the things that you appreciate more than anything else about the kid. I'm hoping he gets a shot at the next level at a place where he's happy. That's my hope for him is he gets what he wants as far as college opportunities.
"I don't know if I've ever coached one like him. Heck, when I was at Summit I coached Kestahn Moore and he played on two national championship teams at Florida as a running back. It's hard to compare two kids that you've coached, but Jaylon is right there at the top of the list of my all-time best players."
Geller said Cunningham is worthy of defensive newcomer honors due in large part to his football IQ at such a young age.
"I call him little Sean Lee, that's who he reminds me of," Geller said. "He's very good in pass coverage. He's not the biggest player out there, but he's got great instincts. He's just a ball player — great instincts, physical, and very, very smart, especially for a sophomore. He's very polished for a kid his age."
The Spartans had six selections on the all-district first team, with it split equally on offense and defense. First-team offensive selections for Centennial are senior fullback Jeff Kirven, senior guard Daniel Davis and senior tackle Griffith Peatrowsky.
While Kirven didn't have the gaudy stats he put up as a junior, Geller said his impact was felt more as a senior for his all-around play.
"The thing about Jeff this year, it might not be the year that he wanted because kids look at statistics all the time," Geller said. "He was our leading rusher as a junior but wasn't as a senior. But he started the last part of the season at corner and he started both ways. So I look at it that way. He had a big interception in a playoff game and had a big hit against Midlothian that probably won the game for us. I know he got first-team fullback but in my eyes Jeff fulfilled more duties as a senior than he did as a junior."
Geller said it's always a good thing to see offensive linemen such as Davis and Peatrowsky receive accolades for their hard work and play.
"Our offensive line over the past six years since we've been running this offense has been the rock of our program," Geller said. "These guys have certainly carried on that legacy. They're the hardest-working bunch. They're the group that's the closest. They just go out there every day and grind. Sometimes it's a thankless job and I ride them pretty hard, but I think they also know they're appreciated. They're the best of the best, those offensive linemen."
First-team defensive selections for the Spartans are senior defensive end Chris Hillard, junior tackle Darryn Kindles, and senior linebacker Chase Phillips.
"As far as Kindles goes, he might be the most explosive defensive tackle we've had at Centennial, maybe ever," Geller said. "Good thing is he's only a junior. Chris started out as a linebacker and wasn't really excited about moving to defensive end his sophomore year but eventually he understood that's where he was going to be best. He's an extremely strong kid that worked hard in the weight room to get where he is. He played with a motor and great intensity. This is Chase Phillips' second year in a row to make first team, and he's very deserving of that. Chase matured a lot over the last couple years. More than anything, he learned how to be tougher on the field and I'm proud of him for that."
The Spartans also received eight selections on the all-district second team: senior running back Zionn Ababio, senior receiver Monte Johnson, sophomore kicker Josh Garcia, junior defensive end Gabriel Tatum, senior defensive tackle Cole Montgomery-Ward, senior linebacker Connor Hostetler, junior cornerback Kendall Earheart, and senior safety Matiroyn Easley.
"I was very happy with [our representation] and grateful for so many of our kids to be honored," Geller said. "You always have one or two pleasant surprises that get on the first team or even the second team you didn't think would, and then you have a guy or two you wish people would've voted different on. But all of those kids are very deserving of any honor because they all worked extremely hard. I don't vote for them. We put them up and the coaches that coach against them vote for them. I think that shows some respect there. It was a good year for that."
ELKS LEAD NON-PLAYOFF TEAMS WITH 11 SELECTIONS
The Burleson Elks, who missed the playoffs by virtue of a tiebreaker for a second consecutive season, received a superlative award along with three first-team selections.
Sophomore receiver Luke Peterson shared the offensive newcomer of the year honor along with Midlothian sophomore lineman Brock Cavender. For the season, Peterson had 29 receptions for 501 yards and three touchdowns, but in district Peterson led the Elks with 26 catches for 442 yards and three touchdowns.
"He got better and better every game, getting more familiar with his role and responsibilities," Burleson coach Gary McElroy said. "He really became a go-to guy. Having him and Jaxon Winburn opposite each other gave us a good set of receivers out there. I think he and Jaxon were a great compliment to one another. People started leaning Jaxon's way because we were getting the ball to him quite a bit so that gave opportunities to Luke and Luke responded. He became a very disciplined route runner and understood coverages and finding the open spots."
First-team honors for the Elks include senior quarterback Blake Myers, senior running back Caleb Lewis, and senior safety Jackson Shaha.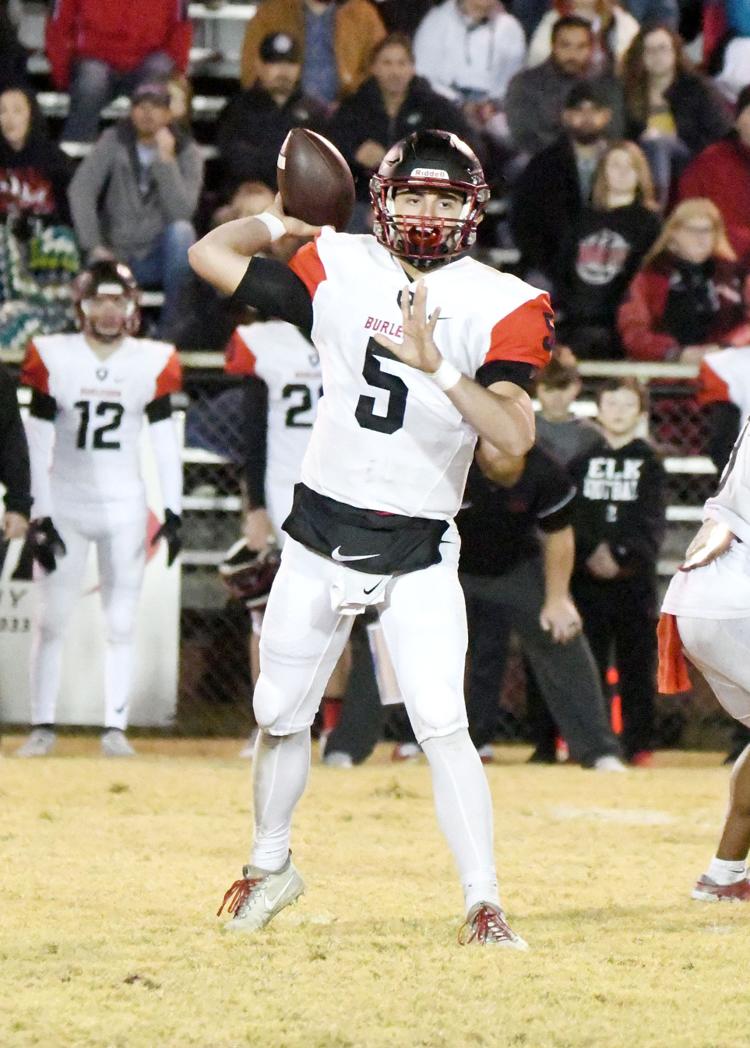 For the season, Myers completed 134-of-265 passes for 2,162 yards with 22 touchdowns and 12 interceptions with 801 rushing yards and nine rushing touchdowns on 123 attempts.
"It's a district with some really good quarterbacks, especially when you're talking about Aledo and their three-year starter at quarterback who has back-to-back state championships and who is the district MVP," McElroy said. "It's a good honor for him. I think Blake being a dual-threat quarterback solidified him in that spot. The Cleburne kid, Gunner Hammond, is really good quarterback. The quarterback from Midlothian, had he not gotten hurt, he was good with what they did. Hank Meyer at Centennial did a great job for them until he got injury. Blake threw the ball really well and had 2,200 yards passing and almost 1,000 rushing. Having that dual-threat ability is what did it for Blake in his peers' eyes."
Lewis rushed for 963 yards and 18 touchdowns on 128 carries with 23 catches for 358 yards and two touchdowns for the regular season.
"[First team] is great for Caleb," McElroy said. "We went into this season with the mindset of we're going to move Caleb all over the field and try to get him the ball. He's a pretty good receiver so we played him in the slot quite a bit and was able to get him the ball in a variety of ways. Down the stretch, we couldn't keep him out of the backfield though. He was running the ball with a purpose and people had a tough time defending him. Caleb did a fantastic job and he'll definitely get the opportunity to play at the next level, which is something he desperately wants."
Shaha was an all-around defender for the Elks in the secondary with 72 tackles, six pass break-ups and five interceptions.
"Jackson has really good speed and has good coverage skills but the impact he made against teams and what got himself recognized in the district is the fact that he's a serious run stopper," McElroy said. "He does a good job of tackling in open space but you have to account for him when you're in the run game because he'll come down and make the tackle."
Additionally, the Elks had seven players receive second-team honors in all-district voting: senior receiver Jaxon Winburn, junior center Chandler Poggensee, junior guard Jared Negrete, senior kicker Edgar Zaragoza, senior defensive end Klaus Shoenborn, senior linebacker Carson Hallack, and senior linebacker Skylar Webb.
"I'm glad those guys were able to get the recognition that they did," McElroy said. "It's a very, very competitive district. A nine-team district with some really good teams and really good players in there. Having a state champion in your district will tie up a lot of spots, but for our kids to be recognized for their contributions, I think that's great."
SIX OWLS RECEIVE ALL-DISTRICT HONORS
Joshua garnered two first-team selections in junior wide receiver Tyler Stone and junior punter Noah Smith, who was also a second-team selection on offense at wide receiver.
Stone led the county in receiving yards for most of the season and finished with 770 yards and nine touchdowns on 36 catches.
In addition to Smith's second-team nod at receiver, Joshua also had three more players receive second-team accolades in senior fullback Bryce Martin, senior tackle Cail Keeling, and junior linebacker Nick Madewell.
Other notable all-district selections include: Aledo's DeMarco Roberts as utility player of the year, Midlothian's J.T. Cavender as defensive player of the year, Arlington Seguin's Jamel Johnson as freshman newcomer, Waco University senior running back Jeremiah Stroupe as a first-team selection, Aledo senior receiver Money Parks as a first-team selection, and three Aledo and three Midlothian linemen as first-team recipients.