ALVARADO — The Alvarado Indians defeated the Wilmer-Hutchins Eagles, 35-14, on Friday to clinch their first district title since 2011.
The Indians won their seventh consecutive game to improve to 7-2 overall as well as secure the District 8-4A Division I championship with a 5-0 mark — their first gold district ball since going undefeated in 2011. The Indians finally got over the hump of winning district after finishing one game short in four of the past six seasons.
"It's a good feeling," Alvarado head coach Jeff Dixon said. "It was a good night overall. Wilmer was really good; we had to earn it and that part made it feel even better. Our kids played well. It was a good feeling. It was a good night.
"We have fallen a little short the last six years. It's a tough feat to accomplish, and I don't care where you are. Everybody wants to be district champions and it doesn't happen for everybody. They've invested and their work ethic and their competitive spirit, it shows along with their leadership. It's a smart group of young men. Nobody really thought we'd do this. The Dallas Morning News had us picked fourth in district and Dave Campbell's had us picked second. For our kids to believe in themselves and not listen to any of those folks and just get better each week is kudos to them. It's well-deserved."
FINAL: Alvarado beats Wilmer-Hutchins, 35-14.For the first time since 2011, the Indians are DISTRICT CHAMPS! pic.twitter.com/hRaV71A8NV

— Times-Review Sports (@CTRsports) November 2, 2019
It was a slow start as the first quarter was all defense, with neither team finding much success offensively.
Wilmer-Hutchins got on the board first when quarterback Kyle Douglas, Jr. connected with Jalin Moore for a 79-yard score to go up 6-0 with 9:28 left in the first half.
The ensuing Indian drive consisted of 10 plays, eight of which were runs by Colby Sampson, who scored from 12 yards out to give the Indians a 7-6 lead.
Dixon pointed out a key connection from quarterback Josh Syrus to receiver Cale Svendsen that kept the drive alive — one of three key plays the Indians made in the passing game.
"In the second quarter, probably the play of the game was a catch on third-and-6 as Josh threw a great ball to Cale Svendsen, who made an unbelievable catch to keep the drive alive and then we scored a few plays later," Dixon said. "We were never behind after that. That to me was critical because if we don't score there they can go up two scores.
"On our next drive, Peyton Alvey had a 35-yard reception and we took the ball down the field and scored. In the second half on our opening drive, it's fourth-and-long and we go for it and Jake McCullough made a great catch. Typically our run game is our bread and butter, but we've said it for years that we've got to be able to throw it and catch it to win ball games, and we had three huge catches that helped us win the ball game."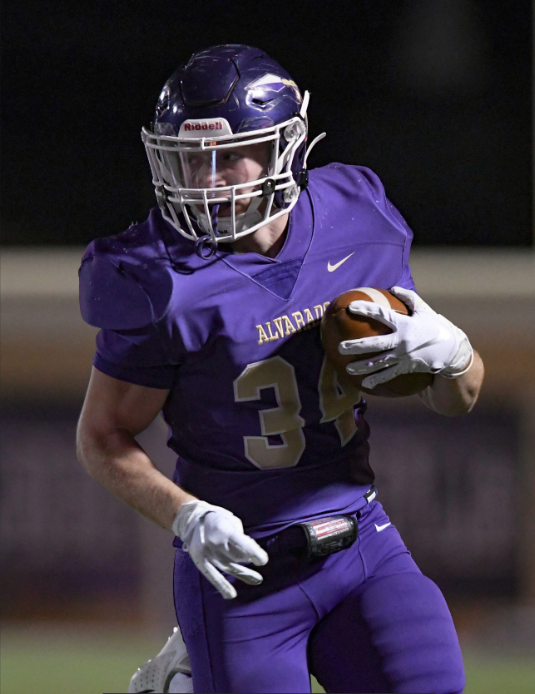 After the Alvarado defense forced a three-and-out on the following drive, Sampson found the end zone again, this time from 21 yards out, to give Alvarado a 14-6 lead at the half.
Out of the locker room, the Indian defense forced another punt. Senior Cesar Reyes blocked the punt, giving Alvarado the ball at the Eagle 32-yard line. Syrus then connected with McCullough from 31 yards out to stretch the lead to 21-6.
Wilmer-Hutchins answered back six plays later as Douglas, Jr. found Moore again, this time from 41 yards out. After the successful two-point conversion, Wilmer-Hutchins was back within striking distance, trailing 21-14.
But Alvarado would begin to pull away in the fourth quarter when Sampson punched in a four-yard run to stretch the lead to 28-14.
On the next possession, the Eagles faced a fourth-and-35 on their own 16-yard line, when Jonathan Canales King blocked the Wilmer-Hutchins punt and scooped up the ball in the end zone, finalizing the score at 35-14.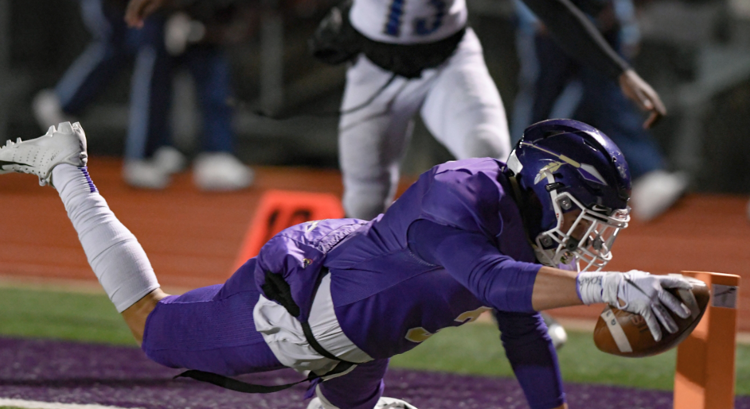 The Indians rushed for 244 total yards on 49 carries, with 241 of those coming from Sampson, who scored three times on 41 carries. With the performance, Sampson broke the 2,000-yard performance this season as he now sits at 2,002 rushing yards — and still with one more regular-season game to go.
"We've never really been big on individual stats," Dixon said. "And Colby's a pretty humble guy. But to me that is a milestone. Not many folks ever accomplish a 2,000-yard season and he did it before the end of the year. He's been a workhorse. I'm sure when the dust settles and the season ends, that will be something we celebrate. But as of right now they know we're district champs and played a good ball game and continued to run the ball well."
Alvarado out-gained Wilmer-Hutchins in total yards, 333-248. Syrus finished the game 5-of-9 passing with 89 yards with one touchdown and one interception.
Wilmer-Hutchins was led by Moore, who hauled in five catches for 144 yards and the Eagles' two lone scores.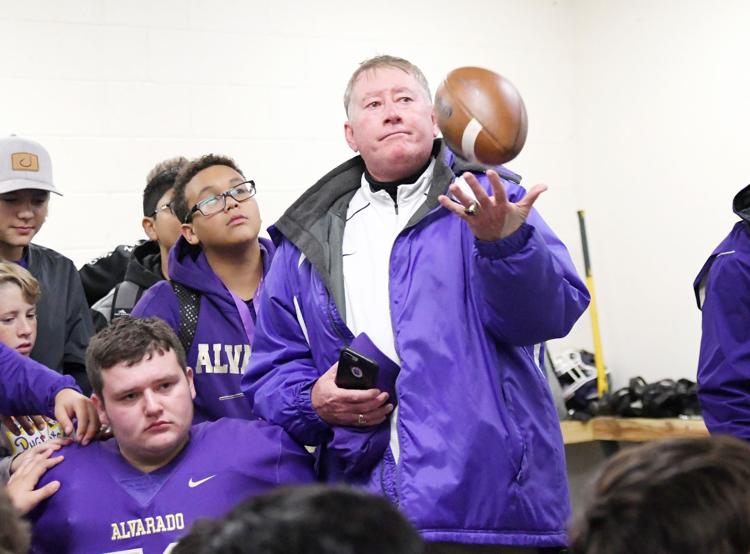 In the locker room after the win, the Indians celebrated the district title by passing around the gold ball. And Dixon presented the game ball to longtime Alvarado assistant coach Jimmy Isclaw.
"He's retiring after this year, and he has been coaching in Alvarado since 1987 so this was his last game ever at Charles Head Stadium," Dixon said. "His youngest son is a senior. To be able to share that with him was pretty cool. His wife is a counselor and an Alvarado grad, and I asked her to step in the locker room so she got to share in on that. It was very fitting to give him the game ball. He's been such a staple in the community and in the athletic program. He's been really good to me. It was a good moment. The kids love him."
Alvarado will wrap up the regular season at Dallas Pinkston on Thursday at Sprague Stadium before opening postseason play.