Joshua will be represented by a pair of standout youth athletes at the largest amateur motocross race in the world, the 39th Annual Monster Energy Amateur National Motocross Championships, which begins Monday at Loretta Lynn Ranch in Hurricane Mills, Tennessee.
Brock Walker, 15, and Samuel Bonner, 7, both of Joshua, are already among the country's most elite motocross riders in their age divisions simply by qualifying for the Monster Energy Amateur National Motocross Championships, formerly known as the Loretta Lynn's Amateur Championships.
Qualifying as one of only 42 racers per division out of 10,000-plus competitors across the country just once is impressive enough. But both Brock and Samuel are now multiple-time Loretta Lynn Amateur Championship qualifiers.
Brock is making an impressive seventh appearance at the most famous amateur national championships, while Samuel is headed back to Loretta Lynn Ranch for a second consecutive year.
"The Amateur National at Loretta Lynn's is the best of the best motocrossers in America and around the world," said Tim Cotter, Director of MX Sports. "Just being here makes you an elite racer and a top athlete. A solid finish at Loretta's would you give you instant national recognition and a possible professional career."
Many of America's top professional motocross racers, including James Stewart, Ricky Carmichael, Travis Pastrana and Ryan Dungey, have won AMA Amateur National titles at Loretta Lynn's.
Brock Walker continues aiming high
Brock, who has been riding motocross dirt bikes since he was 2 years old, had a couple of strong performances at the Ponca City MX SC Amateur qualifiers on June 12 to earn his berth at nationals.
"At regions to qualify, I was able to get first place," he said. "There was a bunch of really good competition there so that was good for me and it was a good confidence booster at the same time."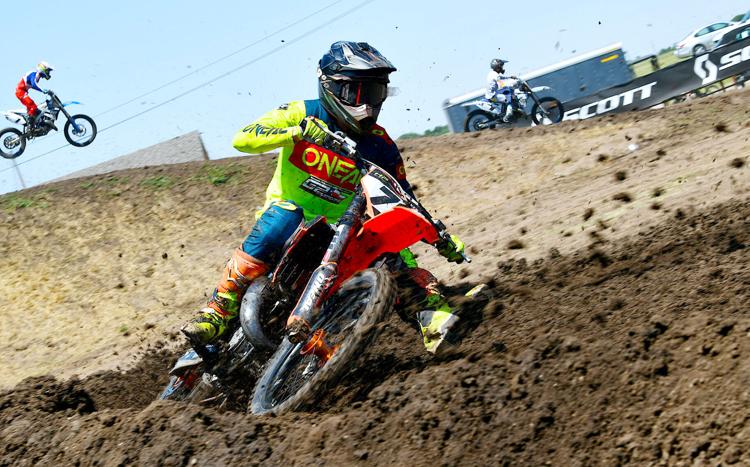 Brock took first place in the Schoolboy 1, age 12-17 division. The format for most amateur motocross events involves three races per division, with the average of the best finishes across the three legs determining final seeding. And Brock placed first in two legs and third in the other to earn the top spot and receive his oversized ticket invite to Loretta Lynn's.
Brock also qualified for nationals in the 125cc, age 12-17 division with a second-place finish. In the first two legs of that event, he placed third and fourth but finished strong with first place to finish second overall and earn a second ticket to Loretta Lynn's. So he'll have a chance at competing for two separate national championships.
Brock's best finish at any of his previous performances at Loretta Lynn's was ninth place in 2017. This year, he's aiming for a podium finish.
"I'd love to win but honestly my goal is top 3 or top 5 and hopefully get on the podium as top 5," Brock said. "Last year was my first year to qualify in the 125cc and honestly I wasn't really prepared for it but this year I'm a lot more prepared."
Since the Times-Review last featured Brock three years ago, a few things have changed in his day-to-day routine with the sport, but he still has one big goal he's striving for.
"I've gotten on a different training program and I've been training with new people," Brock said. "I've obviously gotten onto bigger bikes and am racing with older people. And I still hope to join the pro ranks one day."
Last year, Brock finished in 33rd place in his debut season on the 125cc bikes. In addition to his ninth-place finish in 2017, Brock also has placed 12th, 13th and 14th at nationals.
Over the years, Brock has worked his way into becoming a name to keep an eye on nationally among riders in his division. And after a first- and second-place finish at regionals, Brock may be poised to make the leap to a podium finish with a strong showing. 
Motocross a family affair for Bonners
Racing has almost become a way of life for the Bonners. And Samuel's racing prowess is partially a result of the family's love for the sport, particularly because of his older brother, Matthew.
Samuel, a first grader who just recently turned 7, has followed in his older brother's footsteps as a two-time Loretta Lynn's qualifier. Matthew also qualified for the amateur national championships at Loretta Lynn in 2016 and 2017 when he was the same ages as Samuel.
It didn't take long for a 3-year-old Samuel to realize he wanted to do what his older brother was doing four years ago.
"I just grew up watching my brother and I said to myself when I was 3 years old that it looked fun," Samuel said. "I like how cool the bikes are and how fast you get to go."
As for Samuel's favorite part of being a motocross rider? 
"I like doing the high jumps," he said.
Samuel and Matthew's love for racing bikes partially comes from their father, Aaron Bonner.
"I grew up with motorcycles and that's kind of why I got my older boy into it when he was younger and his brother followed," Aaron Bonner said. "They've both qualified now two times. Both of the boys are kind of very similar in that both of them have competed in and qualified in the same 4-6 class."
Aaron Bonner said he and his wife, Kari, are "definitely very proud" of both of their boys for all they've accomplished at such a young age in the world of motocross.
"It doesn't come without a lot of hard work," Aaron Bonner said. "They've definitely worked hard and earned it. This is the race that every motocross kid wants to go to but very few get to go to. It's definitely a proud moment to see their hard work pay off."
"It's such a surreal feeling," Kari Bonner said. "This will be the fourth time in five years we'll be there. You feel so proud they've accomplished a huge milestone qualifying for a nationally known race. All pro riders competed at Loretta's early in their careers."
Kari Bonner said motocross has taught her sons at an early age what it's like to earn something as a result of hard work and dedication.
"It has taught them so much at such a young age," she said. "They've grown up to be dedicated. It taught them early on how to work hard when they have a goal they want to achieve. Samuel said that it was a goal to go back to Loretta's. A lot of 6-year-olds don't know what it's like to set a goal of something like that and then do what it takes to achieve it. I feel like it's taught them how to work hard for something and truly work to achieve that goal that they want."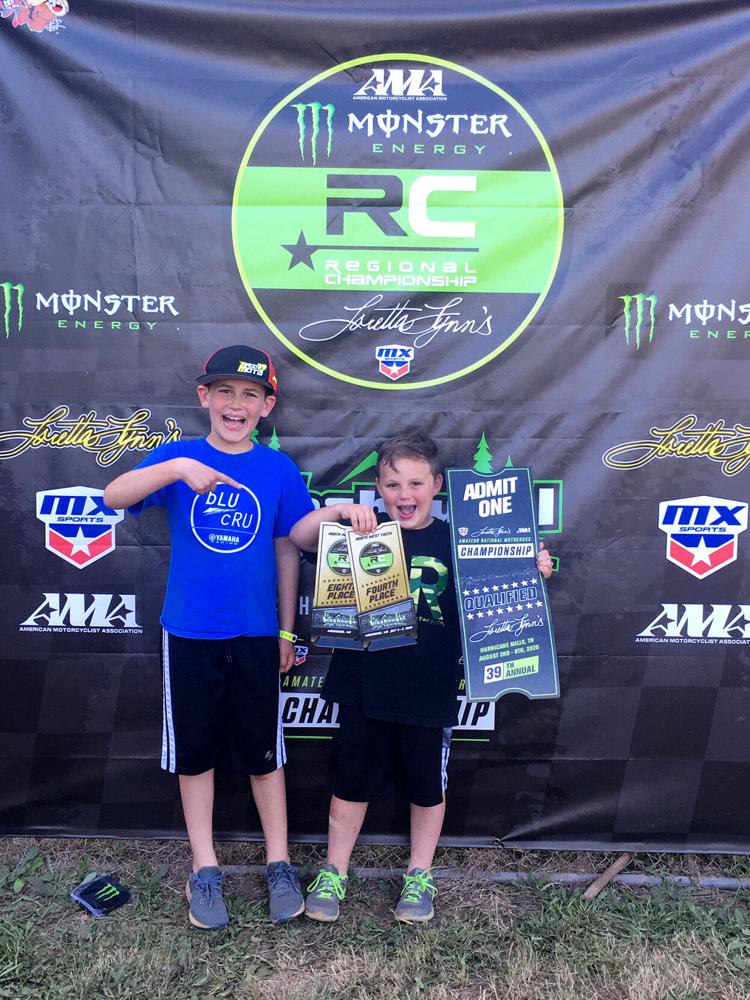 Samuel — who sports the number 74 because he was born on July 4 — qualified for Loretta Lynn's with a fourth-place finish at the Washougal NW Youth and Amateur Regionals in Washington on July 3. Even in a COVID-shortened racing season, Samuel has five top-4 finishes this year, including a first-place finish at the Prairie City OHV Area qualifier in Rancho Cordova, Calif., on Feb. 23.
After finishing in the middle of the pack in his first national race at Loretta Lynn's last year, Samuel's excitement in qualifying for nationals again is evident.
"I'm super excited," Samuel said. "It's actually my second year because I went there last year. I like racing against the fastest kids around the country."
Samuel said he just wants to do his best in the race, which is exactly what his parents are rooting for as well.
"The first thing is just to have fun and be safe," Aaron Bonner said. "When you get there, you're competing against 41 other kids and those families that you're competing with are all-in on the sport. They are at the top of the competition level. They get trophies for top 10. So if he got top 10, we would be really happy."
Even though Samuel and his 10-year-old brother are in different age divisions, they maintain a certain level of brotherly competition.
"I get to practice with him, but I don't get to race against him," Samuel said with a hint of disappointment. 
"There's definitely competition," Aaron Bonner said. "Matthew's on a bigger and faster bike but Samuel will be more aggressive when he's riding with him, to be honest. He doesn't ever want to let his brother beat him to a corner. He'll be pretty aggressive."
Kari Bonner said one of her favorite aspects of her sons being competitive motocross racers is seeing her two boys support each other. Matthew came up short in qualifying for a spot at Loretta Lynn's this year, but Kari Bonner said he's been Samuel's biggest fan.
"I do get a little bit nervous before the gate drops," she said. "We are very strong Christians so we pray with them before every race. Our family used to pray over Matthew before he races and now Matthew is so proud of his brother and he will pray with him before he goes out to race. It's such a neat experience in what it's allowed our family to do together."
The 2020 Monster Energy Amateur National Motocross Championships begin Monday and run through Aug. 8.