GRANDVIEW — Grandview's Morgan Holiday, Josh Clover and Rahat Suddle participated in signing day Wednesday to secure their collegiate futures and continue their athletic careers at the next level.
Holliday will continue her softball career at Sam Houston State University while Clover and Suddle each signed with Seminole State College in Seminole, Oklahoma to further their baseball playing days.
Holliday has been a key contributor for four years in softball, volleyball and basketball for the Lady Zebras — a rare standout athlete in three sports from her freshman year to her senior year.
"She's a hard worker," Grandview Girls Head Basketball Coach Tyler Adams said. "She's going to put in whatever extra time she needs to at whatever sport she chooses to play. She's been a three-sport athlete for us from her seventh grade year to now. You never have to worry about what she's going to bring to the table as far as energy, effort and competitiveness. She's always in a great mood. She's one of those kids you're excited to have at practice and in games every single day."
Several within the Grandview community have said Holliday is one of the best athletes to come through Grandview, and Adams said it's due to her drive.
"She has the drive to be great," Adams said. "It doesn't matter what you're doing. If it's a shooting drill, if it's just something you're doing for fun to keep practice loose, she's going to approach that every time that she's going to win at it. She has the drive to be successful and be a winner at everything she does. When she's not, she doesn't like it. It's one of those things every special athlete has. It's not something you can coach in to somebody, it's just something that's instilled into them and she has it."
Holliday said she appreciates those types of compliments.
"Hearing that [I'm one of the best athletes to come through Grandview] makes me feel good," she said. "I don't know if it's true but it's nice to hear that people think of me like that."
Holliday — an MVP-caliber player in softball — is a multiple-time all-district and All-Johnson County selection in all three sports, but softball is her No. 1 sport. She committed to Sam Houston State University early and saw through to it by signing Wednesday.
"It's very special for my parents and me because we've worked together so hard for this opportunity," Holliday said. "They have my degree program — forensic science — and they're really well-known for it so it was a perfect fit and I when I went to visit it felt like home. I definitely have to thank my parents and definitely Coach Adams and Cory Cooper for helping me get to this. They've played a big role in the four years I've been here. Those two have made me who I am."
Grandview Head Volleyball Coach Jesilyn Hatch said Holliday's work ethic and toughness are two aspects that define who she is as an athlete.
"It's very exciting for her to get the opportunity to play at the next level," Hatch said. "She is a tough kid. She proved that last year playing a match vs. Maypearl the day after having some teeth knocked around by a grounder that took a bad hop. Most kids would not have sucked it up and played through that. Morgan and her parents have sacrificed time, money and effort to get her where she is and it's great to see that its paid off for them. She's naturally gifted with speed, but she works hard at developing her skill in each sport as well — the combination of the two is what makes her pretty successful at everything she tries."
Adams said he knew from the get-go that Holliday would have this type of opportunity at a place like Sam Houston State.
"It's amazing to see one of your athletes sign," he said. "We knew early on that she was going to go play at the next level and she was going to be successful at it. Just to see it all come together and see the growth she had from a seventh grader to a senior and the leadership she has taken on, it's special and it's something that we're all proud of as coaches and a community and as her teachers. We're just happy for her that she's going to be able to go on to the next level and do something that she loves to do."
Before she heads off to Huntsville, however, Holliday has high expectations for Lady Zebra softball, which is coming off a run to the regional finals last season.
"I'm hoping to finish my softball high school career at the state tournament," Holliday said. "I think we have a real shot. We have to stick together as a team and have the same drive and motivation as last year."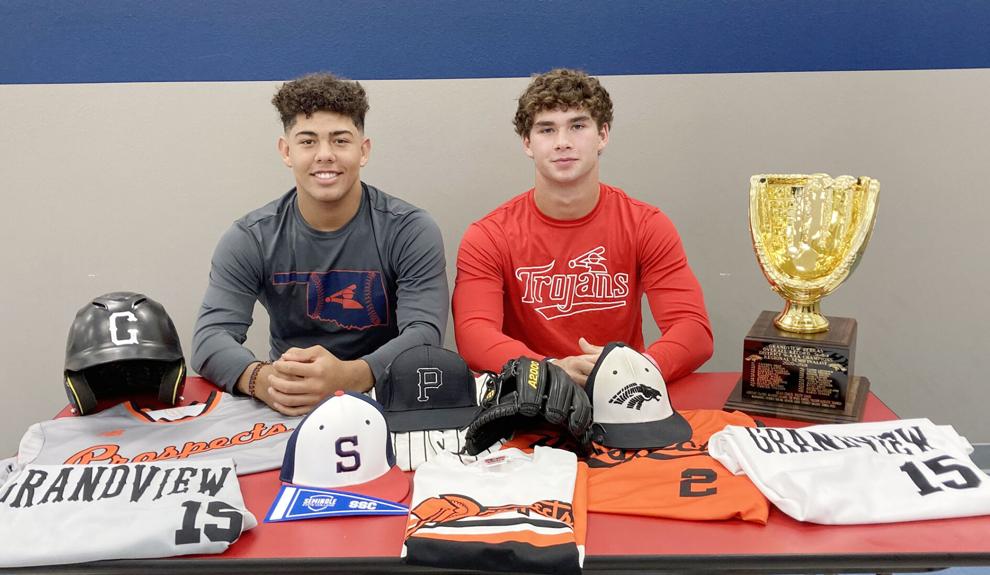 Clover, Suddle to join Seminole State baseball
When their high school careers are over, Clover and Suddle will head to Seminole, Oklahoma to continue their baseball careers together at the collegiate level.
Suddle moved to Grandview over the Christmas break last year and has become a key contributor to Zebra baseball and football — including snagging an interception in Grandview's bi-district win Thursday against Teague.
Grandview Head Baseball Coach Riley Good said what stands out about Suddle is his work ethic.
"His work ethic stands out," Good said. "If you just look at him, you can tell he works hard in the weight room. He's a really good kid. He does a good job of encouraging the others. He's done a good job of being a leader since he got to Grandview. He was already committed to Seminole before he got here and that's proof of all the hard work he put in over the summers and at his old school. I'm really excited for him. I think it's going to be good that they get to go together."
Clover was a huge piece of Grandview's run to the Class 3A Region II semifinals last year as their go-to weapon out of the bullpen.
"The biggest thing for Josh has been his growth," Good said. "I can really tell the jump he made from his sophomore year to now and even last year he made a big jump from his sophomore year to his junior year. It's just his growth and the maturity he's had. He's grown physically but also mentally and he's really been put in a good position. His talents are through the roof. He's got the God-given abilities to do anything he wants on the baseball field. He's been a big piece for us. He was a big part of our run last year and he will be this year."
Clover said Suddle and their select team got him in touch with Seminole State and he was thrilled to land the opportunity.
"I want to play my two years and try to get an opportunity with DI," Clover said. "That's my goal. My buddy Rahat, I was playing with his select team and they got me connected with them. I love the program they have. I really liked it so I went ahead and sign. Plus they gave me a full ride so it made it even better. It's awesome to go play with a high school teammate. At least I know someone there. Some kids on our select team are going there too so it's like family.
"I want to give a shoutout to [select coach Trike Cummings]. He got me there, so did my parents. They put me in select ball all through high school and junior high. It's been awesome."
Suddle said having the opportunity to play college baseball has been in the works for several years.
"This day means a lot," Suddle said. "My family gets to come together to celebrate all the work I put in that's paid off with this. Playing college baseball has been a goal since I was probably nine. I started playing with Coach Trike Cummings. I've always dreamed of playing college baseball but it never felt like a reality until I got offered. It was kind of surreal.
"I have to thank my coaches growing up, especially Coach Cummings who I can't thank enough for everything he's done. Since I was 9, he took me all over from Florida to Arizona playing baseball. He took me under his wing."
There is a long list of players that have gone through the Seminole State College baseball program and either been drafted by an MLB team or went on to have MLB careers. And Suddle said that was appealing to him, seeing how much players develop.
"From the first day I went, they put me through a really hard workout and I talked to the head coach after," Suddle said. "Seeing the guys there, how big they are and how they move, plus all of their accomplishments, including so many guys they've sent to the league, it felt like a good place for me. Plus it's super nice to have a familiar face go with you. It makes you feel good and comfortable that you're not alone."
Both Suddle and Clover said they want to go out with a bang for Zebra baseball.
"I'm hoping we make it far — I'm trying to win state this year," Clover said. "I'm not trying to go on just another nice run, I'm hoping we go all the way."
"I feel like we've got a really good team this year and we're going to make a run at state," Suddle said.