MIDLOTHIAN — The Midlothian Panthers used a well-executed and timely trick play midway through the fourth quarter to record a hard-fought 19-14 win Friday over the Cleburne Yellow Jackets.
Midlothian (7-2, 5-2) clinched a playoff berth and the No. 3 seed in District 5-5A Division II while Cleburne's (5-4, 3-4) playoff hopes still rest on a week 11 showdown with Burleson.
With only potential playoff seeding on the line for Cleburne on Friday, the Jackets gave a strong Midlothian team all it could handle in a physical battle.
"I'm extremely proud of them," Cleburne coach Casey Walraven said. "What we're starting to see is how much they believe and how much they care. I saw a lot of kids hurt after the loss, and it's not the last game we're playing this year. We've got an opportunity with the fate still in our own hands, but they still care that third place slipped away from them. That's a good sign. That's something I haven't seen in a while."
Cleburne held a 14-13 lead midway through the fourth quarter when the Panthers, a run-heavy offense, were faced with a third-and-13 from their own 39-yard line.
Midlothian backup quarterback Nicholas De Los Santos took the snap, threw a lateral to wide receiver Nathan Humphreys, who threw deep for Riley Angel on the double pass for a 61-yard touchdown to take a 19-14 lead with 6:17 remaining.
"It was the perfect play call in that situation," Walraven said. "They reached down and had that call ready. You've got to call those plays at the right time, and they called it a very good moment."
Midlothian was 2-for-9 when facing third down with more than 5 yards to go on the entire night, with one of those two plays coming on the double-pass TD. And the Panthers were just 1-for-5 when facing third-and-10 or longer, with the lone conversion on the game-winning score.
Following Midlothian's go-ahead score, Cleburne was faced with a fourth-and-7 from its own 28-yard line with 5:04 left. After a timeout, the Jackets lined up to go for it, but Cleburne was called for a false start, pushing it back to a fourth-and-12. Following another timeout, the Jackets decided to punt it.
"That's the mental breakdowns we're having," Walraven said. "We go out and it's fourth-and-7, a reasonable distance to go for it, we put Isaak in motion, and he took off, and I think they thought he was jumping and they threw a flag on it.
"That put us at fourth-and-12, and at that point, we had 5 minutes left, and we felt like our defense had been stuffing them all night. So for our best opportunity field position-wise and to be able to score was to punt and try to get a stop and see what we could do."
After the punt, Midlothian picked up an initial first down on a third-and-2 to eat up additional clock, then Cleburne's Anthony Chanta made a big stop on third-and-8 to force a Midlothian punt with under 40 seconds left.
The Jackets took over at their own 13 with 29 seconds remaining but were unable to come up with the miracle play that was needed.
Cleburne's offense, particularly the Jackets' run game, couldn't find any consistent success against a stout Midlothian defense. Take away a 47-yard run by junior quarterback Gunner Hammond in the first quarter and Midlothian's defense held Cleburne to 2.2 yards per carry on the night.
Cleburne also committed four turnovers, a minus-3 in the turnover column, and was 4-for-11 on third downs.
"First and foremost, that's a really good Midlothian defense," Walraven said. "That front 7 they've got really caused a lot of problems for us up front. They dominated the football game. We were trying to do different things just because we weren't efficient doing what we normally do with the run game.
"They were whipping us there, and we had to figure out different ways just to try to move the football. They're a very good defense. At the end of the day, turnovers, penalties and negative plays were too much for us [to overcome]."
Despite the offensive struggles, the Jackets did just enough to take a lead into the fourth quarter.
With Midlothian holding a 10-7 lead at halftime, the Jacket defense forced a three-and-out to open the third quarter.
Cleburne then went 80 yards on seven plays — with senior wide receiver Isaak Cunningham accounting for 74 of those yards on four receptions, including a 49-yard snag — capped off by a four-yard TD pass from Hammond to Cunningham, who made a one-handed leaping catch over a defender, for a 14-10 lead.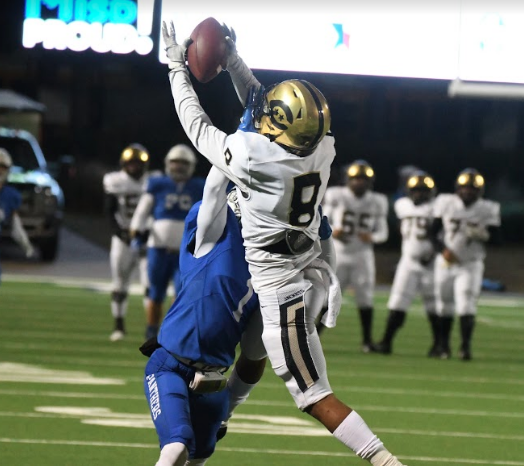 Later in the third quarter, Cleburne fumbled and Midlothian recovered inside the red zone, but the Jacket defense stood strong, forcing a 30-yard field goal that brought the Panthers to within one point at 14-13 after three quarters.
Cleburne opened the scoring on an eight-yard TD run by Cleo Chandler with 4:08 left in the first quarter. The Panthers tied it on a two-yard Ethan Hill run in the final seconds of the opening quarter.
Midlothian took a 10-7 lead on a 32-yard field goal by Shane Reasonover with 1:10 left in the second frame.
Cleburne's defense held Midlothian to only three first downs in the second half, and the Panthers averaged just 3.7 yards per rush on the night.
"We're playing really, really well on defense, and it's coming at a good time," Walraven said. "We still haven't put a full game together in all phases and we're running out of time for that. But I couldn't be more proud of our defense. That's two back-to-back really good outings from our defense that's given us a chance. We said from the get-go that we're going to lean on our defense."
Cunningham led the Jackets offensively with seven receptions for 93 yards and a TD. Hammond was 18-of-28 passing for 163 yards, one TD and two interceptions with 52 rushing yards on 10 carries. Chandler was held to 27 rushing yards on 14 carries.
De Los Santos led Midlothian with 75 rushing yards on 17 carries after he took over for starter Tate Corbin, who left the game early in the first quarter after suffering an injury in his first game back from a previous injury.
Now Cleburne's playoff hopes come down to a win-or-go-home showdown against rival Burleson in the regular-season finale at Yellow Jacket Stadium.
"After the game I told them we knew what the stakes were, this was for third place, and we came in here and played them tough but it didn't work out," Walraven said. "Things don't change — we still have to beat Burleson. We get them at home. We're still in control of what we need to do. It's up to us, we've just got to go play."