There are a variety of reasons why high school football is so revered in Texas. I think one of those reasons is that every game matters.
Yes, football brings communities together. It's tradition. It's the epitome of school spirit. Rivalry games get everyone hyped up. The list of reasons why we Texans love high school football goes on and on.
But an underrated aspect why Texas high school football is so great, to me, is because every game in football matters and every result carries significant weight in the grand scheme of things, way more than any other sport in high school athletics.
In college football, a top-ranked powerhouse program can have its dreams and expectations of a national championship go down in flames with just one loss. In high school, one game can be the difference between playoffs or another year coming up short.
In volleyball, basketball, baseball, and softball, teams typically play more than 30-35 games per season. One loss out of 12-14 district games may be significant, but in high school football, you only get 10 chances and even fewer in district play. So every time teams take the field, it matters.
And football season is finally here. This past week, Alvarado, Godley, Grandview, Rio Vista and Venus opened practice. And Monday, Burleson, Burleson Centennial, Cleburne and Joshua hit the practice fields for the first time.
So it's a perfect time to take a gander at some of the top games of the season for Johnson County football in 2019.
The criteria for the list includes, but is not limited to: quality of the matchup, likelihood that a district title or playoff berth will be on the line, rivalry factor, recent history, and so on. We'll start with No. 10 on the list and go in descending order:
No. 10: Rio Vista at Millsap, Oct. 11
Last season, the Eagles went winless in district play. That started with a 21-15 loss to Millsap in their league opener, a game Rio Vista should've won.
Now under new leadership in Head Coach Kasey Black, finishing games will be a huge focal point this season. And if the Eagles are in a similar position against Millsap as they were last year, finishing the game and starting 1-0 in district play would be a huge boost for Rio Vista's playoff hopes and growing the program overall.
Looking at the rest of the Eagles' district schedule, Millsap is almost a must-win for Rio Vista with tough league foes such as Comanche, Dublin, Tolar and Jacksboro over the final four weeks.
No. 9: Van at Alvarado, Aug. 30
In general, season openers don't hold vast importance in the grand scheme of things, but everyone wants to start 1-0.
And for the Indians, an opportunity to avenge last year's disappointing 34-7 lost to the Vandals, an East Texas powerhouse, would be a huge start to the 2019 season.
Alvarado Coach Jeff Dixon said Van took it to them in last year's season opener, but the Indians will be more experienced and better prepared for a tough week 1 showdown this time around.
Dixon schedules a tough non-district schedule for a reason: to prepare for district and expose any and all weaknesses. A week 1 showdown against a program the caliber of Van will provide that opportunity right off the bat for the Indians.
No. 8: Joshua at Midlothian, Sept. 13
In last year's district opener, the Owls jumped out to a 13-0 lead over Midlothian before being outplayed the rest of the way in a 48-30 loss.
The defeat was the first of four straight losses for Joshua, which started 0-4 in league play. Meanwhile, the win helped Midlothian clinch a playoff berth by one game over Burleson.
If the Owls, in year No. 2 under Head Coach Gary Robinson, have their sights set on improving from a 1-7 mark in district play, their season opener against the Panthers — which was a winnable game for Joshua last year — will set the tone.
No. 7: Ferris at Godley, Oct. 11
Last season, the Wildcats dropped a 30-22 decision against the Yellowjackets in each team's district opener.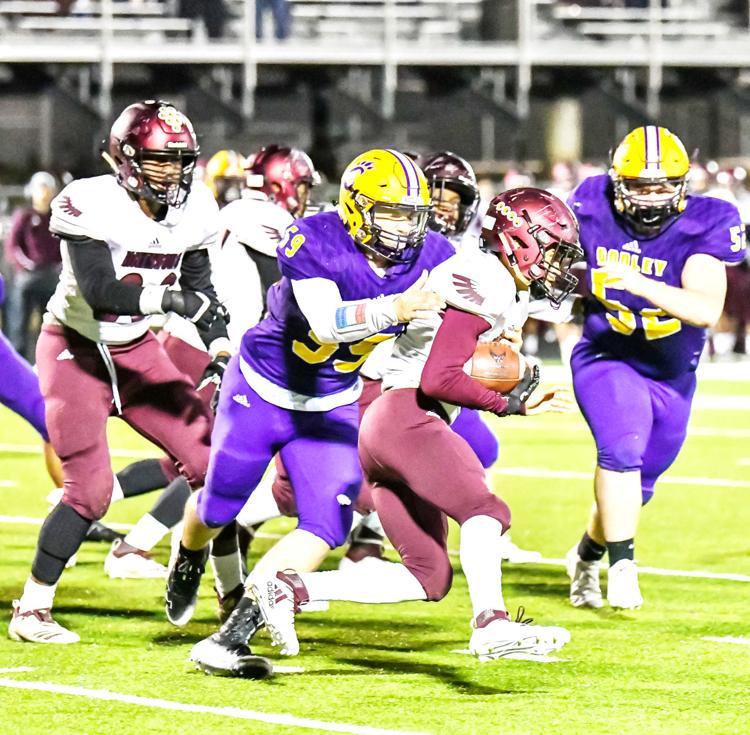 With only four league games in District 4-4A Division II, every game matters. Last year, Godley's lone win in district play came over Venus, which was enough to clinch a playoff berth.
But under new Head Coach Curtis Lowery, the Wildcats have much higher aspirations than qualifying for the playoffs as the No. 4 seed with just one district victory. And to do so, a win over Ferris is a must. 
Beating the Yellowjackets and starting 1-0 in league play could also help set the tone for Godley's following opponent, three-time defending district champion Glen Rose on Oct. 25, following a bye for the Wildcats.
No. 6: Burleson at Burleson Centennial, Oct. 4
No matter the year, this one will always make the list for top-10 football games in Johnson County. You just have to include the crosstown Elks vs. Spartans rivalry — especially considering both teams are perennial playoff contenders.
So not only is it a fierce crosstown rivalry, but there's always plenty at stake with both teams fighting for playoff positioning on a yearly basis.
The Spartans have made the playoffs five consecutive seasons while the Elks have qualified for the postseason four times in the past six years.
Burleson owns a 4-3 edge in the head-to-head meeting with the Spartans having a chance to even up the series with a win this season. 
Aside from the first-ever meeting, a 42-6 Centennial win in 2012, most games have been fairly competitive, including a pair of three-point wins by the Elks. Rarely is this showdown a blowout from start to finish.
No. 5: Burleson Centennial at Cleburne, Oct. 11
The Yellow Jackets got off to a 5-0 start last year, including a 3-0 mark in District 5-5A Division II play. But a week 7 showdown with the Spartans did not go well.
In a torrential downpour, Burleson Centennial completely dominated Cleburne in a 45-0 win. It was the beginning of a five-game losing streak for the Jackets.
Earlier this summer, Cleburne Coach Casey Walraven mentioned having that "turning point" moment; a specific moment, play, series or win where a program takes a big step forward. And he specifically referred to beating a team like Centennial as one of those "turning point" moments.
Since winning the first two head-to-head meetings in 2012 and 2013, the Jackets haven't beat the Spartans since. Centennial has won five straight games over Cleburne, most in blowout fashion.
If the Jackets look to improve off last year's 5-5 record, a win — or at least a more competitive outing — against the Spartans would be a huge moment.
No. 4: Grandview at West, Sept. 27
The Zebras enter the 2019 season as heavy favorites to win the District 9-3A Division I title, but they'll likely have to avenge a loss to West from last year to do so.
West edged Grandview, 42-41, in overtime a year ago to clinch the No. 1 seed. The Trojans lost to Whitney later in district play, giving the Zebras a share of the district title. But Grandview doesn't want to share the district title.
Considering it's both teams' district openers, like last year, it should make for another entertaining game with the winner jumping in the driver's seat for the district crown.
The loss to West was Grandview's final defeat of the 2018 season as the Zebras won their final 11 games.
No. 3: Dallas Wilmer-Hutchins at Alvarado, Nov. 1
The Indians haven't won a district title since 2011. For a proud program like Alvarado and for a successful, established head coach like Jeff Dixon, that doesn't sit well.
Making matters even more agonizing is how close the Indians have come to winning that gold ball recently. Three times in the past four years, Alvarado has lost closely contested games in what were essentially district championship tilts. 
In 2015, the district title came down to a head-to-head meeting between Alvarado and Kennedale, with the Wildcats pulling away late for a 56-21 win. The Indians finished in second place, one game behind Kennedale.
In 2016, the district championship came down to a meeting between Alvarado and Midlothian Heritage, with the Jaguars holding onto a 17-14 win in a game that saw Alvarado fumble inside the 5-yard line late. The Indians finished in second place, one game behind Heritage.
Last season, Alvarado and Hutchins carried 4-0 district records into a big-time showdown, with the Eagles capturing a 42-35 win to secure the district crown. Alvarado finished in second place, one game behind Hutchins.
So for Alvarado's district title quest, a week 10 battle with the Eagles will likely serve as a chance to get over that hump.
No. 2: Burleson at Cleburne, Nov. 8
One of the longest-standing football rivalries in Johnson County, and it comes in the regular-season finale.
Last season, the Elks and Jackets followed similar paths throughout the season. Both teams started 5-0 before suffering four-game losing streaks (against the same four opponents in the same order) to see their playoff hopes disappear.
With pride on the line in week 11, the Elks dominated the Jackets, 53-20, to end that four-game losing streak and finish the season above .500 at 6-4. For Cleburne, a five-game losing streak and a rivalry loss to Burleson was a disappointing ending to what started out as a season of tremendous progress.
The Jackets have lost two in a row and three out of their last four meetings against the rival Elks.
Rivalry aspects aside, both teams enter 2019 hoping to get back to the postseason, and with as packed as District 5-5A DII can be behind Aledo at the top, a playoff spot could be on the line for both the Jackets and Elks.
No. 1: Grandview at Malakoff, Sept. 20
A non-district game as the No. 1 must-see game for Johnson County football? Yeah, it's a little different, but how can you not include this one at the top?
It's a rematch of the Class 3A Division I state championship game. And it'll be the third meeting between the Zebras and Tigers in a calendar year, with Grandview owning a 2-0 mark. Grandview won last year's non-district showdown, 28-7, at Zebra Stadium then the Zebras recorded a 35-21 win for the state title at AT&T Stadium.
This one will be in Malakoff, with the Tigers likely desperate for some revenge. Even though it's a non-district game, Malakoff will have plenty to prove, even if the Tigers did beat the Zebras in the basketball playoffs last season. 
A challenging road game against a hungry opponent could serve as a good reminder to the Zebras that last year was last year, and 2019 is a fresh slate.
This game may be one of the top matchups across the state of Texas at any level in week 4, and potentially one of the best matchups of the regular season overall.
With both teams returning the vast majority of their rosters from a year ago, could it be another state championship preview?