GRANDVIEW — The back-to-back state champion Grandview Zebras had three more Class of 2020 standout players sign to continue their football careers on the collegiate stage.
On Wednesday, linebacker Antonio Arellano, wide receiver Cooper Deans, and running back Tremayne Gullatte made official their college futures, joining offensive linemen Cole Cannon and Brody Smith, who signed last week.
Arellano and Gullatte both signed with Cisco College while Deans signed to join Southwestern University.
In Grandview's run to the 2018 state championship, Arellano became a key playmaker for the Zebra defense, making several game-changing plays in the playoffs, including an interception return for a touchdown in a 24-21 win over Franklin. Arellano's role increased his senior year in 2019 as he became one of Class 3A's most productive linebackers with 141 tackles, 14 tackles for loss, and three fumble recoveries.
"He was really good last year but this year he became a stud," Grandview Coach Ryan Ebner said. "First and foremost, [what stands out] is how hard he's worked. It's awesome to see a kid that moves in [as a freshman] and embodies what the Grandview way is. He bought in full force and worked hard every single day and had a great attitude every single day. 
"He truly worked his butt off to get to where he's at. I honestly think he's one of the fastest guys on the team, if not the fastest guy on the team. I definitely see a bigger school picking him up [after Cisco] because he can do so many different things with his mindset of 'I'll do whatever I can to help the team.' He's a smart kid with a great attitude."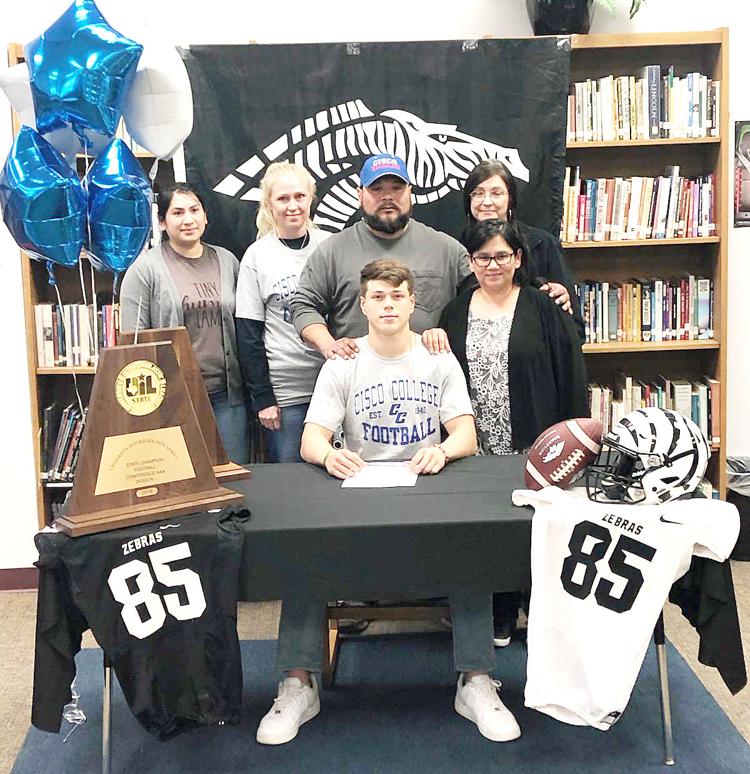 Arellano said getting to sign Wednesday was an indescribable feeling.
"It meant more than I can put into words," he said. "It means everything to me knowing that my hard work has paid off so far. Cisco seemed like the right choice because I personally liked what they have to offer, knowing that if I go there and work my tail off, I could find myself playing in an even bigger stadium.
"My love of football started young so playing college football has been a goal since I first touched a football. It's amazing that my hard work has brought me this far but I got to keep working hard in hopes of bigger and better things."
Arellano said his family and coaches have supported and pushed him to accomplish his goal of playing college football.
"My family has obviously been the most helpful," Arellano said. "It's a lot easier knowing that I have them in my corner. Another group of people was my coaches; having that good of a coaching staff who puts in just as much work as you do helps you get better."
Like Arellano, Deans was a key playmaker for the Zebras during their past two playoff runs as a big-play receiver and reliable defender in the secondary. In 2019, Deans hauled in 25 receptions for 632 yards (more than 25 yards per catch) for five touchdowns.
"He went to some camps and stuff like that this summer," Ebner said. "He had a couple of other offers but this was the best fit for him with the degree plan and what he wants to do. He had a couple of other schools but it was the best fit for him. It's great to see a kid work hard and then have a choice of where he wants to go. I think for both him and Southwestern, it's a great fit."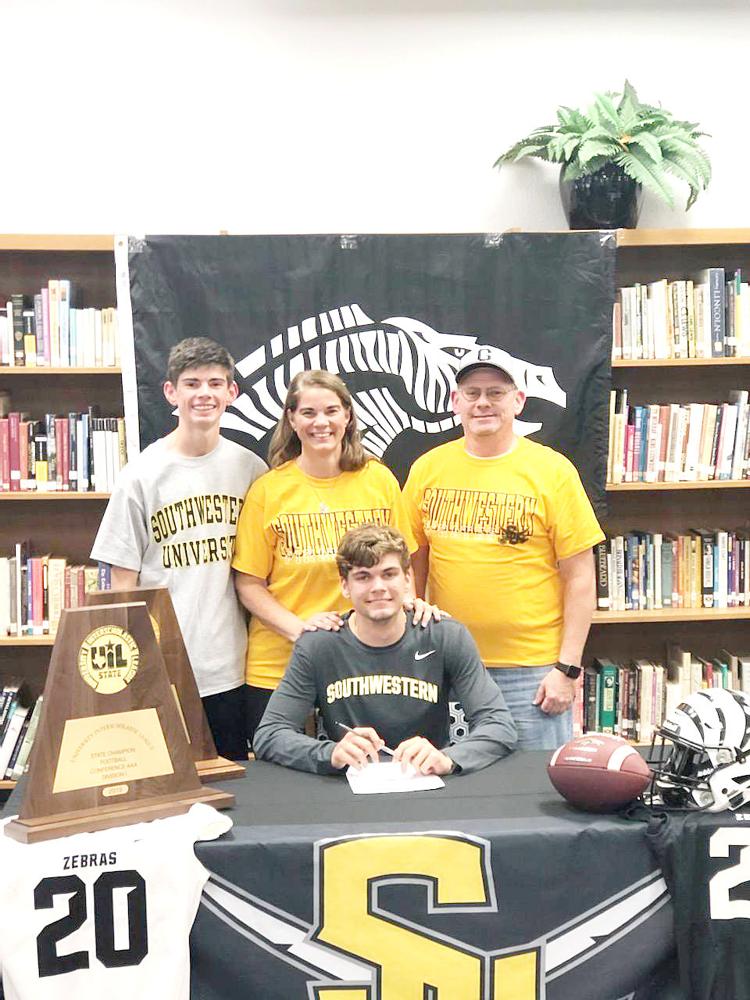 Deans said he decided on becoming a Southwestern University Pirate for a number of reasons.
"That day meant that I was signing to a new beginning and new opportunities that both my parents, coaches and staff at Grandview high school prepared me for," Deans said of signing on Wednesday. "Southwestern felt to me like a home away from home. How the coaches and staff treated me when I got there just felt like I was already a part of the family. The education that I would be getting is beneficial for when I go out and start my career."
Deans said he started working towards this moment four years ago.
"For me, since freshman year I've been working to play college ball," Deans said. "At that time, I dreamt big and worked hard and as I grew older, my dreams got bigger and I worked harder because I knew how I could achieve my goal. And to see that now I've reached my dream is the best feeling I could ask for after all the work me and my family have done.
"The top people that have helped my journey to the collegiate level is my family, my coaches, and the staff at my high school. Everyone contributed so much to getting me where I am and I'm thankful for every single one of them to help me out with my journey to the next level."
Gullatte's journey to signing with a college to continue his football career didn't come easy. The talented, tough running back suffered a season-ending injury as a junior and was not only forced to watch from the sideline as his team win their first-ever state title, but he faced a long recovery process. 
But Gullatte tackled it head-on and was back to being a force to be reckoned with as a senior, rushing for 1,497 yards and 22 touchdowns on 243 carries. Gullatte finished his high school career in style as he scored eight of those 22 touchdowns in the state semifinal and state championship game, tying a Class 3A state title game record with five rushing touchdowns.
"I think Tremayne's signing is a testament of how hard he worked since he was young until now," Ebner said. "Even having the injuries and stuff he's faced, to be able to find a place and have this opportunity, we're all really excited for him.
"He's always led with character and class. Anybody around can see those things. He's been a great leader. When he got injured, he took it the best possible way and kept leading by example. That, to me, is the truest part of who he is because of how he reacted in the toughest times."
Cisco was the only program that showed interest in Gullatte, and for that, he's looking forward to proving Cisco right.
"It means a lot," Gullatte said. "Anyone that gets to sign to go play at the next level, it's a blessing. All that I've been through, for me to sign [Wednesday], it's just a blessing. Cisco was my only offer and they were the only school that was showing me any type of interest. I've always thought about if I didn't go to the best DI or DII school that I would go JUCO. I had that made up in my mind a long time. I feel like that's where God led me."
Gullatte said only having interest from one school is extra motivation.
"That just adds fuel to the fire," he said. "It's nothing but motivation. I know I can go play at the DI level with all those other guys. God put me in this position for a reason.
"College football's been a goal of mine since I was a kid. I fell in love with football around age 8, but honestly back then I didn't even know you could play college football. Like I say all the time, It's just a blessing. I asked God to point me in the right direction. For me to work this hard and only get one offer, I know He has something up. I've got to stay patient and let Him do what He does best."
When Gullatte signed Wednesday, it continued a tradition of standout Grandview running backs signing at the next level. Out of Grandview's previous seven starting running backs, six signed with a college program.
Gullatte joins the likes of Earnest Crownover III (Army, 2018), Jordan Martinez (Stephen F. Austin, 2015), Daniel Spencer (Houston, 2011), Jerod Cochran (Tarleton State, 2009), and Cameron Cochran (East Central University, 2008) as previous Zebra running backs to sign.
"Growing up, I always was watching Daniel and Jordan and then being able to not only watch Earnest but play with him, just to even be mentioned with them is a blessing," Gullatte said. "It's a blessing to even be mentioned in the same type of category of those guys. I tell Earnest this all the time, that we're going to see each other at the top."
Arellano, Deans, and Gullatte each said they're proud to be part of a historic group that brought Grandview its first-ever state championship and then following it up with back-to-back state titles.
"Since we were in eighth grade and Dane and them were seventh graders, we've been talking about it for years," Gullatte said. "We always said if we don't win state our junior year, it'll be our senior year. But for us to do it back to back, that just shows how much we wanted it and how much being counted out really added fuel to our fire."
"I feel proud knowing that I am a part of history that this little town will never forget, but at the same time very sad that my run is over as a Zebra," Arellano said.
"I feel gratified as I know when I leave for college, there is a precedent set by us on what you need to do as a student-athlete," Deans added. "With everything I've done, I feel like I've shown that if you set your mind to it, a student-athlete can do everything and anything he or she can to contribute to the school and bring upon great honor to its name as I feel we have done."