AUSTIN — After a commanding 41-21 win over Columbus in the Class 3A Division I state semifinals Friday, the Grandview Zebras will make a return trip to AT&T Stadium and look to add a 2019 state championship to go along with their 2018 state title.
The Zebras (14-1) controlled their state semifinal showdown with Columbus (12-3) at Kelly Reeves Stadium from the opening kickoff as Grandview jumped out to a 27-7 lead at halftime and never looked back.
The Zebras continued that dominance in the second half as Grandview built a 41-7 lead early in the fourth quarter before the Cardinals scored a couple of late touchdowns.
And the Zebras now have a chance at back-to-back state championships.
The Grandview Zebras are headed BACK to AT&T Stadium to defend their 2018 state title!Grandview beats Columbus, 41-21, in the Class 3A DI state semifinals! pic.twitter.com/3kzKWl9dUu

— Times-Review Sports (@CTRsports) December 14, 2019
"I'm extremely proud of the kids and the coaches," Grandview head coach Ryan Ebner said. "They've worked extremely hard at this. Everybody talks about the target on your back after winning it last year. I'm extremely proud of my guys — coaches and players — of having to go through that week in and week out, but also all the adversity.
"It wasn't ever simple, which makes it that much more sweeter. I can't begin to express how blessed I am and how proud of those guys I am."
Grandview senior running back Tremayne Gullatte scored three touchdowns in the first half as the bruising senior running back finished with 128 rushing yards and three scores on 25 carries.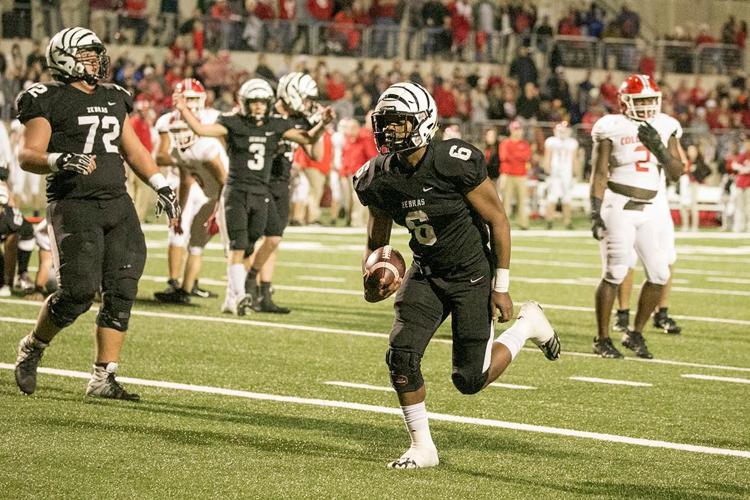 In last week's win over Troy, Gullatte got off to a strong start before suffering an ankle injury that caused him to miss the rest of the game. But Gullatte, along with several other Zebras, fought through nagging injuries Friday.
"I'm extremely proud of Tremayne's toughness," Ebner said. "There were a bunch of guys fighting some bumps and bruises this week. I'm proud of the whole group for fighting through those things.
"If there's any positive to dealing with adversity, it's that we're to the point of being used to it and know how to handle it. It's that 'next man up' mentality. It's just, this is what we need to do this week, and we get it done."
Grandview set the tone early and often, with the Zebra defense forcing Columbus into a three-and-out on the game's opening possession. Then Grandview's offense efficiently moved the ball 56 yards in six plays, capped off by a 20-yard touchdown pass from Dane Jentsch to Luke Ferguson less than 4 minutes into play for a 6-0 lead.
On the Cardinals' ensuing possession, Columbus put together a solid drive as it approached the red zone before Jentsch came away with an interception at the Grandview 21-yard line.
After Jentsch's takeaway, the junior quarterback threw a 58-yard pass to Cooper Deans to set up a six-yard touchdown run by Gullatte for a 13-0 lead with 4:54 left in the opening quarter.
Grandview's defense continued its relentless start as Dametrious Crownover sacked Columbus quarterback Brock Schobel on third down to force another Cardinal punt.
The Zebras then went 61 yards in nine plays — highlighted by a Gullatte 17-yard run on fourth-and-3 — capped off by a Gullatte three-yard touchdown run for an impressive 20-0 lead less than 2 minutes into the second quarter.
Jentsch said getting out to a big lead early was huge.
"Most people think we're a fourth-quarter team, but we laced up our shoes and got after it in the first quarter today," Jentsch said. "Whenever we jumped out in front early, they couldn't run the ball as much and they had to pass it, so it was huge for us. That's what it's going to take for us to win another state championship.
"It means everything [to get back to AT&T Stadium]. The senior leadership on this team is phenomenal. We do what we're supposed to, we listen to coaches, and put everything in the right spot, and that's how we got here again."
The near-perfect start by Grandview — building a three-score lead — forced the Cardinals to go away from their bread and butter early.
"You want to take away what they do best, but that goes with any offense," Ebner said. "People try to do that to us as well. To be able to do that and be able to execute the things we asked them to do was huge. When you're able to take away what you feel is their greatest weapon, that's a big thing."
After rushing for 287 yards and five touchdowns in the Cardinals' win over Hallettsville last week, Grandview held Columbus running back Tyree Simcik to just 25 rushing yards on his first 10 carries until the final two drives of the game. Simcik finished with 58 rushing yards on 15 carries.
"It was real important us putting the first couple touchdowns on them and holding them to a three-and-out to get an early lead," Grandview lineman Cade Fedor said. "It really helped things for the rest of the game. Plus just hitting them in the mouth, that stopped them.
"[Making it back to state] means a lot. I think it's really a testament to this team with all the hard work and all the time we've put into it. We've had a lot of adversity with people getting hurt this year. We've just had to fight through it and keep working."
The Cardinals did what they could to stay in it by getting a big play from Schobel on a 56-yard touchdown pass to Kaycon Wilson to cut the Zebras' lead to 20-7 with 9:29 left before the half.
But Grandview went on a state championship-caliber drive to reclaim a three-score lead. The Zebras took over at their own 23-yard line and proceeded to march 77 yards in 13 plays as Grandview ate up 5:30 off the clock, with Gullatte scoring from a yard out with 23 seconds left for a 27-7 lead at halftime.
The Zebras continued the onslaught to open the third quarter as Austin Boyd hauled in a 35-yard reception that set up a one-yard touchdown run by Jentsch to make it 34-7.
Early in the fourth quarter, Elijah Golden scored on a one-yard run to give Grandview an insurmountable 41-7 lead.
Facing Grandview's second-string defense over the final 7 minutes, Columbus scored on a pair of Schobel-to-Wilson touchdown passes from eight and 13 yards to produce the final margin.
As it has since Ebner took over as defensive coordinator five years ago, the Zebra defense was nearly impenetrable once again in a huge game.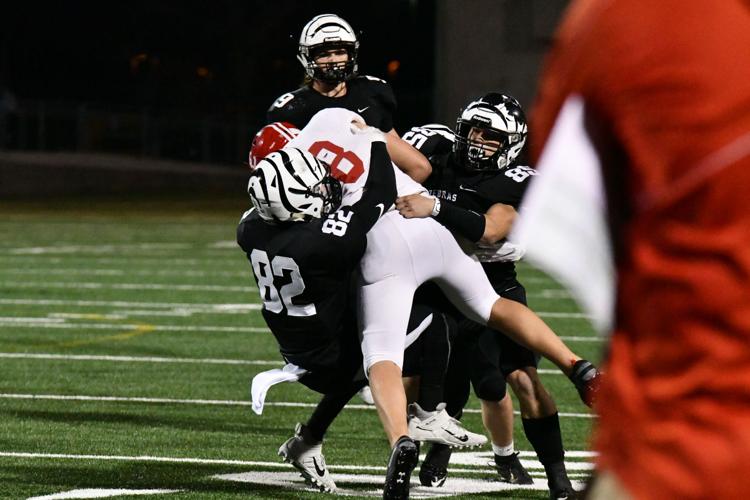 Take away Columbus' 56-yard touchdown pass, and Grandview held the Cardinals to just 3.1 yards per play on 49 plays the rest of the night. Before Columbus' final two drives, Grandview's defense had held the Cardinals to just seven first downs on the night.
Jentsch finished 10-of-17 passing for 179 yards and a touchdown with 69 rushing yards and a touchdown on 10 carries to go along with an interception on defense.
Clayton Hale, Fedor and Crownover led the Zebra defense throughout the night.
Grandview out-gained Columbus in total yards, 418-212, as well as first downs, 25-16.
Up next for the Zebras is a chance to win back-to-back state championships, but the Zebras will have to get past undefeated Pottsboro (15-0) in the Class 3A Division I state final at 3 p.m. Thursday at AT&T Stadium.
"We just need to go out and keep putting in the same work we have been for the last two years," Fedor said. "We just need to go out there and start off by hitting them in the mouth and not letting off until we win."
Grandview 41, Columbus 21
Columbus 0 7 0 14 — 21
Grandview 13 14 7 7 — 41
Scoring summary:
G — Luke Ferguson 20 pass from Dane Jentsch (kick fail), 8:49 first
G — Tremayne Gullatte 6 run (Nathaniel Baker kick), 4:54 first
G — Gullatte 3 run (Baker kick), 10:28 second
C — Kaycon Wilson 56 pass from Brock Schobel (Manu Murga kick), 9:29 second
G — Gullatte 1 run (Baker kick), :23 second
G — Jentsch 1 run (Baker kick), 10:10 third
G — Elijah Golden 1 run (Baker kick), 9:57 fourth
C — Wilson 8 pass from Schobel (Murga kick), 6:39 fourth
C — Wilson 13 pass from Schobel (Murga kick), 1:52 fourth