GRANDVIEW — The Zebras are a win away from accomplishing a rare feat of back-to-back state titles, but standing in Grandview's way of securing that second consecutive state championship is undefeated Pottsboro.
The No. 2-ranked Zebras (14-1) and Cardinals (15-0) will meet at 3 p.m. Thursday at AT&T Stadium in the Class 3A Division I state final.

In Texas high school football history, from 1920 to 2018, there have been 462 state championships awarded (excluding 6-man). Only 54 of those 462 state championships have been back-to-back (or three- or four-peats).
Grandview head coach Ryan Ebner said, as a group, they haven't frequently discussed what's at stake in terms of making history as a back-to-back state champion team, but it has been mentioned once or twice.
"It's mostly just been about the next game," Ebner said. "There was a moment at the beginning of last week with all the bumps and bruises and things we were dealing with where we talked about it as just a reminder to help push through that stuff and not take the moment for granted. A lot of kids spend a lot of time to be in the position we're in. We just wanted to remind them the opportunity we have so we discussed the opportunity of going back-to-back a little."
The Zebras can join that exclusive group of back-to-back state champs with a win over Pottsboro. But doing so won't come easy.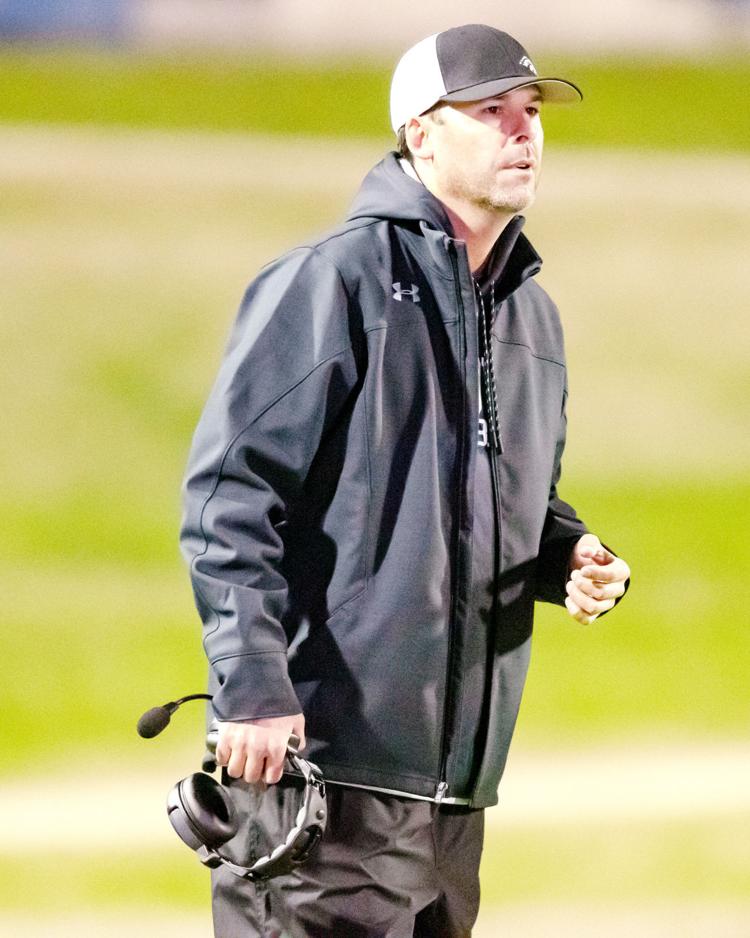 "First and foremost, they're very well-coached," Ebner said. "You can tell by the things they do on the field and how they see things coming. They're very good on offense at taking what they're given. You can tell the coaches can read that and the kids execute what they're saying. Defensively, they do a great job of lining up and being sound and giving you different looks so your quarterback and receivers don't always know what they're in coverage-wise. They've been on a roll."
Pottsboro is coming off wild back-to-back wins, each by one point — 35-34 in double overtime over Gladewater in the regional final and 36-35 over Brock in the state semifinals last week where the Cardinals came away with an interception in the end zone in the final seconds to secure the win. And that was after Pottsboro overcame a 35-24 deficit in the fourth quarter.
"One thing they've got on their side is they won a lot of close games," Ebner said. "That doesn't come by luck, it comes with execution. We're going to have to play a hard four quarters."
While Pottsboro has been in some tight games lately, Grandview hasn't. The Zebras have won their five playoff games by an average margin of 24.2 points per game. But that's where Ebner said their experience of last year's playoff run, which included down-to-the-wire wins on a weekly basis, is nice to fall back on.
"These kids have that all under their belt," Ebner said. "That's the greatest thing about experience is it's not taught, it's something they have to go through. All these kids have gone through those moments. As far as playing in a close game, it's just taking the play as it comes. Our kids do a great job of staying even-keeled and not getting wrapped up in the moment. They take what they learn from each play and move on.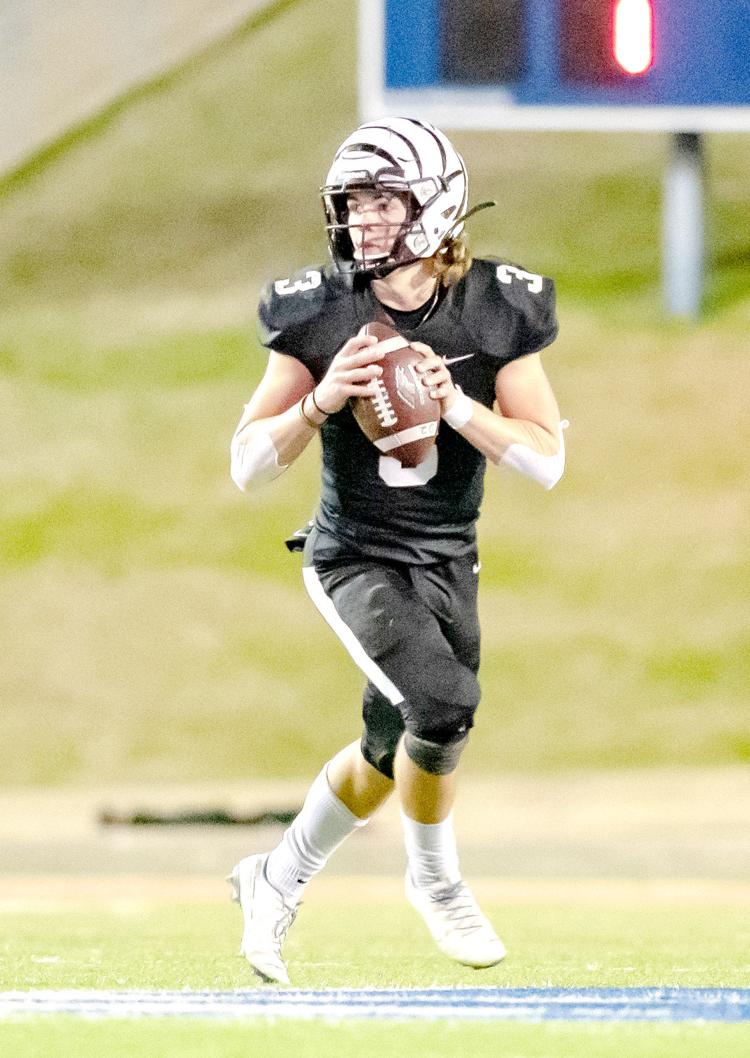 "I tip my hat to Pottsboro. You keep seeing them make plays in the clutch and executing what those coaches want out of them. They don't have any give-up in them, that's for sure."
Pottsboro head coach Matt Poe said he likes the resiliency his Cardinals have shown during their playoff run as Pottsboro is making its first-ever state final appearance.
"I just think our kids are very resilient," Poe said. "They're mentally tough. They never quit fighting and battling. They believe in each other and believe in what we do as a staff. And they just make plays. Will that help us going forward? I hope so. It sure isn't going to hurt."
With Grandview's experience of playing for and winning a state title, Ebner said there's a little bit of a different feel going into this game.
"This time around it feels more like another game and it's all more workmanlike," Ebner said. "Last year, you got into all the extra stuff and you're excited about it as a coach, the kids, and the community because it was our first time. This time, it's more workmanlike. You know all the little things there are to expect. ... Once you get back in the locker room, it gets you into your pregame routine.
"Although you are at AT&T Stadium in front of a big crowd, your team is still the same. Once we get onto the field and the game starts being played, that takes a back seat to everything. I think regardless if you've been there or not, once the game starts it's just football and you do what you've done for 15 games up to that point."
The Cardinals haven't lost a game since their 2018 season ended in the bi-district playoffs with a 63-35 loss to eventual state finalist Malakoff. And now Pottsboro is on the verge of making its own school history with a chance at its first football state title.
"First of all, we've got a bunch of good kids," Poe said. "They may not be the best athletes in the world but they do what they do well. They love each other and care about each other and they like to play for each other. It's a special group."
Poe said his team is facing a big challenge in taking on the defending state champs.
"Probably the first thing you notice just looking at them is their size," Poe said. "They've got some really big players. They're athletic. You know what they've done in the past as defending state champs. They've got a heck of a quarterback, running back, and a lot of other guys who are extremely good football players, but the first thing that stands out is their size."
For Grandview, Ebner said the two biggest keys to success will be trying to avoid giving up the explosive plays to the Cardinals' offense and then the Zebras winning the line of scrimmage on offense.
"We're going to have to limit the big play for Pottsboro," Ebner said. "That's going to be something they do from time to time and you're going to have to do a good job of eliminating that quick strike. Offensively, make sure we keep control of the line of scrimmage. I think those are two huge things for us this week."
Zebra defense faces toughest test vs. explosive, balanced Pottsboro offense
Not many teams in the state of Texas have been able to slow the Cardinals' offense down, let alone completely shut them down. Pottsboro's season low in points scored is 27 in a 27-14 win over Gunter on Sept. 6.
The Cardinals have averaged 45.7 points per game on offense through 15 games, led by junior dual-threat quarterback Braden Plyler and 2,000-yard rusher in senior running back Cy Shope.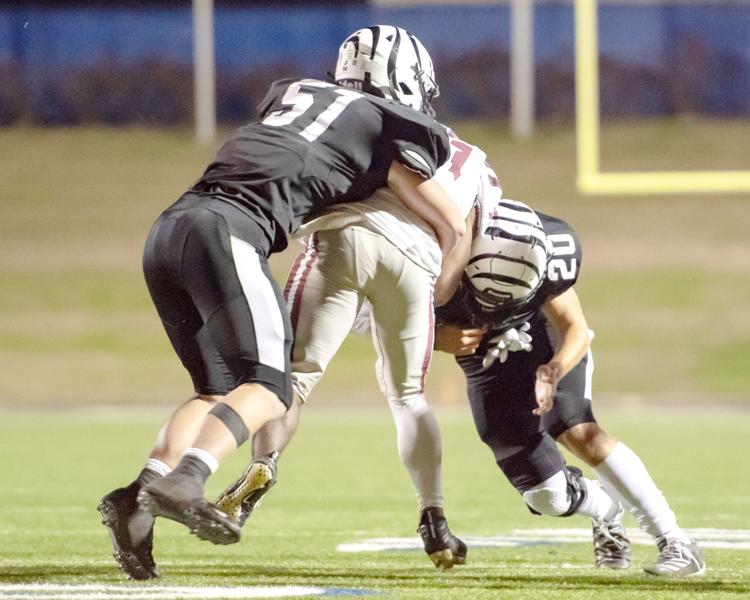 "They've got a dual-threat quarterback who does a great job of keeping plays alive, moving the chains and ad-libbing," Ebner said. "He runs as much as he throws and the tailback does a great job of getting hard yards but he's also really fast. Their quarterback reminds me of Dane [Jentsch]. He takes off and uses his feet and then his receivers do a great job of coming back to him or finding an open spot to give him a target.
"They've got five good receivers and they rotate two to three kids in the slot and they two good-sized kids on the outside. They love throwing the fade ball. Those guys are tall and they've got good speed. They have excellent hands, every single one of them. They'll find the holes in your defense; they do a great job of seeing that."
While Pottsboro has run the ball nearly twice as often as they've thrown it, the Cardinals are highly efficient in both areas, presenting arguably the toughest test for a stellar Grandview defense that has surrendered just 14.4 points per game on defense this year.
Plyler scored the game-winning touchdown in last week's win over Brock as he rushed 31 times for 97 yards and two scores. He also threw for 217 yards, including a 69-yard touchdown pass to Ezra Fritts.
Poe said it will all come down to a matter of execution.
"We're going to have to execute on offense," he said. "It's all about execution this late in the game. You have two good teams playing each other and whoever executes the best will win the ball game."
Ebner said the biggest keys for the Zebras defensively are tackling in the open field and not losing track of receivers once Plyler starts to scramble.
"The fact they have essentially six really good skill players on the field makes it tough, then you have to account for the quarterback running," Ebner said. "The hardest is accounting for the play that's not drawn up. You don't know what it's going to look like until it's happening. You're going to have to have good tackling in open space and our guys in secondary need to stay with their receivers when things break down.
"We're going to have to get lined up correctly. Above all, win your individual battle and just do your job. Once you get past that point, you're going to have to make some open-field tackles in space. They'll spread you out just because of all the athletes they got, so you know a lot of stuff is going to happen in space. We have to be good in our individual battles and get guys on the ground in the open field."
Grandview will have the edge in the trenches from a size standpoint with Dametrious Crownover, Cade Fedor, and Jacob Bayer matching up against an undersized — but quick — Pottsboro offensive line.
"They've got some receivers/tight end-type kids who they moved to the offensive line earlier in the year," Ebner said. "So we'll have the size advantage, but the positive of that for them is they're really athletic and really quick up front, and they do a good job of getting to the second level. They're good at what they do.
"In some instances, you'll have the size advantage but we have to deal with their quickness. You have the edge in one area but maybe not the other."
Grandview's success offensively vs. Cards' defense must start in trenches
The Zebra offense — which averages 41.1 points per game — has certainly hit its stride in the playoffs as Grandview has gotten healthier both on the offensive line and at receiver.
Grandview's run game is at its peak with multiple 100-yard performances from Jentsch and Tremayne Gullatte in the postseason. And Ebner said that all starts up front, where the offensive line, led by senior Brody Smith and junior Jacob Bayer, has been re-energized with the near-miraculous return of senior Cole Cannon from a serious injury suffered in week 2.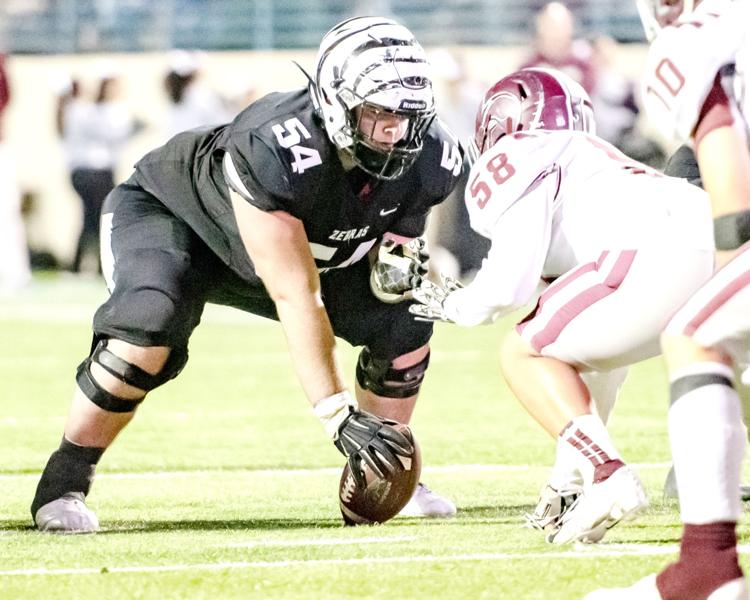 "First and foremost, it's about doing what we've been doing since the playoffs started, and that's run the ball," Ebner said. "I thought coach [John] Jay and his staff have done a great job of evolving with all the things that have happened this year and taking the personnel they have and using those things to their advantage each week. A lot of guys have gotten reps in different spots so they can do different things. 
"Now we've gotten some of those guys back. You're seeing the offensive line really gelling and that's opening up our run game. We've got some guys who can do dangerous things back there. We have a receiving corps similar to Pottsboro in that we've got great kids in each spot who run good routes and get open. But it's all going to start up front. The more holes you open up, the more passing seams open up. Like any game to me, it's all about the trenches. To me, that's where it starts on both sides of the ball."
Ebner said Pottsboro's defense — which allows 19.1 points per game — is solid all the way around.
"They do a great job of lining up," Ebner said. "That seems like something that's a cliché, but when you see a team that always lines up well, they're always in position to make a play. Sometimes you have to be disciplined in what you're doing as an offense against them. You can't do things that will put you in a bind in the down-and-distance category. They're well-coached and they fly to the football. I feel like they're just sound in what they're doing. It's tough to get big plays on them because they always line up correctly. We're going to have to get some hard yards and break some tackles.
"They all work well together as far as their reads. They're very disciplined in what they do. They're gap sound. They all make sure they take care of their job. I feel like they play as a unit really, really well."
The Cardinals' head coach said slowing down Grandview's offense is not an easy proposition.
"That's not an easy question to answer, to be honest," Poe said. "They're so good offensively. They run the ball extremely well with their quarterback and running backs. They have some big linemen. But if you load the box, they'll hurt you throwing the ball as well. We'll have to be fundamentally sound."
BY THE NUMBERS
Grandview's path to AT&T Stadium:
42-7 over Rockdale in bi-district
43-29 over East Chambers in area
45-14 over Cameron Yoe in regional semifinals
34-13 over Troy in regional final
41-21 over Columbus in state semifinals
Pottsboro's path to AT&T Stadium:
63-0 over Kemp in bi-district
47-35 over Sabine in area
38-31 over Malakoff in regional semifinals
35-34 in 2OT over Gladewater in regional final
36-35 over Brock in state semifinals
Team scoring:
Grandview has outscored opponents by 401 points this season. Pottsboro has outscored opponents by 399 points this season.
The Zebras' average scoring margin is 26.7 points per game; the Cardinals' average scoring margin is 26.6 points per game.
Grandview averages 41.1 points per game on offense and allows 14.4 points per game on defense. Pottsboro averages 45.7 points per game offensively and allows 19.1 points per game defensively.
Common foe:
Grandview and Pottsboro share just one common opponent from this season — Malakoff
Grandview beat Malakoff, 14-13, on Sept. 20 in Malakoff. (It was the Zebras' third win over the Tigers in a year; Grandview beat Malakoff in the 2018 state title game)
Pottsboro beat Malakoff, 38-31, in the regional semifinals on Nov. 29. (The Cardinals lost to the Tigers, 63-35, in last year's bi-district playoffs