ARLINGTON — After overcoming an early 14-point deficit and then watching an 18-point lead disappear, Blum proved it has the heart of a champion by scoring a game-winning touchdown in the final minute to record a 58-52 win over McLean for the Bobcats' first-ever football state championship.
Blum faced a 22-8 deficit late in the first quarter of its Class 1A Division I state title game Wednesday at AT&T Stadium, but the Bobcats impressively scored 32 unanswered points to take a 40-22 lead late in the third quarter. However, the Tigers rallied and tied the game at 52-52 with 2:15 remaining.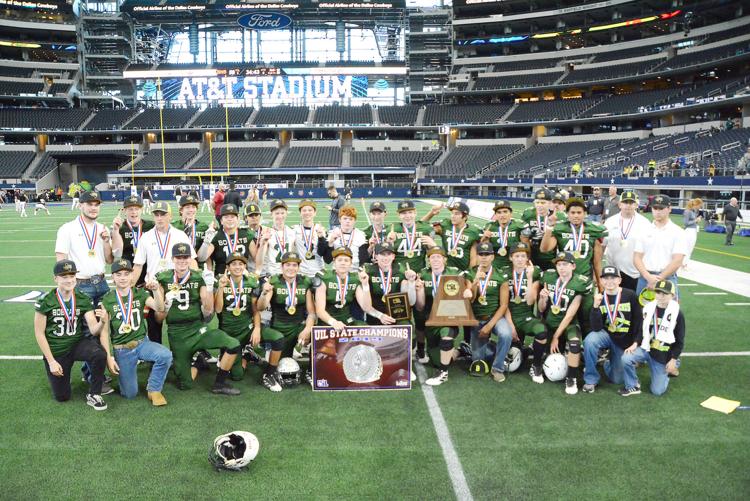 From there, the Bobcats (13-2) went 60 yards in three plays, aided by a McLean defensive pass interference penalty, as Coltin Gonzales scored on a 29-yard run with 58 seconds left. But the kick attempt was no good, keeping the door open for McLean, the defending 1A DI state champs, to win it in the final seconds.
Stop us if you've heard this before: Coltin Gonzales TD!XP again is no good.Blum leads McLean 58-52 with 58 seconds left.#txhsfb #Txhsfbplayoffs #UILState pic.twitter.com/9MlOabAzhh

— Dave Campbell's Texas Football — TexasFootball.com (@dctf) December 18, 2019
The Tigers (13-2) got down to the Blum 30-yard line with 3 seconds left, but McLean's final play fell well short of the end zone as the Bobcats secured their first-ever state title in dramatic fashion, kicking off the 2019 UIL high school football state championships with a stellar game in front of 3,925 fans.
"They love each other," Blum coach Cooper Thornhill said of his team. "That's the key. It's been an unreal group to coach. ... This community deserves this. They've been knocking on the door for years and years and years. This is the 50th year they've had football at Blum. A grandfather was on that first team and that's his grandson right there, Dylan Vardeman. For him to be able to see his grandkid win a state championship — and that's the way all that community is — it's unreal. It's been great."
Blum senior Coltin Gonzales was named the championship game offensive MVP after he rushed 26 times for 232 yards and five touchdowns — the final carry of his high school career a 29-yard, state championship-winning touchdown.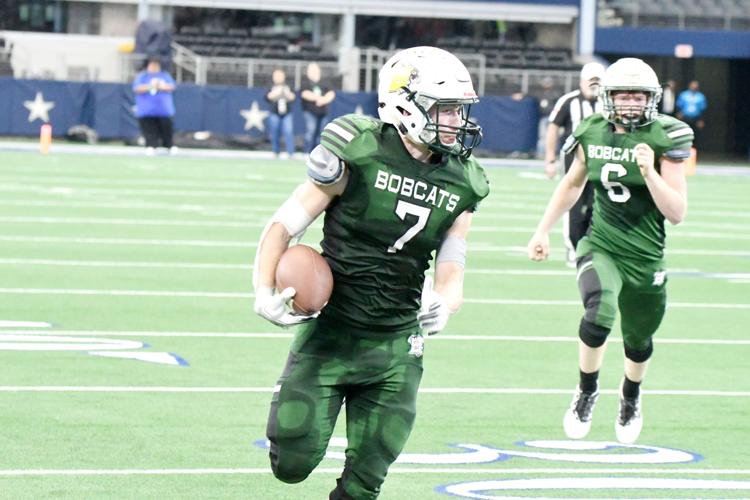 Vardeman completed 5-of-8 passes for 143 yards and two touchdowns as the four-year starting quarterback engineered the Bobcat offense to near-perfect execution at times, with Blum leaning on the passing game early before riding Gonzales down the stretch.
"Our quarterback, Dylan, audibled three times and we scored on it," Thornhill said. "I trust him and the team trusts him with everything we have. Everybody in the stands is looking at me like, 'What a great call. That coach is so good.' But three of the scores we had, our quarterback audibled because I had a play that was fixing to get stopped. So that's nice to have."
Vardeman, who also led Blum's defense with 8.5 total tackles, one tackle for loss and a pass break-up, said it was a surreal moment to win a state title and share that experience with his grandfather, who has attended nearly every Blum sporting event over the past 50 years.
"To see him this excited right now was wonderful," Vardeman said. "He played 50 years ago on the first Blum team. He's been following them ever since. He hasn't ever been to a state championship team. But he got this one."
Entering the game, most considered Blum a heavy underdog as the Bobcats were making their first-ever state final appearance and facing a McLean team that had already beaten Blum, 65-38, earlier this season. But Vardeman said none of that mattered to them, even when the Bobcats faced an early 22-8 deficit.
"Them being the favorite didn't matter to us," he said. "We don't talk about that. Since last year, we knew this was our year to win state. We knew we were going to be here. Falling behind 22-8 was nothing to us."
McLean took a 6-0 lead on the first possession of the game on a 43-yard pass from Ben Crockett to Keaton Helton. After the Tigers forced an interception on Blum's first drive, McLean immediately cashed in on the takeaway as Crockett took off for a 78-yard touchdown run for a 14-0 lead less than 4 minutes into play.
The Bobcats shook off the rough start as Vardeman connected with Koby Clinkscales for a 28-yard touchdown pass, and Harley Martindale's kick was good to bring Blum to within 14-8.
But McLean's hot start continued as Crockett — arguably the best six-man football player in the state — scored from 42 yards out for a 21-8 lead with 1:21 left in the opening frame.
Despite the 22-8 deficit, Thornhill said there was no panic on Blum's sideline.
"I don't think we ever talked about it," Thornhill said. "It seems like it's normal for us to get down early. We've been down early the first five playoff games. Just hold it together. Like we told them, we talked about it Monday night, it's one step at a time. We're climbing a huge mountain right here. You can't step back and look at that mountain as a whole. We've got to take one step at a time and one play at a time. 
"They're going to score; we're not going to shut them out. Our kids knew that. But I knew they couldn't stop our offense, not all parts of it. They'd stop the run game but couldn't stop the pass [and vice versa]."
The Bobcats ended the first quarter on a high note as Vardeman and Clinkscales hooked up again, this time from 53 yards out on the final play of the first quarter as Blum pulled to within 22-16.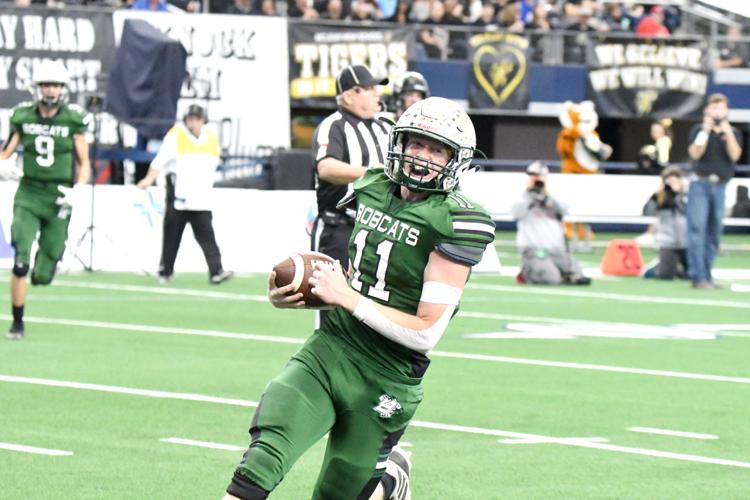 The 53-yard strike was the first of four unanswered touchdowns the Bobcats would score. A one-yard Gonzales touchdown run provided the only points of the second quarter as Blum took a 24-22 lead into halftime.
The Bobcats' run continued in the third quarter as Gonzales capped off an eight-play, 59-yard drive that chewed up nearly 4 minutes off the clock with an 11-yard touchdown run.
Then Blum's defense continued its stellar play after a slow start as Clinkscales came away with an interception deep inside Blum territory. And the Blum offense converted on the takeaway as Gonzales scored from 13-yards out for a 40-22 lead, the biggest of the game, with 1:32 left in the third.
The Tigers quickly answered as Crocket scored on an eight-yard run to pull McLean to within 40-30, but the Bobcats got a huge special teams play as Trey Bullard returned the ensuing onside kick attempt 42 yards for a touchdown to give Blum a 46-30 lead going into the fourth.
McLean opened the final quarter with a pair of touchdown passes from Crockett to pull the Tigers to within 46-44 with 3:59 remaining. 
Blum's offense — fueled by Gonzales — came up with a much-needed drive as the Bobcats answered with a three-play, 60-yard drive, capped off by an 11-yard touchdown run by Gonzales, for a 52-44 lead with 2:51 left to play.
The Tigers just wouldn't go away as McLean's Jacob Watson returned the ensuing kick 62 yards to set up a one-play drive as Crockett scored on an eight-yard run. After Jackson Rainer's kick, the game was tied, 52-52, with 2:15 left before the Bobcats' game-winning drive and score.
The win over Blum capped off a magical season for the Bobcats, where they avenged three losses to teams in the postseason. Blum's state title victory was the Bobcats' 13th consecutive win since an 0-2 start to the season, with losses to Jonesboro and McLean.
"We were on a revenge tour," Thornhill said. "Union Hill beat us last year and knocked us out and we got them [this year]. Then Jonesboro. It was one step at a time; that's the biggest deal. We had to get healthy and we had to believe, and once we started believing in each other instead of trying to do it individually is when it all came together. Like I told the kids, hard work always pays off with rewards. Winning is a by product of hard work, and that's what the kids put in."
Crockett led McLean as he rushed for 215 yards and four touchdowns on 27 carries to go along with 13-of-21 passing for 254 yards, three touchdowns and one interception. Crockett was voted the game's defensive MVP after registering a game-high 14.5 tackles.
Clinkscales finished with three receptions for 111 yards and two touchdowns for the Bobcats while Blain Garza added 34 rushing yards on eight carries.