ARLINGTON — The Burleson Centennial Spartans overcame a 10-point deficit with less than 6 minutes remaining for a thrilling 38-34 win over crosstown rival Burleson on Thursday night at AT&T Stadium.
After a relatively slow start to the game, both teams exploded for big plays in the second half as the rivals went back and forth in an entertaining season opener. The two teams combined for just 231 total yards in the first half but the offenses opened up in the second half to the tune of 563 combined yards.
The Spartans played from behind most of the night, either facing a three- or 10-point deficit from the second quarter on until their comeback in the final few minutes.
For a relatively young Spartan team, Centennial Coach Kyle Geller said he's proud of how his team just kept battling.
"It was an awesome win as far as our team just hanging in there and fighting through adversity and coming out on top at the end," Geller said. "We never lost faith.
"I hope this game lets them know that during games there's going to be roller coaster rides. You have to just keep playing hard and don't worry about the score. Be the best you can be and good things happen."
After a 12-yard touchdown pass from Jalen Kitna to Aswan Bonner gave the Elks a 34-24 lead with 9:19 left, the Spartans cut the lead down to three points when sophomore quarterback Phillip Hamilton scored on a three-yard run with 5:35 remaining.
The Elks, in their first game under Head Coach Jon Kitna, appeared poised to close out the game after running back Jarrett Austin broke free for a 58-yard run on the second play of the ensuing drive.
But Centennial's defense came through clutch to force the Elks into a fourth-and-2 situation from the Spartan 3-yard line. Instead of lining up for a field goal and a potential six-point lead, Burleson went for it and Centennial's defense dropped Austin for a three-yard loss and a turnover on downs.
"That showed a lot of guts and intestinal fortitude," Geller said of the defensive stand. "Fortunately we were able to make a couple plays when it really mattered. That was definitely the play of the game. It wasn't going real well and we could've said, 'well, we lost this game; they're inside our 5,' and just given up but the kids didn't. They fought through it and made a play. Good things happen when you have that kind of attitude."
Kitna said there were a couple of reasons whey they made the decision to go for it rather than settle for a field goal.
"It's the mindset we're trying to instill in our program, which is we're trying to win," Kitna said. "We could've kicked a field goal and made it a six-point game but the fact remains that regardless, they were going to have to go down and score either way. So if we kick the football off to them [after making a field goal], they're going to get the ball at the 35- or 40-yard line and only need 60 yards. If we go for it down there and they stop us, then they've got 95 yards to go. Kudos to them, they did it. We're going to learn from it as a program and a staff how to put our kids in a better situation. At the end of it, that was a poor play call by me, I should've picked a better play."
With only 2:22 remaining, the Spartans took over from their own 6-yard line. Hamilton and fullback Christian Hudson led an efficient — and methodical — 10-play drive down the field.
After runs of nine and 18 yards by Hamilton, along with an 11-yard run from Hudson, Hamilton connected with Chapman Lewis for a 25-yard pass — the chunk play Centennial needed — to set the Spartans up inside the Elk 30 with 37 seconds remaining.
From there, Hamilton picked up six yards and Hudson added eight more to penetrate the red zone with 24 seconds left. Hudson then took the quick handoff to the left side and went almost untouched to the end zone for a 14-yard game-winning score with 19 seconds remaining.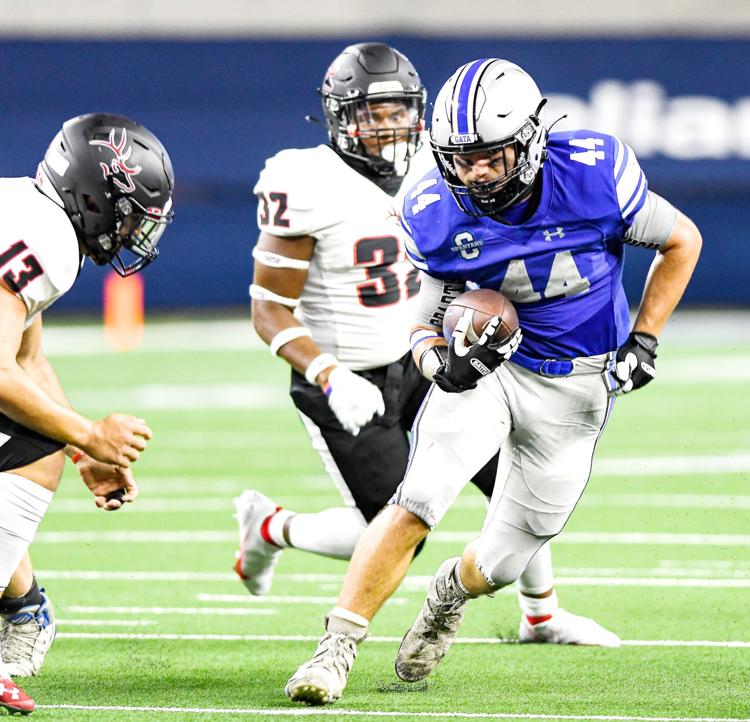 "I was just happy they had the confidence to do it," Geller said. "They really did. There was no panic, no nothing. I was a lot more panicky than they were. Before we even started the series, Phillip was like, 'Lets go win this game, coach!' That's just how he is. That fills everybody with confidence. A lot of it he did with his feet. We did a couple QB draws with that drive and he had a nice pass to Chapman Lewis there. It was good time management in a two-minute situation."
After the Elks got just past midfield on their final drive, Burleson's last-ditch effort on a hook and ladder play failed as the Spartans held on for their third straight win over the Elks to take a 5-4 lead in the head-to-head series.
Burleson held a 14-10 lead at halftime on the strength of a 45-yard touchdown pass from Jalen Kitna to Luke Peterson and a 50-yard fumble return for a score by defensive end Quenton Husband.
The Elks added to that lead on the first drive of the second half when Jalen Kitna connected with Peterson again, this time from 19 yards out.
In a touching moment after that score, the Elks took a knee on the PAT to keep their point total at 20 — a classy gesture honoring the memory of Tre Allison, who died in a car wreck in June (the Elks also wore a No. 20 — Allison's jersey number — decal on one side of their helmet).
"We talked about a lot of different ways how to honor that young man and his family, and that was one of them in our first game," Kitna said. "The way we did the national anthem, lining up from the 20 to the 20 was another way to honor him. The 20 on our helmets. We want people to know how much he meant to our program. We want his family to know how much we love him and how much we miss that young man's presence in our program. When we got the 20 [points] there, it was something we had talked about for months. ... We definitely wanted to honor that young man. Like I told our players, being men of our word means something in a world that is trying to diminish that."
Later in the third quarter, after recovering a fumble on a bad snap by Burleson, the Spartans pulled to within one possession on a 24-yard touchdown run by David Clerk.
But after a failed onside kick attempt by Centennial, Burleson needed only one play to regain a two-score edge as the Kitna-to-Peterson connection worked again, this time from 47 yards out, to put the Elks up 27-17.
The Spartans, however, didn't have to wait long for their answer as Hamilton raced through the middle of the Elk defense for a 77-yard touchdown run to make it 27-24 with 2:10 left in the third quarter, which set the stage for the wild fourth.
Geller said the game was essentially a tale of two halves. The Spartan defense dominated the Elk offense in the first half, holding Burleson to less than 85 yards — with 45 of those yards coming on one play — but three Spartan turnovers were the difference along with a couple of missed touchdown passes, Geller said.
"It was kind of a strange game in that our defense gave up just seven points total in the first half," Geller said. "We were pretty dominant defensively and they come out the second half and ran the ball down our throat, which opened up the passing game. They had a good plan in the second half, for sure. They really took it to us. 
"Offensively it was in reverse. We gave them the ball three times in the first half. We missed a couple wide-open TD passes in the first quarter and we've got to hit those. When you get those opportunities, you have to hit them. They were playing a defense that was saying, 'we're going to give you this,' and we didn't take it. So we've got to do better with that."
Hamilton finished with 162 rushing yards with two touchdowns on 18 carries; he also completed 3-of-9 passes for 88 yards with an interception. 
Hudson had 104 rushing yards and two touchdowns on 23 carries, and Geller said he was glad to see Hudson have that type of success in his first game as a featured back.
"He deserves all of the success that he gets this year because he's really worked hard," Geller said. "He's that old-school running back. He's a big, strong kid. His speed has gotten a lot better. He's tough. He's a 'yes sir, no sir' type guy, no nonsense. He's a team favorite. Everybody loves Christian."
In his Burleson debut, Jalen Kitna completed 15-of-19 passes for 207 yards, four touchdowns and one interception. Austin had a big night with 151 rushing yards on 21 carries while Peterson finished with five receptions for 143 yards and three touchdowns.
Jon Kitna liked the resiliency his team, especially on offense, showed in the second half.
"We started slow; I think we had some hesitancy," he said. "It's a big game, our kids hadn't really played in many big games like that. We started slow but they showed resiliency, which is great. That's one of the core values we talk about in our program. We're going to watch this one, clean it up today and then move on."
The Spartans finished with 423 total yards from scrimmage, including 335 rushing yards. The Elks racked up 371 total yards.
In week 2, Burleson is scheduled to host Timber Creek while Centennial is set to face Wolfforth Frenship in Sweetwater.