GODLEY — Soccer has officially arrived at Godley ISD for the 2021 season.
After playing an outlaw schedule in 2020 to get things started, the Wildcats and Lady Cats are set to participate in their first-ever UIL season of soccer this year and are scheduled to kick off their 2021 seasons Tuesday.
Getting soccer added as a UIL sport at Godley High School has been a long time coming.
"I have been in Godley ISD for almost 10 years and almost all of those years there was a push to implement soccer, not only from myself, but from parents and students who played," Godley Girls Coach Kasie Welborn said. "I would say that the last four years, there were stronger whispers in the wind. Last year should have been our first official season, but the decision was made to wait because the new [UIL] alignment was going to happen this year.
"I think [offering soccer] was the next necessary step for our growing community. It shows just how much our ISD is evolving. We even have our own youth program that started a couple of years ago. It is super important that Godley students have the opportunity to play the sport they love in the school that they love. The soccer community is growing larger every day; it's only natural we grow with it."
Even though last year was his first with Godley ISD, Boys Soccer Coach Jordan Ebbens said it was apparent from the start how excited everyone was to have a soccer program.
"When I first got the job and came in, everyone walked up to me and was like, 'Oh, you're the soccer coach? We have been needing this and wanting this for so long,'" Ebbens said. "This was coming from coaches, teachers, people in the community, and especially the kids.
"Last year, there was a guy who would watch practice and he was actually a student who graduated two years before and he was one of the biggest advocates of soccer coming to Godley. So many kids were really outspoken about how they wanted soccer to come to Godley. Even for students who have already graduated, now they're coming back and are super excited for the program. That's really special. I could tell I stepped into something that they've really wanted here for a while."
Both Welborn and Ebbens said last year — seeing Godley soccer build from the ground up — was special.
"Last year was a dream come true for me," Welborn said. "To see so many girls that love the game that I have loved for so long finally get a chance to represent their school was simply amazing. I taught most of these girls in the fourth grade so we already had a good foundation. I knew what kind of people they were and I knew the hard work that they were willing to put in. I was ecstatic to say the least. I knew there would be some difficulties, but the girls far surpassed my expectations for a first-year program. That's the beauty of small-town Godley. These girls have known each other a long time and therefore worked together so effortlessly from the get-go."
Ebbens said there were the expected ups and downs last year, but added he was more encouraged than anything else.
"It wasn't easy by any means but it was nice starting out and getting that outlaw schedule played so we could gauge where we were and see where we could take the program," Ebbens said. "We had bumps and bruises along the way. But overall I was very encouraged."
Ebbens said he knew soccer was going to work in Godley during their first match ever last year.
"Our first game was against a Waco team, who has had a program for a really long time, and we went to PKs and ended up winning our first game ever," he said. "While it was on an outlaw/JV schedule, it was huge for the kids. For them to get a taste of that, it set us up for the future and that's what was encouraging is the kids came right out of the gate with a mindset of 'We're going to win.' I could definitely see the hunger in them from the start."
The Lady Cats experienced a wealth of success in their outlaw scheduled with a 12-2-1 record.
"Last year we played a rogue schedule and ended with a respectable record," Welborn said. "Even though this is our first 'official' varsity season, nerves are a little less than what you would expect. They got their feet wet last year, and now just feel the need to go out and do work. The atmosphere is looming. These girls have something to prove. They are up for the challenge, but they feel the weight of everyone watching, waiting to see what they can do."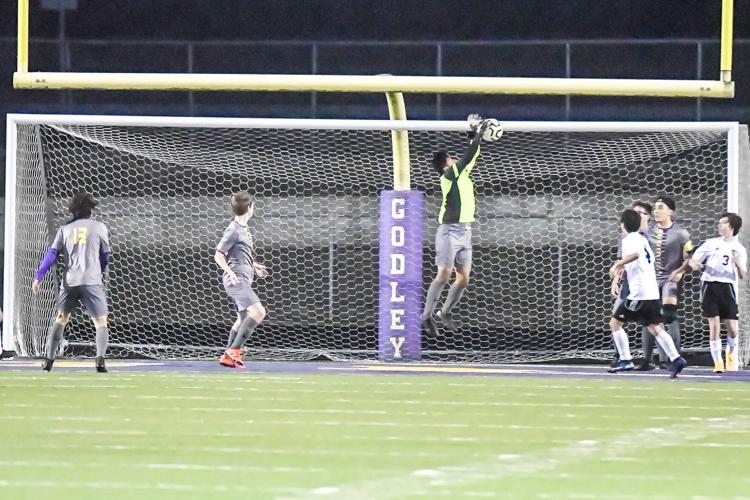 For Ebbens, a 2013 graduate of Cleburne High School, he is grateful to be selected as the first-ever head coach of Godley boys soccer.
"To me, gratification is the first word that comes to mind because I think I'm very lucky to be chosen for this position," Ebbens said. "I just thank everybody that's taken a chance on a younger guy coming in and starting a program when there maybe were other people who could've handled it. I'm all about the kids, so coming in and starting a program, I want to do right by them."
Godley soccer will be in District 8-4A with Alvarado, Kennedale, Midlothian Heritage, Venus, Waxahachie Life, Dallas Life Oak Cliff and Keene (boys). And Ebbens said they're not going into this season just to get their feet wet.
"Our mindset is to go in and win, win win," Ebbens said. "By no means are we going to say we're state champs already. But at the same time, we're not going to have a mentality of 'Well, we're new so we're going to lose this season.' The one thing that I got from other coaches about this soccer team last year is we're scrappy. We've had games where we were down two goals at halftime and we come back and win 3-2. You can tell even in the hard games we've gone through where we lose by eight, at the end of the game they are still fighting to win. So that's what I would say, because my team is scrappy and can fight and claw their way, we don't care if it's Kennedale or Venus or whoever; it doesn't matter to us, we're going to go in to win."
Welborn said she likes how her team is already playing together as if they've been doing so for years.
"The best part of this group of girls is that they all bring something to the table," she said. "They feed off of one another. As a coach, and former player, that was something I was looking for. Some things are hard to teach, and reading each other like you would in year three right out of the gate, is huge.
"We want to lay the best possible foundation for Lady Cat soccer. I want these girls, and myself, to create a program that is going to get stronger every year. Our expectation is simple: Play as one, play good soccer and the rest will follow."
The Lady Cats have a strong foundation of already proven talent to build off of from last year.
"My defensive four — captain Sierra Rodriguez, Zoie Switzer, Londyn Howle and Katelyn Shackelford — work as well together as I have ever seen a back four work," Welborn said. "The midfield is a stronghold led by Andi Burks and Caleigh Underwood. Madeline George and Melissa Perez have fit into their new roles nicely. Keepers Jaci Briggs and Torie Hiser only allowed three goals against us last season. Defensive center mid and captain Mady Brooks is one to watch. Her ability to read the field is very impressive. She shows great leadership as well on and off the field. And center mid and captain Trinity Brown is a definite standout with 39 goals last season. She controls the play of the field like a veteran player."
On the boys side, Ebbens said he'll take his goalkeeper against anyone's.
"No matter how good our soccer team does this year, I know I have one of the best keepers out there in Bryan Maldonado," Ebbens said. "He is an exemplary soccer athlete. The kid does extra and puts time and work in. If anyone gets a gaol, he's going to make them earn it. This is the kind of kid that, if the game goes down to PKs or we're in sudden death, I'm putting him in there because he can play the whole field."
Ebbens added that he's grateful for what last year's senior group did in helping lay the foundation for the program moving forward.
The Wildcats are scheduled to kick things off at 5:30 p.m. Tuesday against Keene, then the Lady Cats will host Springtown at 7 p.m.