Eighth-grade teams from Smith and Wheat middle schools ended their Quad County football season as District Champions.
Smith's Gold (B) Team came away with championship honors in posting a District record of 5-0-1, with Wheat's A Team going undefeated at 6-0. The WMS B Team finished third in District, ending the season at 4-1-1. 
The boys' athletic programs at both Cleburne middle schools are off to a strong start in 2019-20 with District team and individual honors achieved in cross country in October.
"We are always pleased when our students achieve in academics, athletics, leadership events and skill competitions," Athletic Director Jeri Hall said. "Since many of our middle school athletes continue on to compete in high school, news like this is very exciting."
Members of the Smith District Champion team includes Evan Melton, Eric Lassiter, Jacob Mayer, Landon Burton, Jordan Mayer, Daniel Galvan, Max Cary, Chase Watson, Izaias Cuevas, Cash Herrell, Calyb Carter, Isaac Morrow, Bryce Reeves, Landry Leigh, Jesse Enoch, Froylan Ibarra, Ayden Baltazar, Xavier Wilson, Jesus De Labra, Luis Rodriguez, Xadrian Gracia, Mateo Gonzalez, Noe Mireles, Sean Gunnerson, Dakota Coggin and Harley Fitzgerald, coached by Michael Hoots, Cooper Walls and Matthew McBride. 
"We had a great time coaching this group," Hoots said. "It was fun to watch them work hard each week and get better. They really came together as a team and had fun all the way through the season. I hope they all play in high school, because they will have a chance to be good."
Among the stand-out starters for the Smith Jackets was quarterback Bryce Reeves, who also played in the position of middle linebacker.
"Bryce got better each week and worked hard," Hoots said. "Ayden Baltazar was our starting running back and ran hard each week. It always took more than one tackler to bring him down. Izaias Cuevas was fun to watch this year. No matter where we asked him to play, he would do it and not complain. He was our starting half-back and our starting weak side linebacker. At linebacker he really excelled each week and would have at least five tackles for loss each game. He did a great job for us. Landon Burton was one of our go-to receivers each game. He made great catches every time."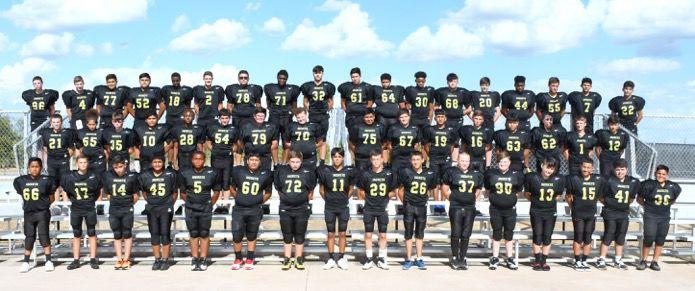 Wheat coach Derek Brewer was pleased with the fortitude displayed by his District Champion A Team throughout the season. With what is believed to be first football district championship for the Wheat Jackets following the creation of two Cleburne middle schools, team members were celebrated by classmates in an organized parade through the hallways of the school.
"They worked hard all season," Brewer said. "They faced some adversity through injuries, but stayed focused as a team and played well together. Coach (Donnie) Williams had a motto that he reminded the team of every day. Whether it was in the weight room or on the field, the goal was to 'win the day.' He emphasized that into winning every snap, series and rep in the weight room. This team bought into that philosophy and came out on top."
Wheat's district-winning A team included Kolt Giesen, Logan Schroyer, Jayshaun Scales, Luis Nuñez, Nathan Bishop, David Ramirez, Santiago Galvez, Christian Ramirez, Nick Terronez, Jalen Bolden, Dorian Potter, Nathan Dawson, Jesse Ramirez, Ganon Gregory, Xavier Aguilar, Aiden Fuller, David Rodolfo, Diego Villalobos, Cadin Smith, Cartha Grays, Alex Hurtado and Manager Lane Donnelly. 
Brewer also had words of praise for the Wheat B team, which finished third in district rankings. 
"They worked hard all season and played well together," he said. "In the last game, we were playing for a district title, but fell short at our away game with Stephenville, losing 24-12."
The roster for the WMS B team includes Gavin Warlick, Fermin Mascorro, Esteven Olmos, Juan Ortiz, Trae Jordan, Braxton Bayless, Isaiah Minor, Javier Vivanco, Caleb Hillary, Thomas Headrick, Cayden Ortiz, Rylan Followill, Jaygen Wells, Kalel Jaramillo, Joseph Stewart, Josue Torres, Keaton Amerson, Mark Ruiz, Gavin Hansard, Noah Gosdin, Misael Collazo, Ja'Marion McGilveary, Ramiro Mascorro, Giovanni Argilagos, Ernesto Rodriguez, Aaron Chavez, Hayden Shronce, Israel Hernandez, JP Martinez, Christian Andrade, Landon Moore and Anthony Thompson. 
"Coach Williams, Coach (Casey) Faust and I are very proud of how hard both teams worked all year," Brewer said. "Their success is a testament of the work that they put in and willingness to play as a team."