Under the guidance of Head Coach Casey Walraven, Cleburne's offense has progressed year by year. Now in their fourth year in Walraven's system and with a senior quarterback, the sky's the limit for the Yellow Jacket offensive attack.
In Walraven's first year in Cleburne, inexperience and injuries derailed the Jackets as they averaged just 19.5 points per game. But in 2018, Cleburne scored 31.6 points per game. And the Jackets built on that last year when Cleburne put up 36.3 points per outing.
The Jackets scored at least 40 points in six games a year ago. And the ingredients are certainly there for Cleburne's offense to consistently light up scoreboards on a weekly basis this season.
And thanks to some extra down time because of COVID-19, there might be some new looks and wrinkles in Cleburne's offense this season.
"The great part that came from [the pause and isolation because of] COVID for me is I had more time to dissect and think and put stuff on paper and up on the board," Walraven said. "I had more time for that than I have since before I was a head coach. When I was offensive coordinator, I had time to do that. Leading up to those years in Grandview, I had a lot of offensive stuff ready and prepared that was new and different.
"You always want to evolve but I feel like we've had time this year, so we're going to be what I believe is the most complex our offense has ever been because we've had time to do it. We've had time to be more creative. So there are going to be some things that are definitely different than what you've seen just because we had time to create and work on those. ... It will still have a similar feel to it, but it's definitely going to have some wrinkles and other things that are different."
A year ago, Cleburne's offense, for the most part, consistently moved the ball up and down the field but there were still some issues such as penalties and the occasional missed blocking assignment that plagued the offense. Even still, the Jackets were held to fewer than 20 points only two times — in losses to Aledo and Midlothian.
Leading the offensive charge this season is an arsenal of eight returning starters, headlined by three-year starting quarterback Gunner Hammond.
After a strong sophomore season and a breakout junior campaign, Walraven believes the sky's the limit for Hammond in leading Cleburne this season.
"From my experience, when you've got a senior quarterback who's had years of experience, your offense is usually going to be pretty dynamic as long as you've got guys that can complement that around him," Walraven said. "Having an experienced senior quarterback is huge. He's been there and done that. He's one of the older guys now. He's more confident, he's calmer and he understands everything. Over the years at Grandview, I had guys like Reid Golson and Ryan Breton and Zach Smith, you get those guys in their senior year and it's been great years with great offense. I think we'll see that from Gunner leading the way this year."
Walraven said not only is Hammond more polished as a quarterback, but his athletic playmaking ability is a nice luxury to have.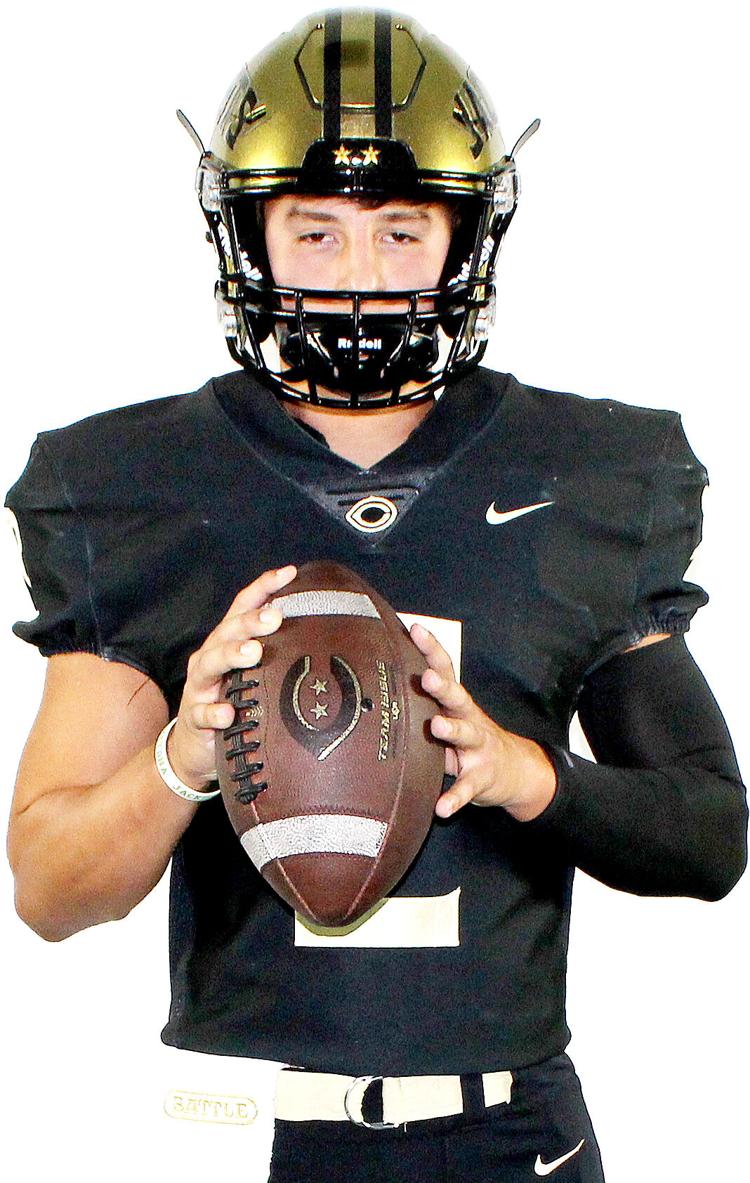 "He's always had good instincts but I think he's learned to kind of corral it a little bit more," Walraven said. "First, let's be a good quarterback and let's try to execute the plays as close to perfection as we can but still use his instincts. I think he's learned to see the field better, see holes better and see matchups better. He's more comfortable with our protection calls and more comfortable just manipulating the defense. Obviously there's always room for improvement but he's definitely way more comfortable and confident now than he's ever been.
"When you have a quarterback that has the ability to extend plays and make a special play, it makes your job as an offensive coach easier. You can draw up plays all day long and they look great on the board and you want them to look like that on Friday nights but that's just not the case a lot of times. Defenses are good and coaches are good so they're going to make adjustments, things are going to happen and somebody's going to mess up, but if you have a quarterback that can still make something happen, that's so beneficial."
Hammond had a brilliant junior season where he completed 175-of-267 passes for 2,462 yards and 25 touchdowns with 733 rushing yards and 16 TDs to earn All-Johnson County first-team honors as well as all-state honorable mention recognition.
Walraven said Hammond doesn't receive the type of attention or accolades relative to his production and talent.
"Honestly, besides what [the Times-Review] has done for him, he doesn't get enough recognition," Walraven said. "He's definitely one of the area's best quarterbacks and people don't see that. I've been around long enough to know and see enough talent from quarterbacks — and he's got it. He doesn't get enough recognition for that, but at the end of the day you have to go earn it and go win more and those things will come to you."
Aiding Hammond in the backfield will be three-year starter Cleo Chandler as a versatile, all-around weapon for Cleburne at running back and receiver. Last season was Chandler's first at running back, and he rushed for 982 yards and seven TDs with 336 receiving yards and two more scores.
"With Cleo, the sky's the limit," Walraven said. "He's definitely one of the best athletes that I've ever been around. He can do everything. He's extremely strong. He's dynamic with the things he does. He's smart. For him, we've just worked on being a little bit more mentally tough and understanding that we've got to lean on him a lot and we're going to ask him to do a lot of things and he has to do them whether he's tired or fresh. 
"He's no doubt a Division I talent. He showed flashes of that last year at receiver and running back. He's got all the intangibles a college would want. There's no telling what he can do. He could have an enormous year this year and I would not be shocked at all. In fact, we expect that. We know what we've got in him, but a lot of people still don't know what they're going to see out of him. He's definitely got it in the tank to do it."
Walraven compared Chandler's potential to a player he coached in Grandview that is now a part of his coaching staff in Cleburne — Daniel Spencer, who once racked up 1,000 rushing yards and 1,000 receiving yards under Walraven's tutelage. And Walraven said he believes Chandler has the ability to put up more than 2,000 yards from scrimmage.
"He's our best all-around receiver and he's our best running back," Walraven said. "With Daniel here, it's helping us to explain to Cleo, look this is what he did, you have the same types of abilities. He's a little bit different in how he goes about it but he has the same types of possibilities that we could do with Cleo that we did with Daniel. He's going to be a headache for a lot of defenses because of all the things he can do."
Tyler Forsythe will also see reps at running back as well, in addition to possibly lining up at tight end some.
Cleburne graduated a three-year starter at receiver in Isaak Cunningha, but the Jackets return a starting receiver — or a 'Weapon X' type of player — in Gavin Naquin.
"We came up with his own position name, and he's the X-factor," Walraven said of Naquin. "He's a guy that does everything. He holds [on kicks], he can be on punt coverage, he can return punts, he can play quarterback, running back, receiver, safety — you name it and we can put him out there. He's one of the most versatile guys we've ever had here.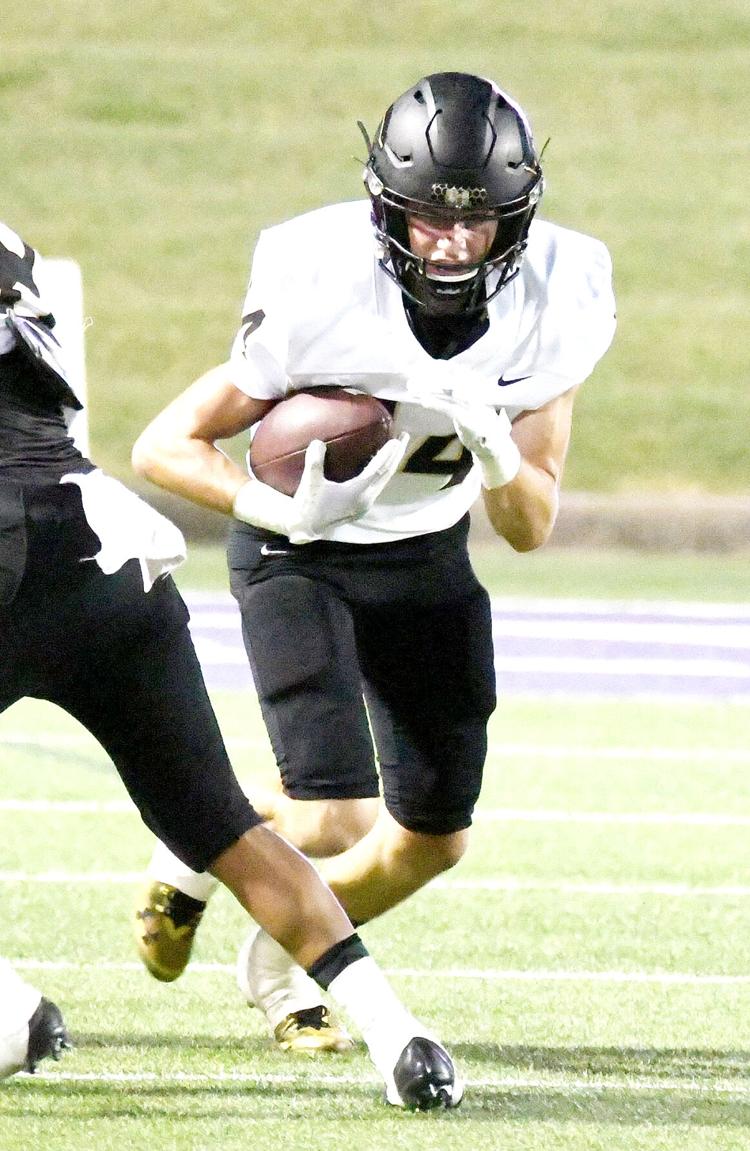 "He's really improved as a receiver. Last year was his first year to ever play receiver and he had 800 yards receiving. He's really improved with his route running, he's more explosive, and he's gotten stronger and taller. We can do tons with him because he's so intelligent. There's so many things we can move him around and do. He's going to have another huge year. He's going to be the guy on the edge that people need to worry about."
Entering Cleburne's lone scrimmage, the other wide receiver positions were up for grabs, but there are several players to keep an eye on.
"One of the kids who's going to end up playing a lot both ways is Braden Gunn," Walraven said. "He's been a starter on defense but he's really had a great offseason and I can see him playing a lot on offense. We've got a few young guys battling it out. Dorian Potter is a freshman. He's got unique talents and skillsets for a freshman that we're looking at. We've got Jason Pugh who's a junior and he's had some great years on JV. We have sophomore Elijah Jarmon, who hasn't played in a couple years but I'm so glad he came out. He's got tons of upside and ability; he's had some flashes of really looking good. I think all of those guys are possibilities of things we've got to see early. 
"We know what Gavin can do, we know what Cleo can do. We've got to sort those other spots out and see who's going to block and see who's going to make plays. The great part is we have competition. They can't take one day off or another guy's right there. When you've got that, you're going to have a better football team and a better position group because you're pushing each other."
One returning starter, Tylar Chumley, has moved from receiver to tight end, filling a void left by the graduation of three-year starter Ethan Steck.
 "Chumley's really excelling there," Walraven said. "He's going to be a faster version for us at tight end. He's going to give it all he's got blocking as well."
In the trenches, Cleburne's offensive line finally resembles a Class 5A offensive line.
"This is our biggest line we've had and this is the biggest line as a head coach I've ever had," Walraven said. "In my Grandview days, we were small up front. Here in Cleburne, we've been pretty small compared to most other 5A teams. This year, we've got some beef up front. And they're athletic as well. They can move and they're extremely strong. We're probably going to average around 280 to 290 up front and around 6-1, 6-2, so for us that's a bigger, beefier line that's able to move.
"They've been the best group we've had all summer. They've been here every day, they work together, they're just hard-working, blue-collar guys. They're more physical. They're meaner. You put that with Gunner, Cleo and Gavin, and you start having the makeup of something that can be special offensively."
Junior Jace Lowe will lead the charge up front after moving over to the center position, a spot that Walraven said both fits him well and will also allow an opportunity to get looks from "the highest level in college football." 
Senior Josh Rodriguez is another returning starter at right tackle. Senior left tackle Joe Turrubiartes started the majority of last season and is in contention to man that position. Walraven said junior Daniel Villegas is one of their bigger linemen who is super athletic. And also in the mix are junior Jonah Hankins, junior Josh Rangel and senior Brently Smith.