HAMILTON — The Rio Vista Eagles punched their playoff ticket Friday night with a 30-19 victory at Hamilton thanks to some clutch plays in the fourth quarter to put the game away.
With Friday's win, the Eagles wrapped up a 7-3 record in the regular season, their first season with a winning record since going 6-4 in 2003. This year's postseason berth is Rio Vista's first playoff appearance since 2017, when the Eagles finished 4-6.
"I don't know if there are words to describe it," Rio Vista Coach Kasey Black said. "You could see it in our kids' faces and their reactions after. It's just jubilation. So many years of adversity, so many years of being close and for whatever reason this year we've put it all together and just been playing so well. Their faces at the end said it all; they were so happy that they were crying. They've proved how well they've done this year and to cap it off with a playoff berth is so special to those kids."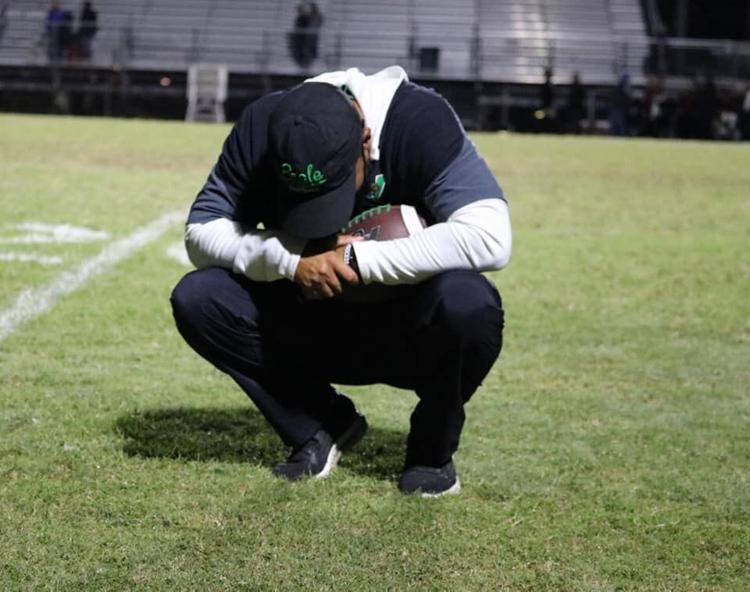 After a 2-8 season in Black's first year at the helm in 2019, he guided the Eagles to an impressive plus-5 turnaround in the win column this season, so far. Black said the biggest reason for the quick turnaround is how the kids have bought in from day 1.
"I think it's our kids just bought into what we're doing," Black said. "From the early mornings to coming in on Saturdays and watching film. It's also our community, we have so much support. They do a team dinner for the kids. Church does stuff every Friday morning for them. And I think I have some of the best coaches around."
In close losses to Bosqueville and Tolar during district play earlier this season, the Eagles were a big play here or there away from pulling out a win. But Friday in Hamilton, Rio Vista made those big plays.
Arguably the biggest play of the game came in the fourth quarter with the Eagles protecting a 17-13 lead. Rio Vista faced a fourth-and-5 from its own 32-yard line.
"We were in between field goal range and it was too close to punt it," Black said. "I didn't want to punt it."
Instead of settling for a long field goal attempt, Black sent his offense back onto the field. The call all along was going to senior wide receiver Anthony Perez. And Perez fought off a defender and made a juggling catch in the end zone for a 32-yard touchdown on a jump ball pass from Taylor Pritchett.
"I had a gut feeling," Black said. "Anthony had been playing so well all game, offensively and defensively. I looked into his eyes and said, 'I'm going to give you a chance to make a play, I want you to make it.' He said, 'Yes sir,' and he made the big play in the end zone. That's a huge play right there. If you could've seen our sideline and our fans after that play, they just erupted. That play is what we've been looking for in big games for so long."
The score gave Rio Vista a 24-13 lead, but the Bulldogs wouldn't go away as Hamilton scored to make it a 24-19 game after the failed two-point conversion.
With the Eagles looking to run time off the clock, Rio Vista running back Wyatt Johnson broke a tackle at the line of scrimmage and took it to the house from 59 yards out for a 30-19 lead with just under 5 minutes left.
"We were just trying to run some time off the clock and Wyatt took it in from about 60 yards," Black said. "I was almost worried we scored too early. But Wyatt had some huge runs. He's not very big but he runs with a ton of heart. And Hoffman had a big game, too, and he ran so hard."
Johnson rushed for 112 yards and a touchdown on seven carries while Brent Hoffman added 101 rushing yards and a touchdown on 14 carries.
After Hamilton took a 7-0 lead, the Eagles tied it on a 20-yard run by Hoffman. An eight-yard pass from Pritchett to Perez gave Rio Vista a 14-7 advantage. Hamilton found the end zone but missed the PAT to bring the score to 14-13 at halftime.
Perez added a 15-yard field goal in the third quarter before the fourth-quarter fireworks.
In addition to Perez's two touchdown receptions, he also had an interception on defense in the fourth quarter.
After a week 11 bye, the Eagles will face Italy or Marlin in the Class 2A bi-district playoffs. Black said now that Rio Vista has clinched a playoff berth, there's nothing better than a bye during the last week of the regular season.
"We've said if we can make it to here and get in the playoffs, you couldn't ask for a better bye week," Black said. "Going through that grind, there were plenty of times we said, 'We can use that bye now.' But now that we have it, it couldn't have come at a better time."