RIO VISTA — The Rio Vista Eagles haven't been 4-0 since the 1994 season, but they'll have a chance to do that Friday with a homecoming showdown against Tioga.
The Eagles have outscored their first three opponents by a combined 106-29 in their first 3-0 start since 2008. And now Rio Vista welcomes a 1-2 Tioga team to town for homecoming.
The Bulldogs started 0-2 with losses to Petrolia and Electra but earned their first victory a week ago with a 39-8 win over Era.
Rio Vista Coach Kasey Black said scheduling Tioga was a last-minute ordeal after schedules were altered numerous times for a number of different reasons.
"We were scheduled to play Peaster this week and then Peaster got put into a district at the last minute," Black said. "So that left us without a game and we just had nine games for a long time. With all the changes from COVID, we finally found a game against Tioga.
"They're young right now but they have some really good-looking kids. They've got some big kids and they've got some kids that can run. They just haven't been able to put all the pieces together yet."
For a program that's struggled getting over the hump with a winning season, Black said the Eagles know what's at stake as far as making the 2020 season one to remember for Rio Vista.
"That's something that I try to remind them quite a bit of, that they have a chance to be the first of many 'firsts since' around here," Black said. "'The first to go 4-0 since then. The first winning season since then.' We keep telling this senior group, who we know is pretty good, that they have a chance to turn this program around. You wouldn't know it with the lack of success they've had, but these kids are getting after it in practice. That's what I'm proud of is you would never know they've only won four games in three years."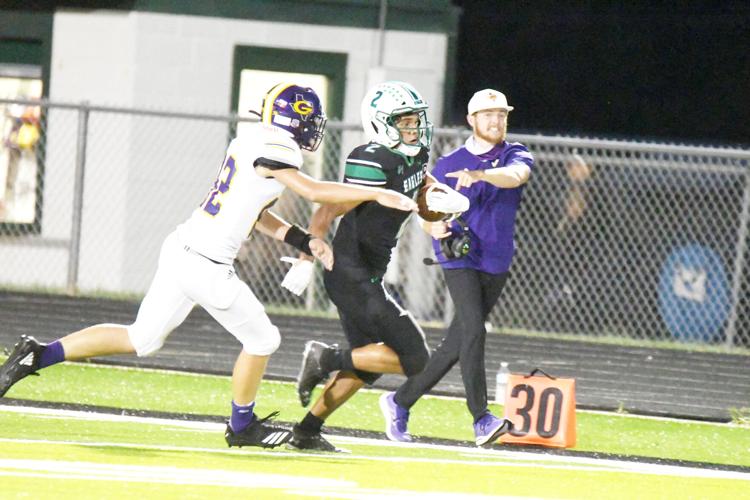 Entering the season, Black said the Eagles would lean on their defense in 2020, and so far so good as Rio Vista's defense is holding opponents to fewer than 10 points per game. But the Eagles will face a unique challenge Friday against Tioga's Wing-T offense.
"We're going to have to be disciplined on our keys because with that type of offense they want to lull you to sleep with run, run, run, and then hit you over the top," Black said. "We have to play sound, fundamental defense. I say this all the time but our defense is where we hang our hats right now."
After a rough year on offense a year ago trying to learn a completely new scheme, the Eagles are taking great strides on offense this season to the point where Black is starting to be able to add new nuances to their game plans.
"Now it's being able to add little things here and there as well as make sure we're not taking any steps back," Black said. "Honestly now I feel like we are to the point where I can start adding new things each week and growing our offense. In the past, it's been we're still learning this so we can't move on. But right now, we're able to open up the offense more."
Part of that is certainly due to familiarity in year 2, but also the Eagles' personnel and heads-up play by sophomore quarterback Taylor Pritchett. However, as great as Pritchett and the Eagles' other skill-position players have been, Black said it's the offensive line that has been the big surprise to this point.
"Going into it, we didn't really know who was going to be our offensive line or how that was going to turn out," Black said. "But those guys this year have been huge so far up front opening up holes and giving Taylor protection. It starts with Ethan Cumins in the middle. He's the QB of our line making calls and making sure people know where to go. He's been huge for us."
Rounding out the Rio Vista offensive line are senior left tackle Zak Moses, senior left guard Fabian Cuellar, sophomore right guard Andy Cumins and senior right tackle Trevor Echaves.
Friday's showdown with Tioga is Rio Vista's final outing before District 7-2A Division I kicks off next week, and Black said he wants to see continued progression — avoid going backwards — heading into league play.
"I think last week was the first time we haven't had a turnover in a game since I've been here," Black said. "That says a lot about where are and where we're going. Right now, we don't want to take steps back especially before district. And we don't want to be peaking right now, you want to do that in district. We want to get the kinks worked out and the kids executing the way they're supposed to going into district games."
Kickoff is scheduled for 7 p.m. Friday from Eagle Field.