Cleburne's Reggie Robinson II is officially a member of the Dallas Cowboys after the former Tulsa standout signed his rookie contract Saturday.
Robinson posted to his social media accounts, "It's official!! #CowboysNation" Saturday afternoon with two photos of him signing his contract.
According to Sports Illustrated's Mike Fisher, Robinson's four-year contract is worth $4.02M with a signing bonus of $729,000.
"I'm kind of like speechless," said Reginald Robinson, Reggie's father. "We've been waiting on it since [Cowboys Owner Jerry Jones] called the house to say they drafted him. With the virus and everything going on, it took a lot longer than usual. But he stayed patient and waited his turn. When people put it online that he signed last week, I tried telling three or four different reporters that it wasn't true just yet. But it's official now. It's a blessing. I'm glad that part is over with, now he's got to go to work and earn it."
Reginald Robinson said they knew the ballpark figure of what Reggie Robinson II's contract would be after he was drafted with the 123rd overall selection in the fourth round on April 25.
"I'm always online and I have two websites — Spotrac and Over the Cap — that I use a lot, so we already knew around how much he was going to be making or projected to make," Reginald Robinson said. "Which it turned out to be what it said. So he knew three or four days after he got drafted what kind of money he was going to be making. His financial advisor kind of gave him a heads up on that stuff like the bonus and how the taxes work and make sure you do it a certain way."
Reginald Robinson said he's proud of how his 23-year-old son is planning to be smart with his money and also not letting any of the newfound fame that comes with being an NFL player change who he is.
"He's the same kid since before he got drafted," the elder Robinson said. "His attitude's the same. He's not one to buy a bunch of crazy stuff. He just wants a SUV, and that's really it. He's going to get an apartment somewhere close to the Cowboys facility so he doesn't have to drive too far, but that will be after training camp. He's not the type to spend crazy money or flaunt it, that's just not him."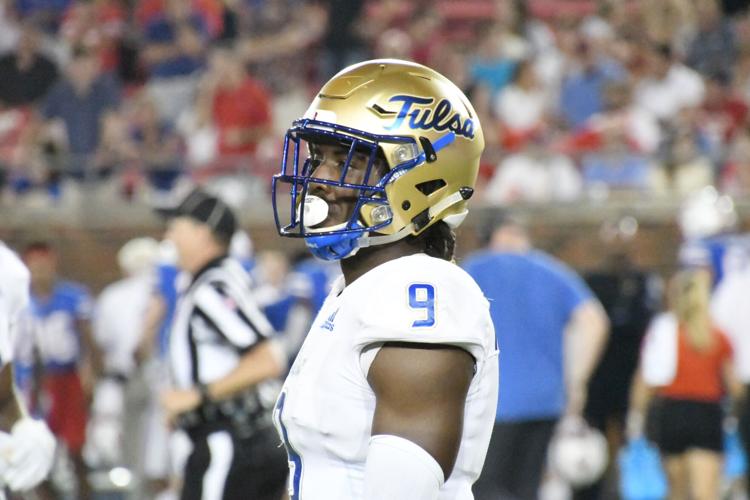 By several accounts, Robinson was labeled a "pet cat" of Will McClay, the Cowboys vice president of player personnel. McClay told 103.3 FM ESPN that Robinson was one of his favorite prospects in the entire draft, even before the Cowboys drafted him. And it just turned out McClay and the Cowboys got their guy in the fourth round.
When Dallas drafted Robinson in the fourth round, he became the first player from Tulsa to be selected in the NFL Draft since 2011. He also became the first player from Cleburne High School to be selected in the NFL Draft since 1976, when former Yellow Jacket standout Rodney Norton was a fifth-round selection by the Pittsburgh Steelers.
After the 2019 college season, Robinson became the first Tulsa defensive back in nearly 50 years to receive an invite to the Reese's Senior Bowl, where his performance in Mobile, Alabama resulted in an invite to the NFL Scouting Combine.
At the Scouting Combine in Indianapolis, Robinson continued improving his draft positioning by putting up elite numbers in events like the 40-yard dash, vertical jump, bench press and broad jump. By many accounts, the 6-foot-1 Robinson was the most well-rounded cornerback prospect from an athleticism standpoint coming out of the Scouting Combine. Robinson also reportedly had the highest score (32) on the Wonderlic Test out of all defensive prospects this year.
In his senior season with Tulsa, Robinson led the Golden Hurricane with four interceptions, 13 pass break-ups, and 17 passes defensed, which also led the American Athletic Conference and was among the leaders in the nation. He also recorded 38 tackles, two fumble recoveries, and a blocked kick (the fourth of his college career). Robinson allowed only one touchdown all season in 2019 and was an AAC weekly honor roll selection several times in addition to first-team All-AAC honors for the season.
Robinson, who will graduate from the University of Tulsa with degrees in organizational studies and media, was a multiple-time all-district and All-Johnson County selection for Cleburne High School as a three-year letterman.