Playoff baseball — and history — is coming to The Depot at Cleburne Station on Wednesday.
For the first time since professional baseball returned to Cleburne, the Railroaders are in the postseason and are set to face off against Sioux City at 7:06 p.m. Wednesday in a one-game playoff for the right to advance to the South Division Championship Series.
Ticket: PUNCHEDFor the first time in franchise history, we're going to the playoffs!#AllAboard 🚂 pic.twitter.com/Xqqfv2WN3u

— Cleburne Railroaders (@CRRBaseball) September 6, 2021
A four-game sweep of Houston last week proved pivotal in Cleburne's playoff hopes, especially after the Railroaders finished 0-4 in their final four games against Kansas City, which finished the 2021 regular season with the best record in the American Association by six games over North Division champ Chicago.
Cleburne officially secured its postseason berth Sunday when last-place Houston beat Lincoln. The Railroaders then clinched homefield advantage for the play-in game on Monday night when Sioux City lost to Sioux Falls as Cleburne finished a half game ahead of the Explorers for second place in the South Division.
Cleburne Manager Logan Watkins, who was promoted to the Railroaders' manager on June 30, said he's excited for his players and Cleburne fans to experience a playoff atmosphere Wednesday.
"It's been a cool deal," Watkins said. "I enjoy this for my players and I enjoy this for the fans. It's hot here in Texas and our fans have come out and sat out there in the heat with us and been super loyal to us. I'm really happy for the city of Cleburne and our players, who have worked hard this year, to experience this. This has so much less to do with me and so much more to do with them. I'm thrilled for them because a lot of these guys haven't played playoff baseball before so it's going to be a cool experience for them."
Cleburne's 2019 season ended in major disappointment as the Railroaders, needing only one win down the stretch, missed the playoffs by virtue of a tiebreaker. The Railroaders didn't have a 2020 season because the American Association held a condensed season and league during the COVID pandemic last summer. 
We need this place PACKED for our first-ever playoff game Wednesday night!Get your tickets now ⬇️ https://t.co/zEBoiuBCEy pic.twitter.com/2I8tmoegev

— Cleburne Railroaders (@CRRBaseball) September 7, 2021
But now, after a long two-year wait, Cleburne will host a playoff game Wednesday night in what should be an intense atmosphere in a win-or-go-home showdown between two teams that played each other even all season. 
Cleburne went 6-5 against Sioux City when the two teams played each other on the field, but the regular-season series shows a 6-6 record because Cleburne was forced to forfeit the teams' first meeting on June 25 after the Railroaders' team bus broke down.
In the teams' 11 meetings, only two games were decided by more than two runs. The average margin of victory in the 11 games was 2.45 runs per game, with four of them decided by a single run.
On June 26-27, Cleburne picked up wins of 4-3 and 6-4. Sioux City opened a three-game series July 16-18 with a 7-5 win before Cleburne notched victories of 10-3 and 4-3 over the X's. On Aug. 13, Cleburne opened a three-game series with an 8-7 win before Sioux City registered victories of 3-1 and 10-9 over the 'Roaders. And on Aug. 20, Sioux City took two of three with wins of 4-2 and 10-4 sandwiched around an 8-6 Cleburne win.
And come Wednesday night, Watkins said he expects another close battle against the Explorers.
"It's going to be a good battle," Watkins said. "They have a really good bullpen, which, playing them in a one game play-in game, that makes it difficult for us to anticipate who they're going to pitch and what their game plan will be as far as how they pitch us. It'll be a good game. They have a good team. We have a good team. I thnk we're evenly matched. I think it's going to come down to who has guys on base and gets the hit with two outs and who plays clean baseball and is able to execute. 
"It's going to be a lot of fun. I'm sure The Depot is going to be pretty loud and fans are going to be into it. There's going to be guys who haven't played in playoff baseball before so there's that element of who elevates their play and that will be fun to see. I'm hoping it's the guys on our side who can step their game up." 
Watkins said in an ideal scenario, the 'Roaders would've had Jheyson Manzueta available to pitch in this one-game playoff, but they had to use him Monday in a bid to try and clinch homefield advantage.
"One of our best pitchers this year, Jheyson Manzueta, had to throw [Monday] because we needed one win to clich homefield advantaage and we hadn't got it yet so we threw him [Monday]," Watkins said,. "If we had clinched homefield advantage already, we would've pushed him back for Wednesday but that didn't happen like that. But I feel pretty good about who we're going to pitch Wednesday."
Watkins is also hopeful that having an off day Tuesday will do a lot of good for his players after a furious race to the end of the regular season.
"This is our first off day we've had in a few weeks," he said. "The last couple weeks of the season we played through without an off day so I think this is a good day to get our bullpen some time off and some of our position guys who have been dealing with injuries some rest. Hopefully a day completely off going into [Wednesday\ does us a lot of good and hopefully we're ready to go."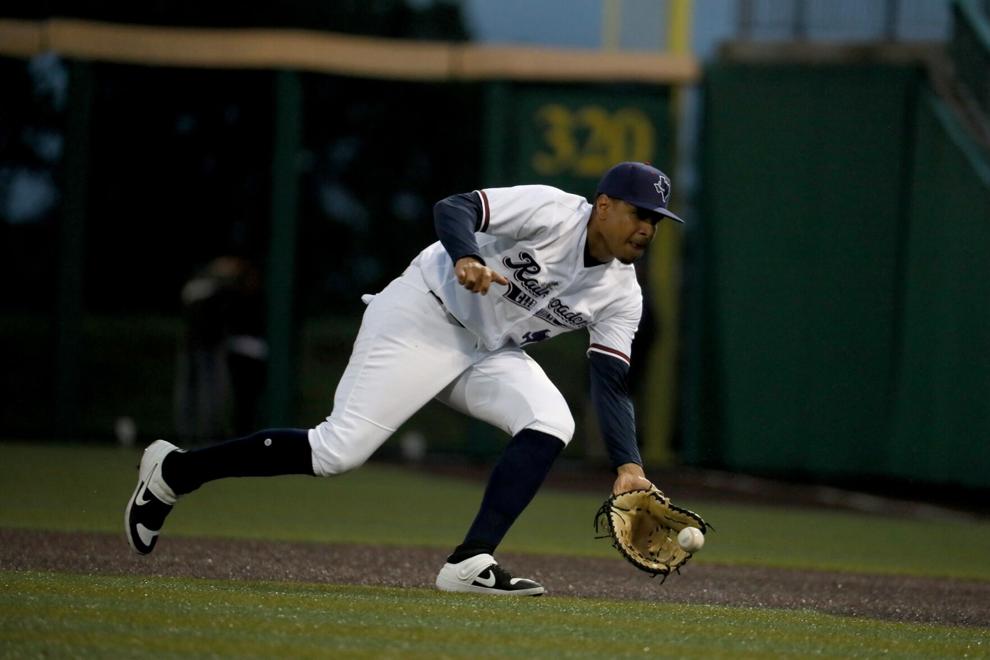 Cleburne had several players finish near the top of the leaderboard in different statistical categories. 
Ramon Hernandez recorded new single-season franchise records with 100 RBIs and 21 home runs. His 100 RBIs was also third in the American Association. Cleburne had two players finish in the top-4 in batting average as Alay Lago hit .337 while Zach Nehrir boasted a .334 batting average to finish third and fourth, respectively. Lago also finished first in the league with 141 base hits, nine more than second place. Osvaldo Martinez scored the second-most runs in the American Association at 81. Noah Vaughan led the league in triples with eight. Hunter Clanin finished sixth in the league with 28 stolen bases.
Manzueta's 3.41 ERA was good enough for fourth in the league among qualified pitchers. Garrett Alexander set a franchise record for single-season strikeouts with 103 punch-outs.
Watkins said the players and the club are grateful for the support of Cleburne and its loyal fans, and they're hopeful to be playing in front of a packed ballpark on Wednesday.
"Thank you to all the fans that continue to show up consistently throughout the year," Watkins said. "I know it's hot and it's difficult to want to go out and sit in the sun but we've had some really loyal fans and the city of Cleburne's been really good to us. I hope that Wednesday isn't the last game we play in Cleburne this year. Hopefully we pack it up and a lot of fans show up and get loud and make it a pretty memorable experience."
Tickets for the first-ever playoff game at The Depot are available online at ilovetexasbaseball.com.
If Cleburne wins Wednesday, the Railroaders will advance to the South Division Championship Series against Kansas City, which will be a best-of-5 series and is scheduled to start Friday.