The Cleburne Railroaders announced recently the re-signing of a pair of 2019 American Association All-Stars in infielder Chase Simpson and pitcher Jesus Sanchez.
Simpson and Sanchez were two primary contributors in the Railroaders' breakout 2019 season, and both will start the 2020 season in Cleburne as the club will try for its first postseason appearance.
Simpson delivered a record-breaking 2019 season, establishing new franchise marks for single-season home runs and RBIs. He finished the year with a .272/.390/.536 slash line, blasting 20 home runs and leading the American Association with 93 RBIs.
The Dallas native ranked second in the league in walks (72) and doubles (32), becoming only the third player in American Association history to notch at least 20 homers, 30 doubles, and 70 walks (Trent Lockwood – Fort Worth, 2011; Brandon Sing – Sioux Falls, 2010). Simpson's 195 total bases finished fifth in the American Association.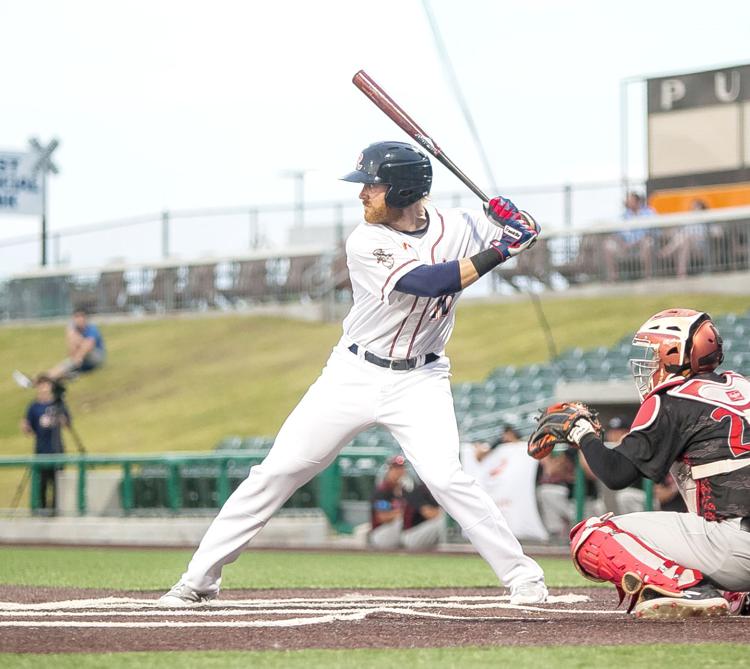 Simpson's 2019 season produced a top-10 league ranking in several sabermetric categories, including Wins Above Replacement (4.7, second), Weighted Runs Above Average (23.3, fourth) and Weighted On-Base Average (.391, eighth). 
A Mid-Season and Postseason All-Star selection, Simpson authored several memorable moments. He connected for a pair of grand slams, first against the Texas AirHogs on June 28 and then against the St. Paul Saints on July 24. Both were go-ahead homers in Cleburne wins. Simpson also came inches shy of the Railroaders first-ever three homer game against Sioux Falls on Aug. 18, finishing 4-for-5 with two homers and another drive off the top of the left-field fence. 
Simpson had a productive and well-traveled 2018 season, splitting it between Cleburne, the Lincoln Saltdogs, and the Wichita Wingnuts. In 99 total games, Simpson hit .273 with 22 doubles, 13 home runs and 47 RBI. The switch-hitter led the American Association with 75 walks, 13 more than the next closest player, finishing the year with a .401 on-base percentage.  
The 27-year old began 2018 with Lincoln and got off to a blistering start, hitting .413 through the first two weeks of the season. On July 6, he was traded to Cleburne in exchange for right-handed pitcher Cortland Cox, ultimately playing in 26 games with the Railroaders. Simpson hit .284 with two home runs while donning the orange and navy, walking 24 times to 23 strikeouts. 
Wichita acquired Simpson from Cleburne on Aug/ 1 in exchange for outfielder Hunter Clanin and a player to be named later, which would turn out to be Simpson himself. Simpson was involved in several interesting plays in his 32 games with the Wingnuts, starting on Aug. 4 against the Gary SouthShore RailCats when he hit for the cycle. Then on Aug. 8 against the Sioux City Explorers, he applied the finishing tag on a 4-6-3-5 triple play, before wrapping up his busy month on Aug. 21 with a walk-off home run against the Winnipeg Goldeyes. 
Simpson played collegiately for Weatherford College and the University of Oklahoma before finishing his career with Wichita State University in 2014, hitting .258 with 14 doubles, six home runs and 41 RBI as a junior. He was selected by the Pittsburgh Pirates in the 14th round of the MLB Draft, and spent parts of four seasons in the Pirates' minor-league system. Simpson reached Double-A Altoona in 2017, but was released and joined the independent ranks with the York Revolution of the Atlantic League. 
A few days prior to the 'Roaders announcing the re-signing of Simpson, Cleburne shared news that the club was bringing back Sanchez for 2020.
Sanchez transitioned full-time to the starting rotation in 2019, and the result was an excellent campaign that earned him a Mid-Season All-Star selection. The durable right-hander finished the year 10-4 with a 3.31 ERA in 21 appearances, featuring 20 starts. Over 127.2 innings, Sanchez allowed 140 hits for an opposing batting average of .276, recording 78 strikeouts while walking only 15 opposing hitters. His rate of 1.1 walks per nine innings was the second best among American Association hurlers, and tops among those with more than 80 innings of work. 
Few American Association pitchers were as consistent as Sanchez, who finished fifth in the league in innings pitched and was one of just four qualified pitchers to complete at least five innings in every one of his starts. 
The 32-year old delivered several memorable performances for Cleburne in 2019, including a season-high eight strikeouts over seven shutout innings against Sioux Falls on Opening Night, and the franchise's first-ever complete game shutout against Winnipeg on June 9. Sanchez retired both hitters he faced in the American Association Mid-Season All-Star Game. 
Sanchez was at his most dominant in his final outing of the season on Sept. 1, twirling six shutout frames against the Texas AirHogs while recording a franchise-record 12 strikeouts. In the second inning of that game, Sanchez was one pitch away from an immaculate inning, striking out the side on 10 pitches. He also struck out the side in the third, which combined with a punch-out to end the first inning, gave Sanchez another franchise-record with seven consecutive strikeouts.
Sanchez joined the Railroaders in mid-June during the 2018 season and quickly established himself as one of the more reliable arms on the Cleburne staff. The native of Valencia, Venezuela, made 25 appearances, including three starts, and finished the year 2-3 with a 3.68 ERA. Over the course of 44 innings, Sanchez struck out 49 while walking only 11. The right-hander also limited opponents to a .267 batting average, surrendering 46 hits in the 44 innings.
Sanchez started 2018 with the Lancaster Barnstormers of the Atlantic League, going 1-0 with a 3.60 ERA in 11 bullpen appearances totaling 10 innings. The 2018 season was his first foray into independent baseball, having spent the previous 10 professional seasons in the affiliated ranks, though not entirely as a pitcher. Sanchez was originally signed by the New York Yankees as a catcher in 2006, and was exclusively a position player until the 2009 season, when the Philadelphia Phillies converted him to the mound.
The transition stuck, and Sanchez delivered several outstanding seasons in the minors for Philadelphia, the Milwaukee Brewers, and the Miami Marlins. His best campaign came in 2013, when Sanchez posted a 2.83 ERA in 48 bullpen appearances at Triple-A Nashville in the Brewers system. After the 2014 season, Sanchez was released by the Marlins and spent the next four seasons pitching in his native Venezuela for Magallanes and Lara.
Sanchez owns strong career numbers across the board, logging a 56-43 record and 3.56 ERA in 451 pitching appearances, 89 as a starter. In 912.2 innings, the righty has piled up 659 strikeouts and 276 walks, a 2.4:1 ratio. At the plate, Sanchez also has 74 professional hits on his career ledger, posting a .215 batting average and one home run. 
In addition to the Sanchez signing, right-handed pitcher Nefi Ogando, infielder Angel Rosa and outfielder Nick Rotola have cleared waivers and been granted their release.
The signings of Simpson and Sanchez gives the Railroaders five players under contract for the 2020 season, along with infielder Alay Lago and catchers John Nester and Blake Grant-Parks. American Association clubs may carry up to 28 players during Spring Training, which begins May 7. 
For information on partnerships, season tickets, group outings, and party packages, call the Railroaders main office at (817) 945-8705, or visit the Railroaders official website at www.railroaderbaseball.com.