Former MLB All-Star Rafael Palmeiro and his son, Patrick, are returning for a second season with the Cleburne Railroaders.
The club announced Monday it has re-signed the father-son duo for the 2019 season.
The 54-year old Rafael produced an impressive .301/.424/.495 slash line for the Railroaders in 2018, though injuries limited him to 31 games. Among Railroaders with at least 100 at-bats, Palmeiro led the team in on-base percentage and slugging percentage, while finishing second in batting average.
"Rafael showed last year that he can absolutely still be a productive hitter," Cleburne manager Brent Clevlen said. "His plate discipline is second to none, and the bat speed makes him a power threat from the left side that our lineup can definitely use. Off the field, he was a tremendous asset with the younger players and in the Cleburne community. We're excited to have 'Raffy' back in a Railroaders uniform."
On May 21 against the Fargo-Moorhead RedHawks, he became the oldest player in professional baseball history to homer in a game, connecting in the bottom of the fifth inning against RedHawks starter Trey McNutt.
"I'm excited to return to Cleburne and looking forward to playing with my son again this season," Rafael Palmeiro said. "I hope we can bring a championship to our great fans in 2019."
Over the course of his 20-year MLB career that spanned from 1986 to 2005, Palmeiro piled up 569 home runs and 1,835 RBI, earning four All-Star selections. The Colleyville resident played in 2,831 games for the Chicago Cubs, Texas Rangers and Baltimore Orioles, a total that ranks 19th in MLB history heading into the 2019 season. 
Palmeiro produced at least 38 home runs and 100 RBI in nine consecutive seasons from 1995 to 2003, securing his place as one of just 27 players in MLB history with at least 500 home runs.
Last year when Palmeiro signed with the Railroaders, he said he believed it would be a good fit as he attempted a comeback at professional baseball.
"This is a good place," Palmeiro told the Times-Review in May 2018. "It's not far from home. I have a chance to play with my son. I have a chance to play in front of my fans because I played here in Texas a long time. It's a great opportunity for me to get back on the field."
Palmeiro is one of only six players throughout the 150-year history of Major League Baseball who have recorded 500 home runs and 3,000 hits in a career. The other five include Hall of Famers Hank Aaron, Willie Mays and Eddie Murray as well as Alex Rodriguez and Albert Pujols.
Patrick Palmeiro proved to be one of the most durable position players on the Railroaders roster a season ago, appearing in a team-best 97 games. The 29-year old hit .255 with nine home runs and 48 RBI, ranking second on the club with 18 doubles. On June 8 against the Lincoln Saltdogs, he blasted
the first grand slam in Railroaders franchise history.
"Patrick brings a lot of high-level independent experience, and went through some stretches last year where he was really a tough out," Clevlen said. "We hope that giving him some protection in the lineup and getting guys on ahead of him will give him the opportunity to have a breakout year."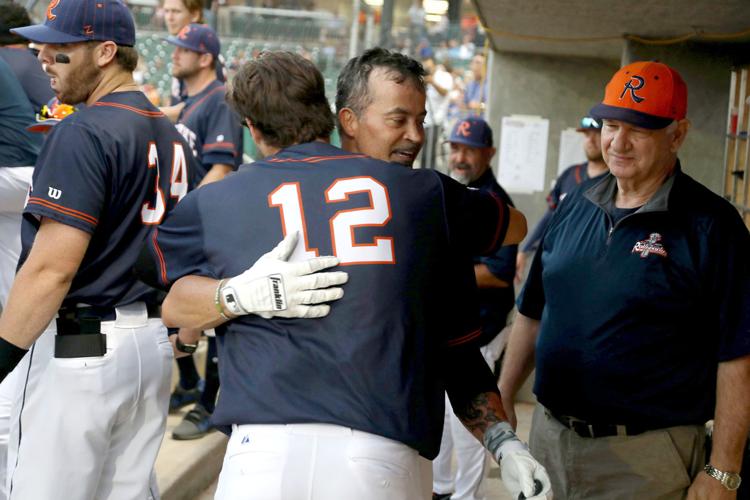 Originally a 22nd round draft pick of the Pittsburgh Pirates out of Colleyville Heritage High School in 2008, Patrick elected not to sign and instead played collegiately for Grayson County College, Howard College, and the University of Alabama-Birmingham. He signed as an undrafted free agent with the Chicago White Sox in 2012, ultimately playing parts of three seasons in the White Sox system before transitioning to the independent ranks in 2015.
Prior to joining the Railroaders, Patrick played three years in the Atlantic League with the Sugar Land Skeeters and the Southern Maryland Blue Crabs.
In 2015, Rafael and Patrick played together in one game for Sugar Land, marking Rafael's first professional appearance since the 2005 season. Last season on July 13 vs. the Chicago Dogs, the father-son duo combined for three home runs in one game, with Patrick connecting for two blasts to drive in five runs, and Rafael adding a solo shot of his own.
The signings give the Railroaders a total of 25 players under contract for the 2019 season. American Association clubs may carry up to 28 players during Spring Training, which opens May 6.
The third season of Railroaders baseball and the club's pursuit of its first division title kicks off with a four-game home series against the Sioux Falls Canaries on May 16. For information on partnerships, season tickets, group outings, and party packages, call the Railroaders main office at 817-945-8705 or visit the Railroaders official website at www.railroaderbaseball.com.
Tune into a special edition of RailTalk at 4:30 p.m. today on Facebook Live as Cleburne's broadcasting duo of Brad Allred and Denning Gerig will discuss the re-signings of the Palmeiros and cover all things Railroaders.