ARLINGTON — If one is good, two is even better. That certainly rings true for the Grandview Zebras, who claimed back-to-back state championships with a hard-fought 42-35 win over previously undefeated Pottsboro in the Class 3A Division I state championship game Thursday at AT&T Stadium.
After facing an early 7-0 deficit, the Zebras (15-1) used a 21-0 scoring run over the course of 3 minutes and 40 seconds late in the first quarter and into the second quarter to get ahead and stay ahead of the Cardinals (15-1).
Even though Pottsboro kept battling back, the Cardinals were never able to get over the hump and tie the game, as Grandview maintained either a 14- or seven-point lead the rest of the way.
After Grandview senior running back Tremayne Gullatte scored on a 20-yard run with 3:34 left in the game to give the Zebras a 42-28 lead with 3:34 left, the Cardinals' perseverance continued.
After a big kick return, Pottsboro quarterback Braden Plyler scored on a 19-yard run with 2:21 left to pull to within one score at 42-35.
But the Cardinals' ensuing onside kick attempt went out of bounds after a couple of friendly bounces, and a first-down run by Grandview junior quarterback Dane Jentsch allowed the Zebras to end the game in victory formation.
Gullatte scored five touchdowns and rushed for 95 yards on 19 carries to help lead the Zebras to another historic victory.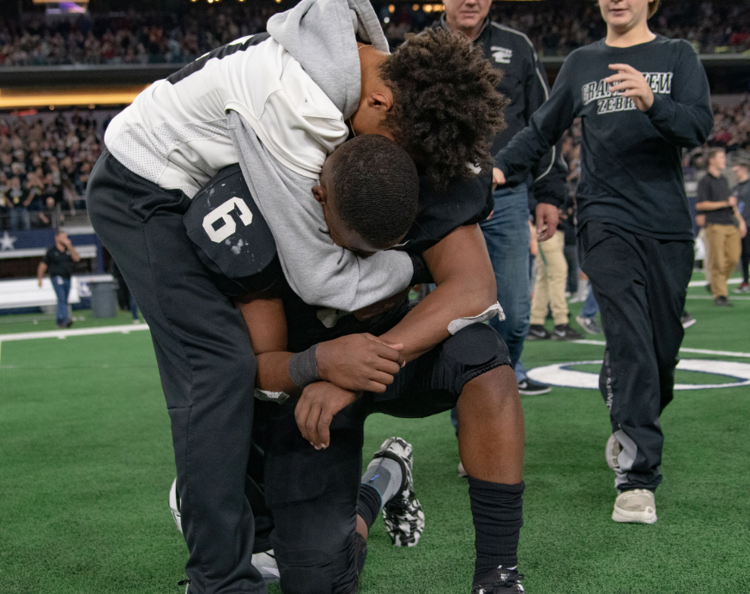 For a second year in a row, Jentsch was voted the championship offensive and defensive player of the game.
Offensively, Jentsch completed 12-of-17 passes for 218 yards and he had a game-high 152 rushing yards with a touchdown on 14 carries. But in the postgame press conference, Jentsch said he gave the offensive MVP trophy to Gullatte. Defensively, Jentsch had five total tackles with an interception and a game-changing tackle for loss on fourth-and-goal from inside the one-yard line to force a key turnover on downs late in the third quarter that allowed Grandview to keep a 28-21 lead.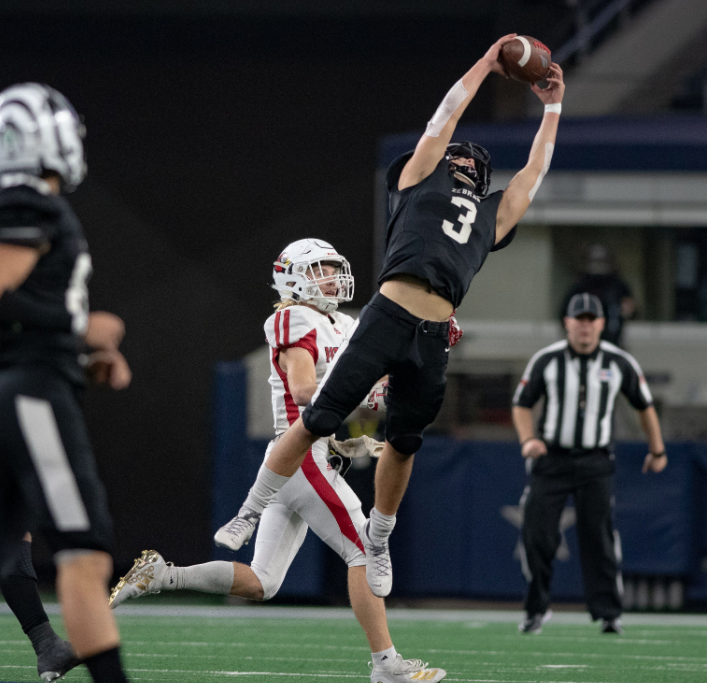 In addition to Jentsch's goal-line stop, Grandview's defense had another game-changing play earlier in the game when senior linebacker Michael Lehnhardt forced a fumble, recovered by senior linebacker Antonio Arellano. The takeaway set up Grandview's go-ahead touchdown on a one-yard Gullatte score, and the Zebras never looked back.
Check back later and throughout the day Friday for more in-depth coverage.