The Battle for the Silver Spike is always an anticipated matchup between longtime rivals no matter the situation, but this installment comes with vastly increased stakes as the Cleburne Yellow Jackets and Burleson Elks will battle for their playoff lives Friday.
The playoff scenario for Cleburne (5-4, 3-4) is simple — win and you're in. Burleson (5-4, 3-4) needs more help as the Elks must beat Cleburne and then hope Joshua (1-8, 1-6) upsets Everman (3-6, 3-4).
The stakes don't get much higher than this. Cleburne is trying to get back to the playoffs for the first time since 2016 and only the third time since 2002. The Jackets' No. 1 goal entering the 2019 season was to become the first Cleburne team to win a playoff game since 1998, but they've got to get past the rival Elks to have that opportunity.
"We're thankful that we still get to play another week in control of our own destiny and be at home," Cleburne coach Casey Walraven said. "We're really excited about it. We have a lot of things in our favor this week. We need to take advantage of those things and go after our goal, and that's to win a playoff game. But before we can do that, we've got to get in, and this is the next step towards it."
Burleson coach Gary McElroy said there's an additional playoff scenario or two involved for the Elks, but they all begin with beating Cleburne.
"Everybody has asked the same question, 'What does it take to get in?' So I've told the kids and everybody else, there's a lot of things that could happen but the most important thing is we have to beat Cleburne," McElroy said. "The only thing we can control is going and playing Cleburne, and then we'll find out the rest around 10:30 or so."
Even if Everman beats Joshua and eliminates Burleson, the rivalry factor likely plays a big role as the Elks would love to knock Cleburne out of the playoffs.
"For whatever reason, there's multiple teams in this district that think we're their rival — and we're not," McElroy said. "Centennial is the crosstown rival and a sister school. Joshua always makes it out to be a big rivalry game but it's not. Cleburne and Burleson have been rivals for decades. We talk about the historical significance of this game."
Even though Cleburne has the same record now as it did a year ago, Walraven said he believes this program has taken great steps forward in his third season at the helm — based mostly on what he's seen from his players the past two weeks.
"The win against Everman, we saw a lot of true joy and excitement," Walraven said. "Last week against Midlothian, I saw a lot of disappointment and tears. I told them what that tells me is we're getting to the point where we really believe and it really means a lot for your emotions to be affected like that. I can tell that reaching our goals is a very big priority for them because it's moving them emotionally. Now with the stakes this high, I think we'll see those kind of emotions backed up by how they play."
Entering last week's game against Midlothian, Cleburne was in a peculiar position as a win wouldn't have clinched a playoff berth, only improved their playoff seeding if they were to also beat Burleson. But now their playoff hopes are based on a win-or-go-home game.
"The situation seems bigger, and it is bigger because of where we're at in the season, but [the keys to success] don't change," Walraven said. "Defensively we've got to play with a lot of intensity and passion, line up well and tackle well. Offensively we've got to take care of the football and get established up front. And we have to win the special teams game.
"That's every week, but you look at where you are now and you know you either do those things well or there's a chance we don't make it further. It's very clear and evident what we have to do, so I think that helps a team like us that's got visions and dreams to do things. It's very clear what needs to happen now."
One advantage Burleson has going into the showdown is the Elks had an extra week of rest and preparation coming off a bye week.
"We used the extra time to study Cleburne and what they do," McElroy said. "We modified some workouts so that the kids could decompress a little bit. Health-wise we're in pretty good shape. [Senior linebacker] Carson Hallack's been out the last couple weeks with a sore knee, and that open week definitely helped him and he's back practicing this week, which is good. He's the only one we've been missing but he's a big piece. Having the open week was beneficial, mentally and physically, for everybody, but we certainly used the time to study Cleburne."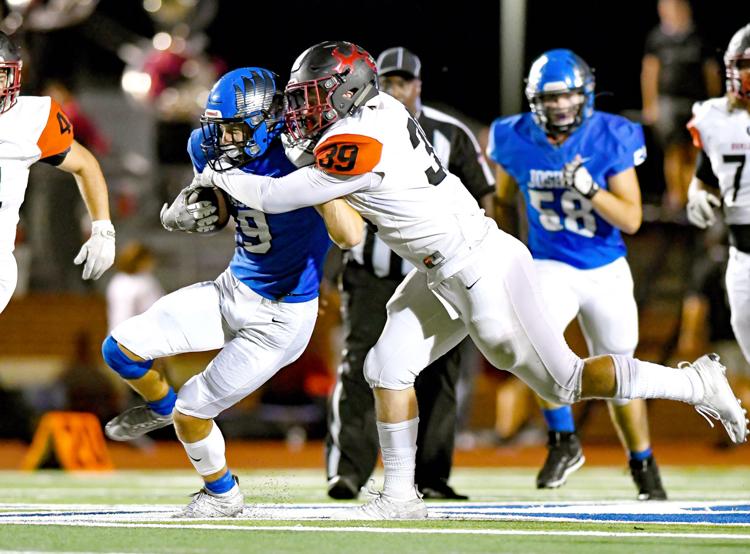 Walraven said he believes Cleburne and Burleson are similar teams.
"I think they're very solid in every phase," Walraven said of the Elks. "They've beat some good people and they've had some close games with good people. I see them very similar as us and it being a very equal matchup across the board. It's very close. They're solid everywhere — great quarterback, great running back and they're very strong on the D-line. That's the parts that stand out to me. They're a solid football team all the way around and well-coached. We're going to have to be at our best."
After a subpar performance offensively last week vs. Midlothian, the Jackets will need to re-establish the running game to have consistent success against the Elk defense. And Walraven said that begins with the offensive line.
"Every week, we want to be as balanced as we possibly can," Walraven said. "And whether we're running or throwing, it starts up front. I expect to see a better performance out of those guys. I feel like it's there, it's just we want to see it on a more consistent basis, and we're running out of time for it. We've got to be able to play very well up front. We need to turn it loose a little bit and I think we'll be fine."
Burleson's strength on defense is in its front 7, led by senior defensive end Klaus Shoenborn, who has 94 tackles, 19 tackles for loss and 9.5 sacks.
"He's a great player," Walraven said of Shoenborn. "The No. 1 thing you see from him is how strong he is and he's got good size. He's going to give us a challenge. We're going to have to make sure we come off the football and play physical. Hopefully we can run them over the field a little bit and get all of those guys winded some. We want to be effective throwing and running so we'll have to do some things matchup-wise if we need to."
From Burleson's perspective, McElroy said Cleburne's offense runs through junior quarterback Gunner Hammond, who is 145-of-226 passing for 2,123 yards, 23 touchdowns and eight interceptions to go along with 637 rushing yards and 13 touchdowns.
"It starts with their quarterback," McElroy said. "He's a good player. He was good last year as a sophomore. It all kind of revolves around him. I don't know if people give him enough credit for his running ability as what maybe they should, but we certainly are. We've got to make sure we put pressure on him to where he can't get the ball to his receivers but at the same time we can't let him beat us with his legs. So we have to be really sound and really disciplined defensively."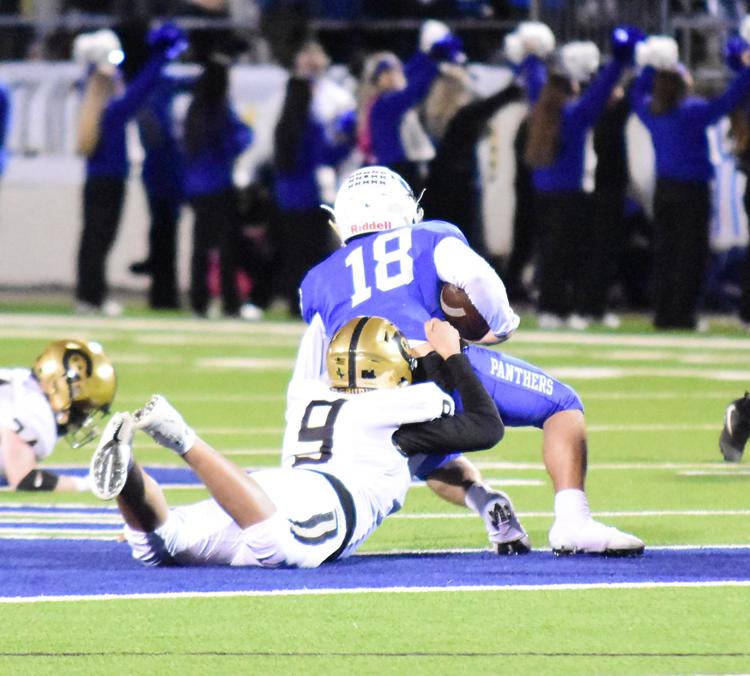 While Cleburne's defense has been stellar throughout much of the season, the Jacket defensive unit has taken it to another level the past two weeks, holding Everman and Midlothian to only 17 combined first downs and 183 yards per game. But Burleson presents a more balanced offensive attack — including a more consistent passing offense — than the run-oriented offenses the Bulldogs and Panthers employ.
"It's a challenge any time you have to face somebody that can be balanced," Walraven said. "That's what we believe in offensively. The flexbone that we saw last week was a challenge in itself but at the same time having to cover the entire football field vertically and horizontally makes it tough. We're going to have to do some things that maybe we haven't done recently. It's definitely a challenge but it's a day and age where you have to be really good at defending it all."
"They can hit you from different angles and different positions. Their running game with their quarterback and running back is solid; both of them are very good and they have good speed, elusiveness and vision. We're going to have to tackle really well and tackle well in space. We're going to have to play every down and every drive with urgency and not get complacent on anything."
In addition to Cleburne's defense playing hard as a unit, McElroy said what most stands out about the Jackets' defense is senior linebacker Braxton Bailey, who leads the county with 149 total tackles and 23 tackles for loss.
"No. 15 is a heck of a player," McElroy said. "He's a good player and you've got to know where he's at and you've got to account for him. They play hard as a defense. We've played those guys every year so their defense isn't foreign to us, just like what we do isn't foreign to them. I think the matchups are good. We just have to get out there and execute."
As balanced as the Elks' offense has been this season — 1,834 rushing yards and 1,829 passing yards — Burleson has had some trouble recently with turnovers.
"Obviously, we need to limit our turnovers," McElroy said. "As well as we have done on offense — we're pretty balanced as far as yardage is concerned — we've turned the ball over too much, so we've got to limit that. We'll see what they come out in and how they want to attack and defend us, and we'll make adjustments and go from there."
Cleburne is 19-12 all-time vs. Burleson. The Jackets won 14 of the first 15 meetings but the Elks have won 11 of the past 16 showdowns.
Kickoff between the Elks and Jackets is set for 7:30 p.m. Friday from Yellow Jacket Stadium. It will also be senior night for Cleburne.