JOSHUA — There aren't many professions that can approach the close-knit bond and fraternity like that of Texas high school football coaches. Even still, the average bond between longtime coaching buddies wouldn't do justice to the relationship a couple of Joshua High School coaches share.
For Gary Robinson and Eric Shon, it's about family.
Robinson and Shon have not only coached together for 12 years, but Shon, Joshua's assistant athletic director and offensive coordinator, once played for Robinson, the Owls' head coach and athletic director, in the early 2000's at Coppell High School. But the beginning of their relationship goes back even further than Shon's high school days.
"I remember when he was an eighth grader," Robinson said. "I remember watch him play eighth-grade football when I was wide receivers coach and special teams coordinator at Coppell. My wife also had him in one of her keyboarding classes in middle school."
Before Robinson got to know Shon from a football perspective, they became familiar with each other as teacher and student.
"Not only did I coach him, but I was one of his teachers," Robinson said. "I had him as a ninth grader in one of my team leadership classes. He played freshman football for us, but I didn't coach him that year a whole lot since I was a varsity coach. But he was a good player."
Robinson's impact on Shon's life actually started in that team leadership class.
"I remember being a freshman in his team leadership class," Shon said. "Team leadership is just about doing things the right way and things like first impressions. We spent a whole lesson on just shaking hands and making that right first impression. Every single day we'd walk in Coach Robinson's class, he'd shake your hand and greet you with a smile on his face. That was something I remember from high school is he was someone you could always count on and that's been something that's carried on into our professional relationship as well."
Later in Shon's high school career, he was a key player at wide receiver for Coppell and Robinson.
"As he moved up to varsity and got older, he was one of my receivers," Robinson said. "We had a good team his junior year and he was a decent receiver for us. But something really developed and happened with him between his junior and senior year. He was an absolute stud for us his senior year. He had some of the best hands I've ever seen and he had great speed and quickness. On top of that, he was an A student and a great leader in the school. It was a great pleasure to coach and just be around him."
After Shon graduated from Coppell High School, he continued his football career at Austin College while Robinson's coaching path took him to Poteet for his first athletic director position. From there, Robinson was hired to start the football program at Krum in 2008, and that was around the time Shon and Robinson re-connected after a couple years apart. Upon Shon's graduation from college, he went into the business world and worked for Northwestern Mutual in sales. 
"I don't think he had plans to get into coaching, but he would come around practices and workouts at Krum quite a bit," Robinson said. "He'd come by in his suit and tie after work and he'd watch practices. He even held a couple of camps for me."
Even though Shon didn't initially plan on becoming a teacher and coach, he couldn't stay away from the game.
"It was always something in the back of my mind," Shon said. "I spent a lot of my free time helping at Krum. While I was working, Coach Robinson encouraged me to get my teachers certification and get into coaching. I wasn't passionate about my job at the time. I loved football and after a year in the business world, I decided to get certified to become a teacher."
Robinson hired Shon to join his coaching staff, along with Shon's best friend, Allen Oh, who Robinson also coached at Coppell. From then on, they coached nine years together at Krum, with Robinson playing an important role in the development of Shon's coaching career.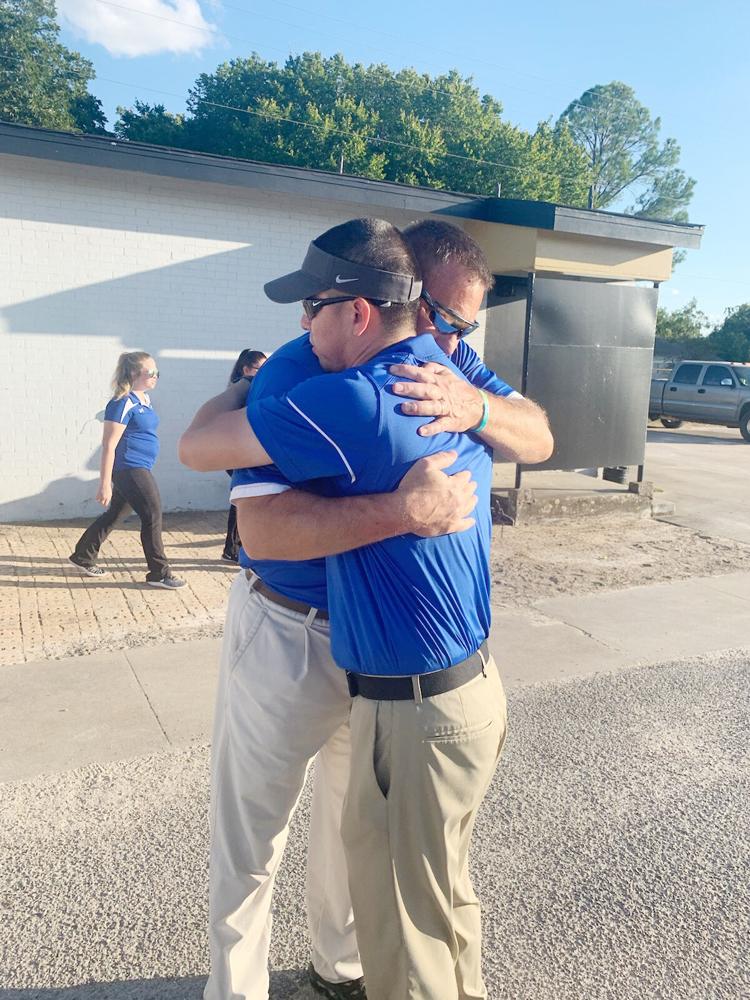 Robinson said, as a veteran coach, he takes pride in showing young coaches the ropes and helping them early in their careers; the same way veteran coaches such as Don Osborne did for Robinson in the early days of his career.
"When Eric was in high school, we had your typical coach-player relationship and our relationship didn't change a whole lot early on because he was really young when I hired him," Robinson said. "He had a lot to learn in the coaching world. As veteran coaches, you show the young ones the ropes. As Eric got older and more experienced, obviously things changed. We became buddies and less of the coach-player type of relationship. I've watched Eric mature and grown from an eighth grader into a fine young man. And he's become part of our family."
Robinson's wife, Linda, has witnessed firsthand the relationship between her husband and Shon evolve into something truly unique over the years.
"There's been a lot of changes but Eric's always been there," Linda Robinson said. "He's been there through the good, the bad and the ugly. I'd say the word that best fits is loyalty. It's been really neat to see Eric grow as a coach and see their personalities with each other change as they've gotten older. 
"From a personal level, Eric's family. He's been there when all of my kids were born and he's watched them grow up. Just six months ago, he helped us move my elderly mother up closer to us. There's been more than just football that we've been through with him. It's definitely a unique relationship between those two, almost like a father-son relationship."
Building the Krum football program took patience. After four years of playing a junior varsity and then an outlaw schedule, the Bobcats joined UIL play in 2012 — and they experienced immediate success.
In that debut season, Krum started 9-0 before losing its regular-season finale against Gainesville and then falling in bi-district to perennial powerhouse Celina. The success continued over the next four years as Robinson, Shon and Oh led Krum to the playoffs all five seasons they played a UIL schedule, including a couple of deep playoff runs. In 2015, Krum went to the state quarterfinals. In 2016, Krum won a district title and went three rounds deep.
"[Coach Shon and Coach Oh] were a big part of all of that success, building the program from scratch into a winner," said Robinson, who compiled a 37-23 record in Krum. "It was real special to have those guys on my staff and for us to be together every day and build that thing together."
After a successful job building the Krum program, Robinson resigned in May 2017 to help take care of his seven-year-old son, who was diagnosed with Neurofibromatosis Type 1, a rare genetic disorder. Even though Robinson and Shon were no longer coaching together, they remained close.
Then when Robinson was able to get back into coaching, he was named head football coach at Joshua in December 2017, and Shon followed him from Krum to Joshua. (Oh was named Krum's head coach after Robinson's resignation.)
After all the success Robinson and Shon experienced in building Krum from the ground up into a winner, that same success — in terms of wins — has been harder to come by in Joshua through three seasons.
"I think the thing he and I both learned is it's a little different building a program than it is trying to turn a struggling program around," Robinson said. "It's a different type of challenge. But one of our first goals here was to try to get the numbers up, get summer strength and conditioning participation up, and hold the kids more accountable. I think we've accomplished that as a coaching staff. We've got an outstanding coaching staff here and they've all worked so hard to turn this thing around. What we needed to fix first was their attitude and trying to change the numbers, and I think we've accomplished that."
In fact, Robinson said he believes Shon has grown leaps and bounds as a coach and person in his three years with Joshua.
"Our relationship has only grown stronger here," Robinson said. "I think being here at Joshua has been a good learning experience for him. That's where I've seen the maturity most in him has been the last three years as far as his leadership skills and coaching skills. Those have really gotten a lot better being here in Joshua. 
"I think being here has challenged him in a way to help him mature and be a better coach. He's experienced building a program and now he's trying to turn one around. He's done a lot of stuff as a young coach. Not that we've turned it around here yet but we've had some accomplishments."
While they're still trying to find the right recipe to turn Joshua football into a contender, Robinson said he's even more proud of what Shon has accomplished in the classroom.
"I think the thing I love about Eric the most is his good heart," Robinson said. "He's one of our top Special Ed teachers here. In fact, he started Special Olympics at Krum and he also started it here at Joshua. I'm extremely proud of the outstanding coach he is and how the players love him to death. 
"But what makes me most proud about Eric is what you see from him when you're around him with his Special Ed kids. It's truly incredible to watch him work with those kids. That's where he really shines. That's what really makes me cry sometimes is to watch him work with those kids. Not everybody can do that; it takes a special person. He's not only able to do it, but he's really, really good at it."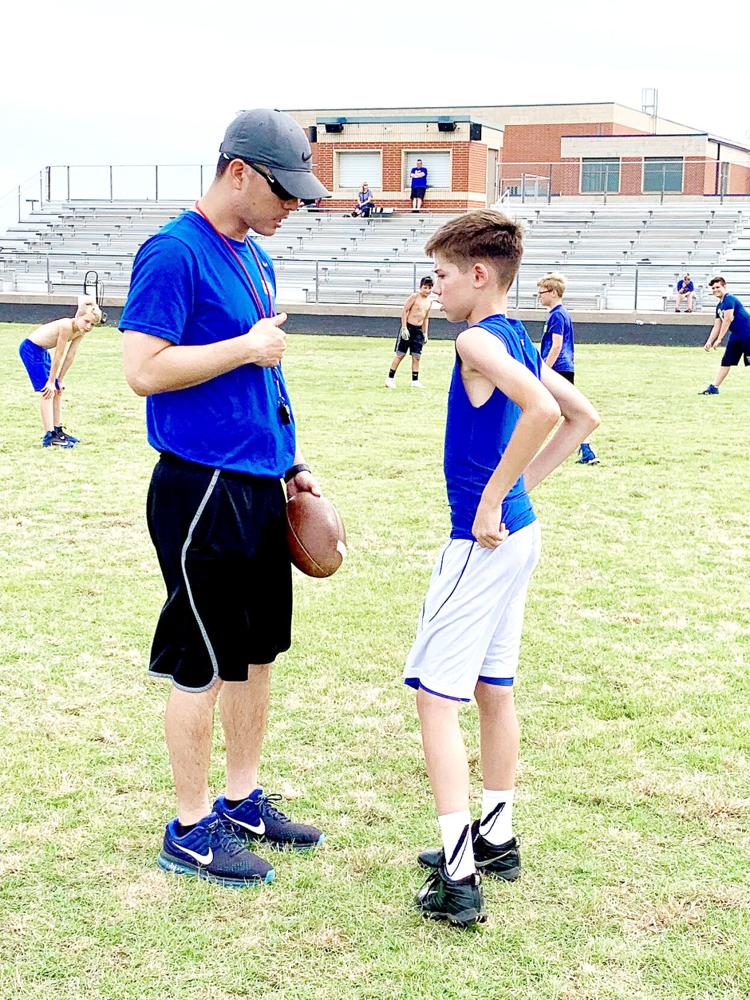 As Robinson ponders his coaching future, he said the dream ending to his coaching career is to one day serve as an assistant coach under Shon as a program's head coach.
"Eric's ready now, in my opinion, to be a head coach somewhere and run his own program," Robinson said. "It's been special to watch him grown and mature all these years. He's to the point now where he doesn't need me or anyone else to show him what to do.
"I'm to the point now where I could retire. And I've always joked with him the last couple years that he needs to be a head coach so I could be his receivers coach. That would be a dream come true for me to see it go full circle. There's going to be a point where I'm done being a head coach but I'm not totally out of coaching. So to be a receivers coach for the young man I had the opportunity to coach in high school and watch him grow as a coach, that would be a dream come true for me."
Shon said it would be an honor to have Robinson on his coaching staff when he has the opportunity to be a head coach.
"I think that would be a really cool thing for us to come full circle," Shon said. "It would be a testament to him and how he's given me opportunities and put me in a situation now to possibly even be a head coach. I wouldn't be here without him. To have him by my side when I do make that next step would be a really special thing.
"I think everything that I do is a reflection of Coach Robinson. I wouldn't be where I am now if it weren't for him giving me these opportunities and pushing me to be a better coach and better man. That's why I've stayed with him for so long. He's someone that's always pushed me to be a better person. I've always had that in Coach Robinson."
The Owls are scheduled to wrap up the 2020 season Dec. 4 against Arlington Seguin.