GRANDVIEW — While covering Grandview's march to its first-ever state title in 2018, I noticed something special about a certain Zebra player — on the sideline.
It was running back Tremayne Gullatte. The talented Gullatte waited patiently for his turn behind All-Johnson County MVP Earnest Crownover III in 2017. With limited carries as a sophomore, Gullatte showed he was more than capable of being a phenomenal lead back for the Zebras.
When it was Gullatte's time to shine in 2018 following Crownover's graduation, he exploded out of the gates, running for 835 yards and 12 touchdowns in just five games. But his junior season and moment to be the feature back came to a screeching halt as he suffered a season-ending ACL injury.
Gullatte was forced to watch from the sidelines as his teammates and brothers went on to win Grandview's first state championship in school history.
But while many players in Gullatte's position might sulk and pout and perhaps even distance themselves a bit, Gullatte never did any of that. He was on the sideline of every game cheering on his teammates, coaching his teammates up, and being one of the first players to run onto the field to celebrate the Zebras' state-title clinching win over Malakoff.
Fast forward to his senior season in 2019, and Gullatte had worked his way back into being the Zebras' feature back. And all the rehab and pain and work Gullatte put in came out in full force Thursday on the biggest stage in high school sports. Gullatte found the end zone FIVE times, tying a Class 3A state championship game record for rushing touchdowns.
"I was very excited for him," Grandview head coach Ryan Ebner said. "What a blow he took last year, but he supported his teammates the whole way through with not one negative word. But you know that had to be hard on him. It took a mature individual to handle that, and that's what he is.
"He worked his butt off to get back to where he was able to contribute at the level he was when he went out. The year started and it took him a little bit to get going, but his confidence started to grow. I'm so happy for him because of what happened to him last year to turn around and have a game like that to get us back-to-back titles, it was unbelievable."
Grandview senior offensive lineman Cole Cannon — who overcame his own severe injury from week 2 and miraculously returned in the third round of the playoffs — said he was happy to see Gullatte help the team hoist the hardware.
"It was amazing," Cannon said. "The amount of pain he went through last year when he got hurt and then not being able to get back on the field was tough. But he put in a lot of work to get back and I was glad he could do what he did today to help us win state."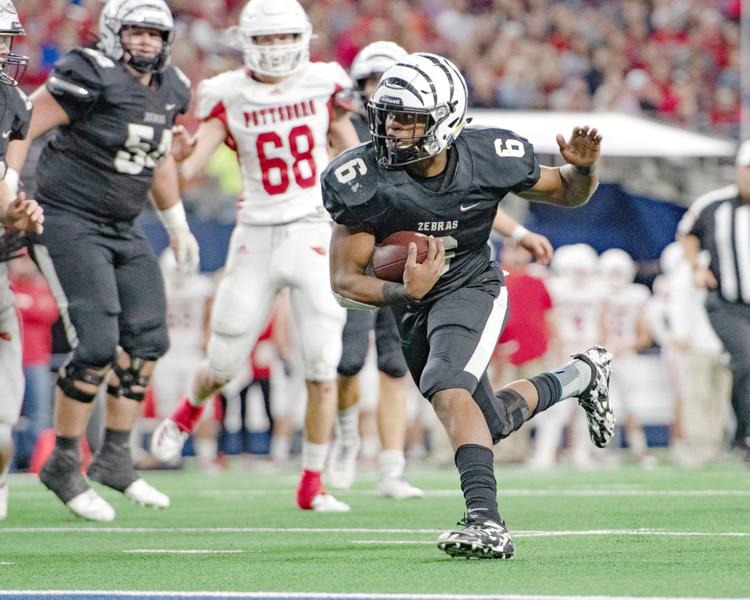 Grandview ISD Superintendent Joe Perrin said what both Gullatte and Cannon did in coming back from injuries to help the team win is nothing short of amazing.
"It's super special," Perrin said. "The whole time Tremayne was going through that last year, he was on the sidelines, he was being positive, he was staying part of the team and supporting the other players. It's just super special. He's a great leader.
"And with Cole, again, just super special. He's the same way. All year he's working out and he's rehabbing to try to get back, but he was also part of the team and doing all the extra little things making sure he's ready to come back. A very humble young man. Again, a great leader."
Grandview High School Principal Kirby Basham echoed similar sentiments about the leadership that both Gullatte and Cannon displayed during trying times individually.
"Those kids are leaders," Basham said. "They never took a day off, not even the day after they got hurt. They went to work on getting ready to play. Tremanyne focusing on getting ready to play this year and Cole doing everything he could to get back this year. They were in the weight room and on the sideline coaching up their teammates. That's what leaders do."
At Zebra Stadium late Thursday night once the team arrived back to Grandview, Gullatte said it was hard to put into words the emotions he's experienced over the past two years.
"I can't even explain how special this was to me," Gullatte said. "I'm at a loss for words. Last year, I was down and out so I couldn't do anything. But this year felt great because I could contribute and help my team win."
Even when Gullatte had to watch from the sidelines last year, it was clear to me he had the heart of a true champion, not to mention unbelievable class and perseverance. And when he was able to get on the field this season, and especially Thursday, Gullatte more than proved that to be true.