A state champ, a district champ, and two playoff teams make up 67 percent of the total selections for the Cleburne Ford 2019 All-Johnson County football team.
Across superlative awards and first- and second-team accolades, the state champion Grandview Zebras (15-1) lead the All-Johnson County team with 18 total selections. The Alvarado Indians (9-3), the lone team in the county to win a district title in 2019, are next in line with 15 selections. And playoff qualifiers Burleson Centennial (10-2) and Godley (8-3) each placed 12 players on the all-county team.
"To me, it's a big honor in this county — with such great teams, such great players, and such great coaches — for our kids to receive that many all-county selections," said Grandview head coach Ryan Ebner, the All-Johnson County coach of the year. "It's a testament to how special of a group they are, how they work together and how much they love playing together. It's even more special to get it in a talented county because it means you're surrounded by such great folks and schools and coaches around you."
Alvarado won its first district title since 2011, and it was also the first football district title in the county since 2017. The Indians also captured a bi-district title before falling to Brownwood in a tight battle in the area playoffs.
"First, we appreciate what the Cleburne Times-Review does," Alvarado coach Jeff Dixon said. "... To be recognized in a county that has gradually become a strong county in football is special. Grandview, you've got to thank them for that, but you've got Burleson, Centennial, Cleburne, Godley, and they all compete very well and I think they all represent the county well. To get 15 from Alvarado to represent on the all-county team is a major kudos to our kids and our program. It's deserving. I'm proud of them. 
"I think at the beginning of the year, not many folks would've given our kids a chance to compete as well as they did. The 15 that were selected for all-county are a big reason why."
Burleson Centennial won at least 10 games for the third time in four years as the Spartans finished second in district behind state champ Aledo. Centennial beat Seagoville in bi-district before falling to Ennis, 17-13, in area.
"[Making the All-Johnson County team] means a lot to me as a coach because I know it means a lot to the kids," Centennial coach Kyle Geller said. "That's the big thing. I'm happy for them when they get excited about those kinds of honors. It's a neat deal. My goal for any kid that goes through our football program is for them to have a great experience, and I think being named all-county contributes to that experience. It's a great honor for them."
In his first year leading the Wildcats, coach Curtis Lowery guided Godley to a solid 8-3 season and another playoff appearance.
"[Being well-represented on all-county] says that our kids put in a lot of hard work," Lowery said. "It means a lot to them to see the fruits of their labor. It doesn't just happen, they put the work in to get these things. Good things happen to people who work hard. That's what I tell them all the time. So it's good to see it pay off."
Next in line are nine total selections for the Burleson Elks (6-4), eight selections for the Cleburne Yellow Jackets (5-5), five for the Joshua Owls (1-9), four for the Rio Vista Eagles (2-8), and two for the Venus Bulldogs (1-9).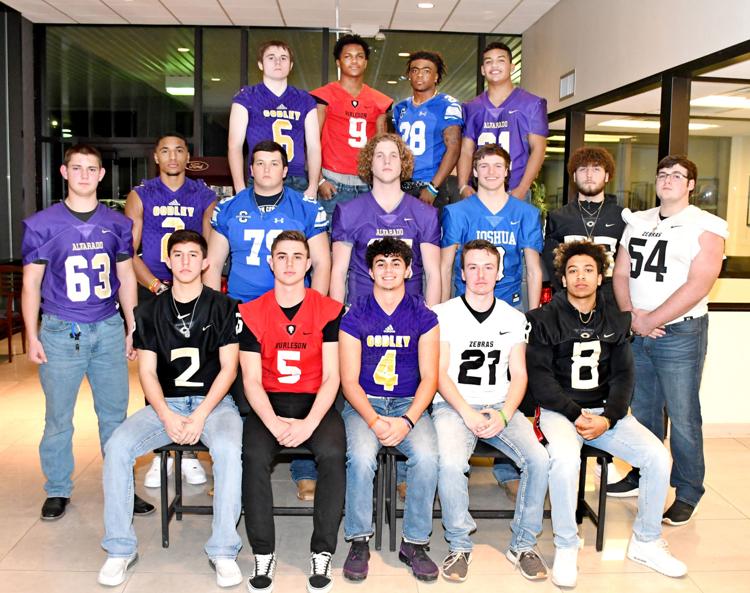 All-Johnson County Offense
The Cleburne Ford 2019 All-Johnson County first-team offense is led by four selections representing the Godley Wildcats. Alvarado, Cleburne, and Grandview each placed three players on the first-team offense.
Offensive line was a definite position of strength in the county as linemen account for 13 of the 36 selections on the first- and second-team offense.
The first-team offense is comprised of: Alvarado senior FB Isaiah Hernandez, Alvarado senior OL Jarett Watson, Alvarado senior OL Zacon London, Burleson senior QB Blake Myers, Burleson senior RB Caleb Lewis, Centennial senior FB Jeff Kirven, Centennial senior OL Daniel Davis, Cleburne junior QB Gunner Hammond, Cleburne senior WR Isaak Cunningham, Cleburne senior TE Ethan Steck, Godley junior RB Kolby Bartlett, Godley junior QB Ethan McBrayer, Godley senior WR Caden Midkiff, Godley junior WR Brenen Hawkins, Grandview senior RB Tremayne Gullatte, Grandview senior OL Brody Smith, Grandview senior K Nathaniel Baker, and Joshua junior WR Tyler Stone.
Hernandez was the lead blocker for 2,500-yard rusher and all-county co-offensive MVP Colby Sampson. He also recorded 683 rushing yards and 10 TDs on just 80 carries. London and Watson were two of the Indians' leaders in the trenches to help Alvarado rush for nearly 4,000 yards as a team.
Myers was a true dual-threat quarterback for the Elks as he threw for 2,162 yards with 22 TDs to go along with 801 rushing yards and nine TDs. Lewis, a two-time all-county first-team selection, rushed for 963 yards and 18 TDs as the Elks' go-to weapon on offense.
After earning all-county first-team honors last year as Centennial's leading rusher, Kirven followed it up with another first-team nod as he rushed for 675 yards and seven TDs on 105 carries. Davis was the Spartans' leader up front, helping open lanes for Kirven and all-county co-offensive MVP Jaylon Jackson.
After a spectacular sophomore season for the Jackets, Hammond was even more impressive as a junior as he completed 175-of-267 passes for 2,462 yards and 25 TDs with 733 rushing yards and 16 TDs. Cunningham was the county's leading receiver in the regular season as he hauled in 61 receptions for 867 yards and seven TDs. Steck had 22 catches for 373 yards and five TDs, and was a key blocker for the Jackets.
Cleburne Football is proud to announce the recipients that have been named to the Cleburne Ford 2019 All-Johnson County Football Team. These guys worked hard and these awards are a testament of that. Thank you for all you've done and congratulations! #JacketDNA pic.twitter.com/fVc1CfmeHn

— Cleburne Football (@CleburneFB_) January 16, 2020
The Wildcats were stacked at all skill positions with four first-teamers. In his first year in Godley, McBrayer completed 159-of-276 psses for 2,738 yards for 33 TDs against just five interceptions. Bartlett was a stud in the backfield with 1,405 rushing yards on 199 carries with 21 catches for 231 yards and 15 total TDs. Hawkins (50 receptions, 963 yards, 14 TDs) and Midkiff (45 receptions, 714 yards, 12 TDs) were a lethal duo in the passing game, along with co-utility player of the year Parker Priddy.
After his junior season ended early due to injury, Gullatte returned with a vengeance in 2019 as he rushed for 1,497 yards and 22 TDs on 243 carries, ending his career with eight rushing TDs combined in the state semifinals and the state championship game. Smith, a three-year starter at center, was especially valuable for the Zebra offensive line as the only returning starter to play most of the season after injuries to Ja'Kobee Crownover and Cole Cannon. And Baker was rock solid all year long as he made 87-of-88 extra points, connected on 6-of-9 field goals with a long of 48 yards, as he scored 105 points.
And Stone was Joshua's top weapon offensively with 36 receptions for 770 yards and nine TDs.
The All-Johnson County second-team offense is led by four players each from Alvarado and Grandview.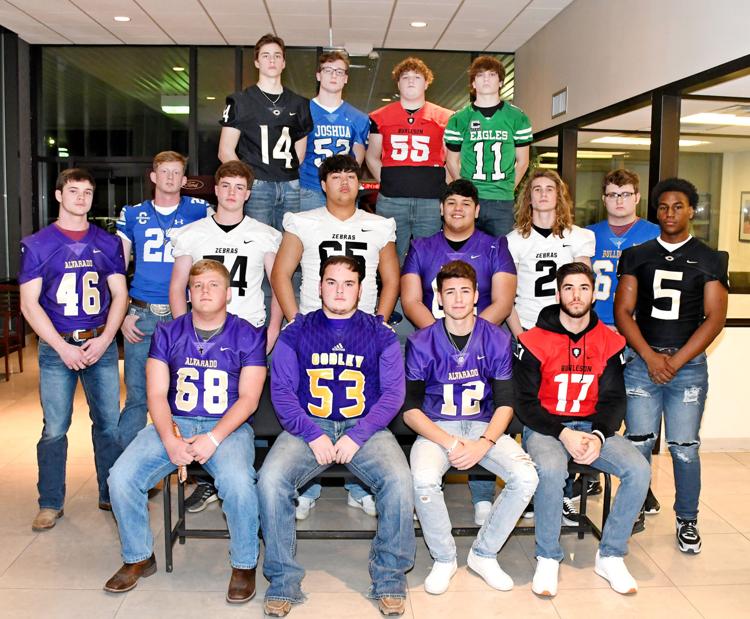 The second-team offense includes: Alvarado senior QB Josh Syrus (969 yards, 13 TD), Alvarado senior OL Christian Jimenez, Alvarado junior OL Bradley Cappers, Alvarado senior TE Peyton Alvey (8 rec., 136 yards, 4 TD), Burleson senior WR Jaxon Winburn (30 rec., 539 yards, 10 TD), Burleson junior OL Chandler Poggensee, Centennial senior TE Monte Johnson (13 rec., 156 yards, 2 TD), Centennial senior OL Griffith Peatrowsky, Cleburne junior RB Cleo Chandler (169 att., 982 yards, 7 TD; 18 rec., 336 yards, 2 TD), Cleburne junior WR Gavin Naquin (61 rec., 698 yards, 6 TD), Godley senior OL Colton Rasco, Grandview junior WR Luke Ferguson (37 rec., 540 yards, 5 TD), Grandview senior WR Cooper Deans, Grandview senior OL Cole Cannon, Grandview sophomore OL Garrett Holmes, Joshua senior OL Cail Keeling, Rio Vista senior WR Billy Bob Bridges (20 rec., 414 yards, 5 TD; 59 rush, 328 yards, 2 TD), and Venus junior OL Ray Martin. 
All-Johnson County Defense
As stacked as Johnson County was with offensive linemen in 2019, if any college coaches need a couple linebackers, Johnson County would be a good place to look.
The linebacker position is by far the deepest in the county, as 19 linebackers are represented on the all-county first- and second-team defense. Add all-county defensive MVP Michael Lehnhardt and co-defensive newcomer of the year Connor Cunningham into the mix, and that's 21 linebackers that received all-county honors in 2019.
Burleson Centennial and Grandview headline the first-team defense with four selections each.
The All-Johnson County first-team defense is comprised of: Alvarado senior LB Alex Rodriguez, Alvarado senior CB Mason Caruthers, Burleson senior S Jackson Shaha, Burleson senior LB Skylar Webb, Centennial senior DE Chris Hillard, Centennial junior DT Darryn Kindles, Centennial senior LB Chase Phillips, Centennial senior S Matiyron Easley, Cleburne senior LB Braxton Bailey, Godley senior DE Landon Stevenson, Godley junior DT Collin Black, Grandview junior DT Cade Fedor, Grandview junior DE Dametrious Crownover, Grandview senior LB Antonio Arellano, Grandview senior LB Elijah Golden, Joshua junior P Noah Smith, Rio Vista junior LB Hunter Carpenter, and Venus junior DL Aldo Tamayo.
Rodriguez was a menace for opposing offenses in Class 4A DI as he racked up 132 tackles with 14 tackles for loss, while Caruthers helped lead the Indians' secondary with 34 tackles, three tackles for loss, one interception and three passes defensed.
Shaha was a well-rounded defender at safety for the Elks as he led the county with five interceptions in the regular season and had 72 tackles with six pass break-ups. Webb racked up 113 tackles, seven tackles for loss, four sacks and 13 QB hurries at outside linebacker.
With 44 tackles, 11 tackles for loss, six sacks and 14 QB pressures, Geller said Kindles is one of the more explosive interior defensive linemen the Spartans have ever had. After moving from linebacker to the line, Hillard had a strong season with 51 tackles, 19 tackles for loss, six sacks, 16 QB pressures and four forced fumbles. Easley was rock solid on the back-end of Centennial's defense with 108 tackles, six tackles for loss, and two interceptions. A two-time all-county first-team selection, Phillips finished with 45 tackles, five tackles for loss and two forced fumbles despite missing a few games.
Even though Cleburne had just one selection on the first-team defense, it's a massive one as Bailey racked up the tackles from week 1 all the way through week 11, finishing with a county-high 163 tackles to go along with 23 tackles for loss.
Stevenson was one of the county's most productive defensive linemen with 106 tackles and 22 tackles for loss while Black was stout in the interior with 66 tackles and six for loss.
Grandview's linebacker corps of Lehnhardt, Arellano, Golden and Matt Lehnhardt may have been the deepest in the state. Arellano finished with 141 tackles, 14 tackles for loss, and three fumble recoveries, while Golden registered 117 tackles, 12 tackles for loss, 6.5 sacks, three forced fumbles, and three fumble recoveries. Fedor had 65 tackles, eight for loss, and two sacks while Crownover was a force on the edge with 62 tackles, 15 tackles for loss, 5.5 sacks and four passes defensed.
Smith, an all-county first-team selection at wide receiver last year, garnered first-team defense honors at punter, where he netted an average of 37 yards per punt and had an astonishing season-long punt of 77 yards, by far tops in the county.
As only a junior, Carpenter was one of Rio Vista's most consistent defenders as he recorded 81 tackles, 16 tackles for loss, and seven sacks as an impact player.
And Tamayo led the Bulldogs with 85 tackles and four tackles for loss.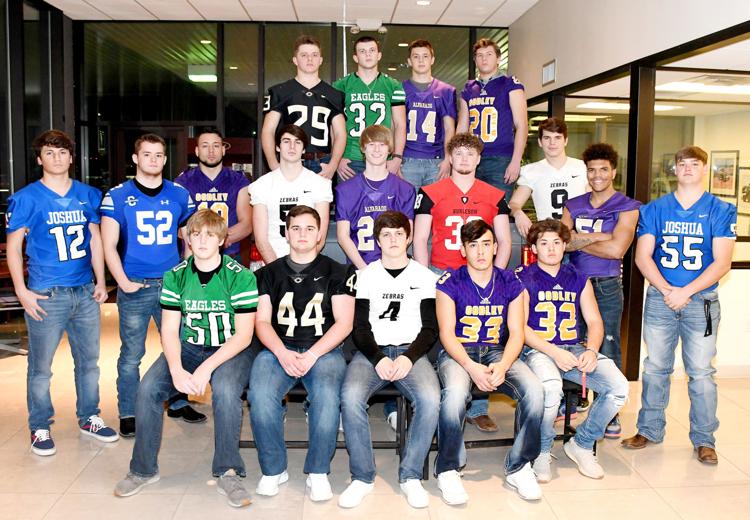 The All-Johnson County second-team defense includes: Alvarado senior DE Jonathan Canales-King (49 tackles, 6 TFL, 3 sacks, 8 QB hurries), Alvarado junior LB Brayson Fuller (62 tackles), Alvarado senior DB Brey Isclaw (44 tackles, 3 PD, 1 INT, 1 FR, 1 FF), Burleson senior LB Carson Hallack (77 tackles), Centennial senior LB Connor Hostetler (106 tackles, 6 TFL, 3 FF), Centennial senior DT Cole Montgomery-Ward (35 tackles, 7 TFL, 2 FR, 8 QB pressures), Cleburne junior LB Nico Keramidis (128 tackles, 12 TFL), Cleburne senior LB Jaxon Bigham (102 tackles, 12 TFL), Godley senior DE Tim Zamira (68 tackles, 15 TFL, 2 sacks), Godley senior LB Josiah Caro (89 tackles, 10 TFL), Godley senior LB Mario Hernandez (52 tackles, 7 TFL), Godley sophomore LB Jessie Torres (66 tackles, 9 TFL, 2 FF, 2 FR), Grandview junior LB Matt Lehnhardt (95 tackles, 9 TFL), Grandview senior CB Jacob Patterson (22 tackles, 2 INT, 8 PBU), Grandview senior DE Travis Massey (54 tackles), Joshua junior LB Nick Madewell (48 tackles, 5 TFL), Joshua sophomore S Justin Marshall (77.5 tackles, 5 PD), Rio Vista senior LB Kody Arsenault (87 tackles), and Rio Vista junior LB Noah Petty (73 tackles).
The Cleburne Ford 2019 All-Johnson County football superlative awards are selected by the Times-Review based on all-district selections, statistics, team success, and coaches' nominations.
Editor's note: The 2019 All-Johnson County football selections included the most "cuts" from all-district selections in quite a while. The selection process was somewhat rigorous in trying to keep all-county prestigious, even despite 85 players making the cut this year. The players selected were certainly deserving, in that it was a strong football season in the county for 2019.