DALLAS — Former Johnson County standouts Reggie Robinson II and Zach Smith nearly helped Tulsa pull off a big upset on No. 24 SMU, but the Mustangs rallied for a thrilling 43-37 win in triple overtime Saturday at Gerald J. Ford Stadium.
SMU (6-0, 2-0 AAC) scored three touchdowns in the fourth quarter to battle back from a 30-9 deficit. 
After both teams scored a TD in the first overtime period, the Mustangs fumbled on the first possession of the second overtime period, but Tulsa (2-3, 0-1 AAC) couldn't take advantage as the Golden Hurricane missed a long field goal. In the third overtime, Tulsa again missed a field goal, and SMU's James Proche hauled in a 25-yard touchdown pass from Shane Buechele for the win.
Grandview's Smith had another 300-yard performance as he completed 23-of-41 passes for 346 yards and a season-best four TDs with three interceptions.
With Tulsa facing a third-and-long in the third overtime, Smith avoided the pass rush, rolled out to his right, and threw a laser pass to the corner of the end zone, but the intended receiver slipped as the ball arrived and was unable to make the catch, forcing a 42-yard field goal, which was missed. Then the Mustangs' Proche made a highlight-reel catch that was initially ruled incomplete but was overturned after review for the walk-off win.
For most of the night, Smith picked apart SMU's highly touted defense early and often, including multiple third-and-long conversions in addition to his four TDs.
Smith's first TD pass was a 58-yarder to Keylon Stokes for a 10-6 lead early in the second quarter. Then Smith hit Stokes again, this one from five yards out, to give Tulsa a 23-9 lead with 5:23 in the second quarter. Early in the third, Smith hit Keene Johnson for a 40-yard TD. Smith's final TD pass of the night came in the first overtime, when he connected with Josh Johnson on a seven-yard pass on third down.
Smith's first interception came on an apparent miscommunication with his receiver, as the ball went right to SMU's Ar'mani Johnson, who returned it 64 yards for a TD. Smith's second interception came on a tipped pass. And his third came on a pass in the end zone late in the first half with Tulsa trying to extend its lead.
Cleburne's Robinson had two tackles, including one for loss, and one pass break-up to prevent a touchdown in the first half. Robinson was called for a questionable pass interference on a key fourth-and-goal stop in the fourth quarter.
Tulsa out-gained SMU in the first half, 324 to 133, before the Mustangs dominated the fourth quarter.
For the season, Smith is 102-of-176 passing for 1,364 yards with nine touchdowns and four interceptions for a 135.38 passer efficiency rating.
Smith is second in the American Athletic Conference in passing yards per game with 272.8, only behind Buechele's 277.5 per game.
Smith's streak of 128 straight passes without an interception was snapped.
Robinson has nine tackles, one interception, four pass break-ups, one fumble recovery and a blocked kick.
More than 60 friends, family, and former teammates and coaches attended the game to support Smith and Robinson.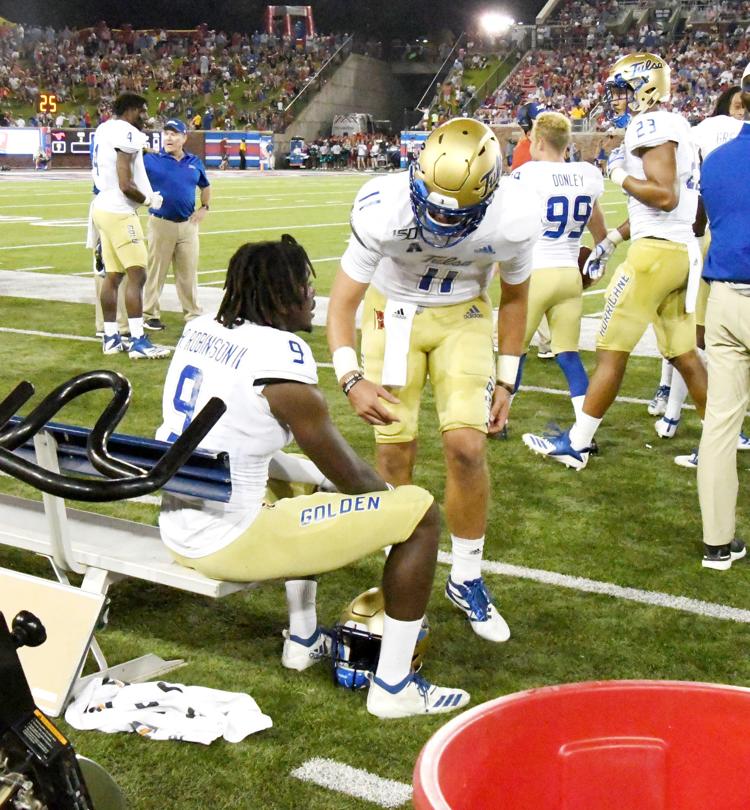 Saturday's meeting between No. 24 SMU and Tulsa was only the second time in the 26-game history of the series that either team was ranked nationally. In 1991, Tulsa was ranked 22nd when the Hurricane visited the Mustangs in Dallas.
Tulsa is scheduled to host Navy at 6:30 p.m. Saturday while SMU puts its undefeated record on the line vs. Temple.