WACO — No. 2 Grandview dominated No. 8 Cameron Yoe on a rainy Friday afternoon to the tune of a 45-14 drubbing at Waco ISD Stadium as the Zebras advanced to the Class 3A Division I Region III finals for a third straight season.
Grandview (12-1) held a 10-0 lead at halftime then made it 17-0 in the third quarter. Cameron Yoe (11-2) got on the scoreboard to cut the lead back down to 10 points with 4:32 left in the third.
But from there, it was all Grandview as the Zebras scored three straight touchdowns to take an insurmountable 38-7 lead and put the game out of reach with 5:06 left.
Grandview junior Dane Jentsch had another strong all-around game as he threw for 151 yards and a touchdown, rushed for 143 yards and a touchdown, had an interception on defense, and also returned a kickoff for a score.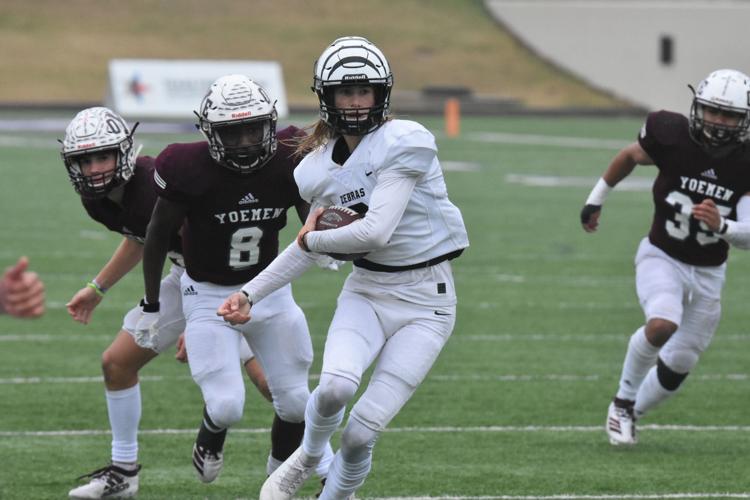 The opening drive for Cameron Yoe could not have gone any worse, as the Yoemen fumbled on their fifth play of the game, which was recovered by Grandview linebacker Antonio Arellano. It was a sign of things to come for Cameron Yoe, which turned it over four times. Grandview went on an eight-play drive but was forced to punt.
The ensuing drive saw Cameron Yoe find some rhythm on offense and drive all the way to the Zebra 28-yard line, but a turnover on downs ended the scoring threat. Following another Zebra punt, Yoe was picked off on its second play of the drive by Jentsch. The Zebras marched down the field but were held to a 24-yard field goal by Nathaniel Baker, which gave Grandview a 3-0 lead.
Cameron Yoe's next drive mirrored its previous one as the Yoemen moved the ball into Grandview territory, but the Zebra defense held strong and forced a turnover on downs inside their own 30.
Grandview got the first touchdown of the game with 23 seconds remaining in the opening half on a four-yard run by Tremayne Gullatte as the Zebras went into the locker room leading, 10-0.
On the opening drive of the second half, Grandview used a six-minute-long drive to move down the field and set up a four-yard touchdown pass from Jentsch to Clayton Hale to stretch the Zebra lead to 17-0.
Yoe found its offense on the next drive, moving the ball quickly down the field and this time coming away with points as James DeBose scored on a 14-yard run to make it a two-score game again.
But Grandview wasted no time getting that score back as Jentsch found the end zone after a powerful run from 13 yards out with 31 seconds remaining in the third quarter to push the Zebra lead to 24-7.
The ensuing drive for Cameron Yoe ended in disaster yet again, as Austin Boyd picked off Braden Brashear at the Yoe 38 yard-line. A 37-yard reception by Elijah Golden set up a one-yard touchdown run by Gullatte, and the Zebras continued to flex their muscles, stretching their lead to 31-7.
Following an interception by Grandview's Luke Ferguson in the Cameron Yoe end zone, the Zebras needed only seven plays to score via a 46-yard run by Golden, and the game was out of reach at 38-7.
Yoe found the end zone one final time on a pass from Brashear to DeBose, but an attempted onside kick by the Yoemen fell into the hands of Jentsch, who returned the ball 55 yards for a touchdown to finalize the score at 45-14.
Gullatte rushed for 65 yards on 21 carries and found the end zone twice while Boyd had 44 receiving yards on five receptions.
The Zebra defense came away with four turnovers and forced two turnovers on downs.
Cameron Yoe was led by DeBose, who rushed for 105 yards and accounted for both of the Yoemen's touchdowns.
Grandview senior offensive lineman Cole Cannon saw his first playing time since week 2, when he suffered a gruesome injury. The 2018 all-state performer wasn't expected to return this season but he provided a big boost to the Zebras on Friday by making a much earlier return than anticipated.
Grandview's win over Cameron Yoe on Friday avenged a Zebra loss to the Yoemen in the same round at the same location on the same day from the 2015 postseason.
Grandview will face Troy in the Class 3A DI Region III Final at 7:30 p.m. on Friday, Dec. 6 at Waco ISD Stadium.
Sports Editor A.J. Crisp contributed to this report.