MANSFIELD — Cleburne trailed No. 7-ranked Mansfield Timberview by just four points heading into the fourth quarter, but the Yellow Jackets came up a couple plays short as the Wolves held on for a 27-18 victory Friday at Vernon Newsom Stadium to kick off District 5-5A Division II play.
Cleburne's offense didn't find much room to work against Timberview's highly touted defense. Even with the offensive struggles, the Jackets (3-1, 0-1) had chances late as they only trailed 14-10 in the fourth quarter, but Timberview (3-0, 1-0) found the end zone twice in the final frame to put the game away.
Timberview held Cleburne to 189 yards from scrimmage and 10 first downs while the Wolves racked up 358 total yards and 24 first downs behind a ball-control offense. Timberview possessed the ball for 27 minutes and 51 seconds and had 16 more offensive snaps than Cleburne.
The Wolves had five drives of at least 10 plays on the night. Timberview converted 7-of-12 third downs, and when Cleburne's defense did force a third-down stop, the Wolves went 2-for-2 on fourth down as the Jackets struggled getting the big stop.
After the Wolves jumped out to a 14-0 lead in the first quarter on a pair of Deuce Jones touchdown runs to cap off long drives, Cleburne's defense finally put the Jackets on the board.
After a Timberview fumble on a shotgun snap was recovered by backup quarterback Xavion Walker in the end zone, Cleburne linebacker Nico Keramidis was there to bring Walker down for a safety to make it 14-2.
That remained the score at halftime in what was a forgettable first-half offensive performance by the Jackets, who gained only four first downs and 64 total yards.
Timberview's defense recorded three interceptions in the first half, including one in the end zone to kill a potential scoring drive for Cleburne. Another interception set Timberview up with a first down inside the red zone with 19 seconds left before halftime, but Cleburne's defense forced three straight incompletions as time expired to keep it a 14-2 game.
With Cleburne's offense still sputtering early in the second half, the Jackets finally received a big play on third-and-10 midway through the third quarter when Cleo Chandler hauled in a 41-yard pass from Gunner Hammond. On the next play, Chandler scored on a five-yard run, and Hammond added the two-point conversion on a diving effort to make it 14-10.
On Timberview's next drive, the Wolves faced a fourth-and-16 from the Cleburne 21 when the Jackets appeared to come up with a huge stop, forcing an incompletion. But a hands-to-the-face penalty against Cleburne in the trenches gave Timberview a fresh set of downs. And the Wolves took advantage, scoring two plays later on a six-yard pass from Simeon Evans to Justin Kimber for a 21-10 lead with 10:35 remaining.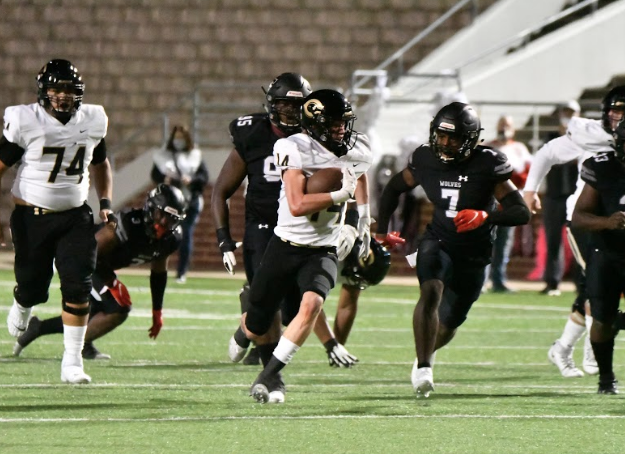 With Cleburne's offense needing to respond, the Jackets again failed to get anything going as Hammond was sacked on third-and-9, forcing a punt after a three-and-out.
Timberview took over at its own 17 and methodically marched 83 yards in 12 plays, highlighted by a Jones 36-yard run, which set up Ricky Madison for a one-yard touchdown run to give Timberview a 27-10 advantage with only 4:49 remaining.
The Jackets didn't give in, though. With Cleburne facing a fourth-and-7, Hammond connected with Gavin Naquin for a 48-yard touchdown pass. After Naquin found Braden Gunn for the two-point conversion, the lead was cut to nine points at 27-18 with 2:48 left.
Cleburne attempted an onside kick and was successful as Gunn recovered the loose ball, giving the Jackets a chance to make it a one-possession game. But after three straight incompletions, a screen pass to Tyler Forsythe gained only half the yardage needed as the Wolves forced a turnover on downs.
Jones rumbled 33 yards on the next play to get the only first down needed that allowed Timberview to run the clock out.
In Cleburne's first three games, Chandler had averaged 255.6 yards from scrimmage for the Jackets, but Timberview's defense held him to 83 total yards on 15 touches (23 rushing on 11 carries, 60 receiving on four catches).
Hammond completed 14-of-29 passes for 170 yards for a touchdown with three interceptions while he was sacked several times and held to minus-4 rushing yards on 11 carries. Naquin had seven receptions for 98 yards and a touchdown.
Jones led Timberview with 166 rushing yards and two scores on 19 carries while Evans completed 19-of-28 passes for 167 yards and one touchdown.
Cleburne will try to bounce back and even its district record when the Jackets host Joshua on Oct. 23 for their 2020 home opener after four straight road games to begin the season. Timberview is scheduled to visit Burleson (3-1, 1-0) next week.