GODLEY — In Tuesday's junior varsity game between the Godley Lady Cats and Joshua Lady Owls, Joshua sophomore Gabbie Guerrero played only five minutes, didn't attempt a shot, and the JV Lady Owls lost to the JV Lady Cats, 40-20. But for Guerrero, it was a meaningful and memorable five minutes.
On May 31, Guerrero was in an ATV accident and suffered serious injuries to her left foot and toes. After several surgeries, the best course of action was to amputate all of her toes and part of her foot.
"They did a couple of surgeries directly after the accident trying to save her toes, but the damage was unbelievable," said Lynn Poulson, Guerrero's mother. "The toes just wouldn't hold on. We waited until July 1 because we were trying to save as much as we could. Longterm, it was the right decision.
"We thought about maybe just taking a couple toes would be best, but with the balance issues and the pain, this was the best decision so we opted to do the full surgery."
From the moment of the accident and before the amputation surgery, Guerrero's primary concern was whether or not she'd be able to play basketball again.
"That was my first question," Guerrero said. "I love [basketball]; not just because of the sport but that's my team out there and I've grown with them. It's so much more fun when you enjoy your teammates as well as the sport. That's a big part of it.
"I feel like you always find one thing. My thing is basketball. When you get into an accident, some people may go into depression or think how it impacts their life but I didn't want to think that far into the future. My one concern was getting back on the court with my girls."
Poulson said her daughter did everything she could to get back on the court as soon as possible.
"From the time of her surgery, that was her goal was to get back on the court," Poulson said. "She did everything they told her she needed to do. She listened to the doctors, she's been in physical therapy, she's been working hard. I knew, without a doubt, that she was going to fight to get back on the court. This is a proud day."
After the numerous surgeries and countless physical therapy sessions learning how to run and jump with a prosthetic, everything came to a head Tuesday in Godley as Guerrero was finally able to return to the court. She checked into the game for the first time with under four minutes remaining in the second quarter.
"I felt like I was a little slower," Guerrero said about being back in game action. "I felt like my legs didn't move as fast but I still felt pretty good. I felt a lot better being out there than just watching my teammates play. It was fun to be back out there."
"I'm super proud of her," Poulson said. "We couldn't have done it without everybody — friends, coaches, the team. I'm an emotional wreck but I'm so proud of her."
It has been just over 5 months since Gabbie Guerrero had her amputation surgery and today we want to celebrate all of the progress she has made. Gabbie will suit up for her first game tomorrow! She is an inspiration to us all and we can't wait until she is fully healed!! pic.twitter.com/iKfsAnJxfR

— Joshua Lady Owls Basketball (@JoshuaLadyOwls1) December 30, 2019
Joshua head coach Michelle Connelly said Guerrero has taken everything in stride with a great attitude.
"Her whole thing was she wanted to play basketball and she was incredibly motivated," Connelly said. "It wasn't as easy as she thought it was going to be. The first couple days were really painful. She almost had to relearn how to walk because you plant and do everything with your toes. But she's had a really great attitude."
While Guerrero was working to get back on the court, she remained an integral part of the Lady Owl basketball program.
"Unless she had therapy during practice, she's been to every practice and has been our varsity manager keeping stats at every game," Connelly said. "She's super resilient. They said a lot of kids, if they had that accident, they wouldn't be thinking about [playing a sport]. But that's all she could talk about was playing basketball. It's real exciting that she gets to play again."
During the past six months, Poulson said there have been the expected ups and downs, but she's amazed at the strength her daughter has shown through the good and bad.
"It was a roller coaster," Poulson said. "She had good days and bad. She doesn't want to be the 'girl with half a foot.' But she has come so far. She didn't look at her foot until a few weeks ago and really started coming to terms with it. Being 15 years old and knowing that you're always going to have to wear something like that and knowing you're always going to be different, it's tough. But she's doing great."
For Guerrero, the toughest aspect through her recovery process was the waiting.
"The hardest part was the time it took," she said. "Yeah, I lost five toes and I was expected to wait, but from day one when I got into PT, I was wanting to run and stuff, but you have to go slower. I wanted to be back before district but things got pushed back. It was the waiting [that was tough]. Other than that, I liked pushing myself, getting back in shape, and being out of breath almost every day. It was fun."
After the amputation surgery, Guerrero said she went to physical therapy for three months. The first six weeks or so, she went three times a week; the second six weeks, she went two times a week with longer and "more hardcore" sessions, she said.
Connelly said she couldn't be more proud or more impressed by Guerrero's mindset, attitude and work ethic.
"Some kids don't have anything wrong with them, and if it's not going their way, they'll quit," Connelly said. "But she did have something that happened to her and she's still stuck it out. I'm just so proud of her."
Connelly and Guerrero each said the support from teammates has been huge.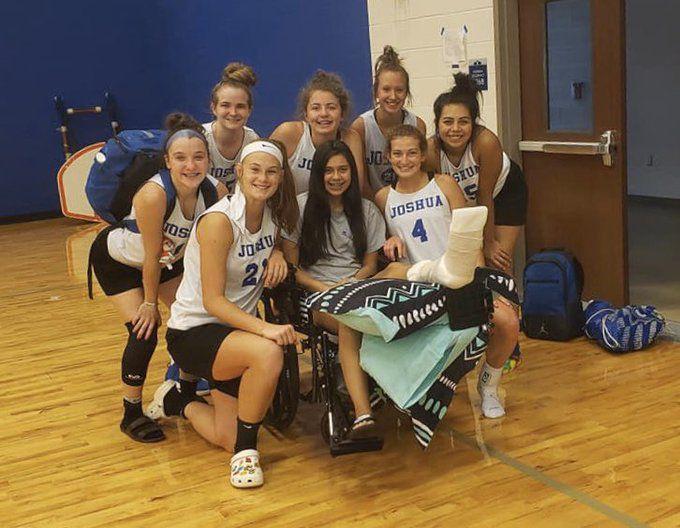 "We have such great kids at Joshua," Connelly said. "They all went and saw her at the hospital and they've all encouraged her. They've been super supportive of her. They want her to be able to come back. When we were practicing [Monday], everybody was cheering for her and super excited to have her back out there."
"It's been amazing," Guerrero said of the support. "... They're not only my teammates, but they're my friends and family. The love and support, the visits in the hospital, the videos they sent me, it was amazing. Without them, I don't think I could be where I'm at."
Guerrero said while she still has the same goals with basketball as before, she's also just happy to be back on the court with her teammates.
"I have the same goal as before, be on varsity and be a starter," Guerrero said. "But really I don't even care about being varsity right now. I just love sitting on the bench with my team. JV, freshmen, or varsity, we're all one team and I'm glad to be back on it. My goal is to get back to my same skills I had and be even better than before."