The Cleburne Lady Jackets are set to not only tip off the 2019-20 season but also a new era of Lady Jacket basketball Friday.
Cleburne will take the court at Jeff D. Arena for the first time under the direction of head coach Rosalind Lawrence as the Lady Jackets host Fort Worth Dunbar at 6:30 p.m. Friday.
Lawrence said she's excited to get the season started and is blessed to be leading the program she once played for herself.
"I have a lot of pride with where I'm at because I went to this high school and played in this program," Lawrence said. "It's really cool to be a Lady Jacket again."
While Lawrence is hoping to continue, and improve on, the Lady Jackets' winning ways, she's also focused on helping her student-athletes beyond the court.
"I want to build on the tradition and culture," Lawrence said. "I want to help grow each and every kid to be a better basketball player. But I also want my kids to feel as though they are getting lifelong skills. That was one of the things I decided I should focus on is giving them tools to be successful when they leave because very few of them go play basketball at the next level and very few who do go actually finish. So giving them the tools they can use in any aspect of life through athletics is the greatest benefit for any athlete."
Lawrence inherits five varsity returners from last year's 27-9 team that finished second in District 14-5A and won a bi-district title under Brooke Robinson, who is now the head girls basketball coach at Burleson Centennial.
Varsity returners are senior guards Haley Jones and Rylea Green, senior forward Wendel'lyn 'Dub' Moblin, junior guard Malea Whiteside and sophomore forward Zoe Wilson. The Lady Jackets lost their two leading scorers from last year's team as Jayla Johnson graduated and Caitlyn Cron moved to Burleson Centennial.
Varsity newcomers include sophomore guard Jordenne Cunningham, junior forward Bridget Cockran and junior guards Bree Clay-Hawkins and Hannah Marion, along with transfer Kate Renner.
After a first-team all-district season last year, Jones enters this season as one of the Lady Jackets' go-to threats.
"I'm expecting Haley to do what Haley does," Lawrence said. "We've been talking about using her strengths. She's been developing a little freeze dribble because she can change speeds so quickly. We've been pushing her to attack more, especially from the baseline side because contact doesn't really bother her. She has that first step to go by defenders. But also getting her a little mid-range game, knowing when to pull up, so she's not always taking a beating."
Moblin and Whiteside garnered second-team all-district honors a year ago, and Lawrence is looking for both players to be leading contributors this season.
"Dub has by far the best hands and footwork in this program," Lawrence said. "We're just looking for her to be consistent. We've been talking about attacking and going to the baseline side. We've been talking about making her moves quicker and learning to reverse pivot so she can be facing the basket and already has created that space. We're looking for Dub to average double-digit points and double-digit rebounds. That's what it's going to take."
Whiteside has been a varsity player since her freshman year, and Lawrence said she'll use the long and versatile junior in a variety of ways, but most importantly to help take some pressure off Jones as the primary on-ball defender.
"Malea has a lot of potential," Lawrence said. "It's going to come to her. She's been playing volleyball but when I saw her during the summer, I was really impressed with her. I've been talking to Malea about taking more of a role on defense with how long and athletic she is. It makes for a hard game for a person like Haley if you're asking her to score in the half-court and guard the best person on defense all night. Last year, Haley had some relief because she had Jayla and Caitlin. But now someone else is going to have to step up and help out and guard the ball so we can find her a place to rest some, and Malea can be that person."
Wilson played a key role for the Lady Jackets last year as a freshman, and Lawrence said she believes Wilson can become a cornerstone-type player.
"She can become a really good ballplayer," Lawrence said. "I've been really impressed with her play. She came out of varsity volleyball but during our first scrimmages she was really taking in what I was saying even though she only had a couple practices. She's going to be a really good rebounder for us."
And while Green saw limited time a year ago, Lawrence said she has one of the higher basketball IQs on the team.
"Rylea is a really, really smart player," she said. "She has a high basketball IQ. I can play her in the post sometimes because she just 'gets it.' I can put her in the post and give my post players a break and she can also be at guard. She's pretty consistent."
With Jones, Whiteside, Wilson, and Moblin filling out four of the five spots on the projected starting lineup, Renner will be the Lady Jackets' starting point guard after coming in from Burleson High.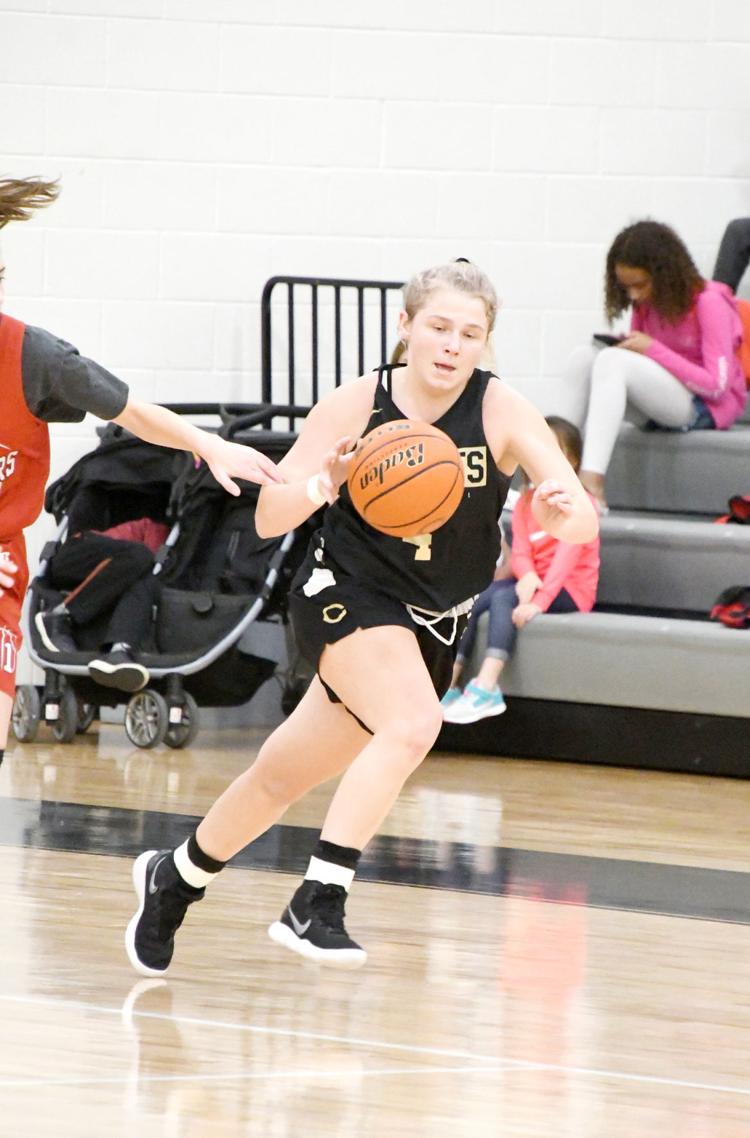 "Kate has a high basketball IQ and she's very physical," Lawrence said. "She plays really aggressive, which I really like. She's a good ball handler. She's a great shooter. She's just having to be our point guard even though that may not be her natural position. But I've got some sets I can run that I love that I've used in the past that can get her some shots. She can also get to the hole. Kate's a good defender. She's real physical and real smart."
In most games, Cunningham will be the first player off the bench for Lawrence, who is high on the sophomore.
"I would say right now Jordenne Cunningham is our sixth man off the bench," Lawrence said. "She played JV last year. She has worked really hard during the offseason and this preseason to become better in all aspects of her game. Defensively she's super fast. She's becoming a more consistent shooter. I look for her to be a key component for us being successful. I think it's already clicking for her and she's only a sophomore."
Cockran will provide size and rebounding off the bench, and Lawrence said she likes her potential as well. Clay-Hawkins has the potential to be a pest defensively. And Lawrence likes Marion's relentlessness.
"Bridget has a lot of potential and she has good size," Lawrence said. "We're working on her learning how to be more physical. Bree is super fast and super athletic. She's been working on her ball handling. We look at her to amp us up defensively and challenging the ball handler. Hannah is extremely quick and very coachable. Her best attribute is her ability to be relentless. She plays hard at all times."
Looking at her roster from top to bottom, Lawrence said the biggest team strength entering the season is their overall speed, and they'll look to utilize that at times with pressure defense.
"I think our team speed is our strength," she said. "Our post players aren't really posts, they're more like small forwards. So we're building an offense that helps utilize what we're good at. But I think mainly speed is our strength; the fact a lot of those kids are pretty fast. 
"We're going to utilize some pressing. Once they understand the foundational principles of our man defense, we can move into some zone, and we'll do some halfcourt traps."
Conversely, Lawrence said the biggest area that needs improvement is outside shooting.
"We've got to become better and more consistent outside shooters," Lawrence said. "That's one of the things I know how to do as a coach. I feel like that's one of my strengths is teaching them how to be good shooters. You've got to practice shooting every single day if you want to be good at it. You've got to get up as many shots as possible. That's one area we need to work on, along with our ball handling."
A lot goes into a team having a successful season, but for Lawrence, being a successful team comes to do two main things.
"I want them to play hard and execute," she said. "If you look at most championship programs, they play hard and they execute.
"I remember being at the state tournament and it was McKinney North and Canyon. McKinney North had five players that were Division I. Canyon is Canyon, they're solid. McKinney North was giving it to them. But Canyon is going to execute and play hard all game. Canyon was losing by 10 in the third but by the middle of the fourth they were up by 10. The other team was trying to play freelance basketball instead of executing go-to sets that you can rely on. That's what I want them to understand. That's what we've been working on. They probably think I'm crazy because I'm so detail-oriented, but they're buying in for sure."
With five returners and a couple of key newcomers, Lawrence is confident in her team's playoff chances this season.
"We're definitely a playoff team," she said. "No doubt, we're a playoff team. How far we can go in the playoffs is all about figuring out a way to be consistent and well balanced. If you win rebounding, you win free throws and you limit your turnovers, you'll win the game. So just figuring out how to be consistent and having our role players improve each and every game to have a more well-balanced team so we don't rely on just one or two players is important. I'm excited."
After Friday's season opener vs. Dunbar, the Lady Jackets return to action Tuesday against Richland Hills in Fort Worth then Cleburne will compete in the Eaton Tournament Nov. 14-16. Cleburne opens District 14-5A play Dec. 17 against Red Oak