The Cleburne Lady Jackets needed a win Tuesday night to keep their season alive, and they did so with a sweep of Waco University on senior night at Jeff D. Cody Gymnasium.
Cleburne will now play Corsicana in a tiebreaker match for the fourth and final playoff berth out of District 14-5A after the two teams finished tied at 6-6 in league action and split their two head-to-head meetings. 
Cleburne started slow against last-place Waco University (0-12) but the Lady Jackets did what they needed to for the victory, 25-18, 25-21 and 25-13.
"The girls understood that we needed that win," Cleburne Coach Rachell Pope said. "We obviously started off slow but when it came down to it, we weren't going to let them beat us. So we buckled down when it got closed and finished up.
"I'm excited for them. I know this season has not gone the way we necessarily wanted it to but that's all done and over with now. What's ahead of us is what matters at this point. I'm excited for them to have this opportunity."
The Lady Jackets have been led this season by eight seniors including three multiple-year starters, and Pope said it was a special night to honor the last senior group to play at Jeff D. Cody Gymnasium.
"I think it was really special for all of them," Pope said. "There won't be another group of ladies like them. Of course, there's the core group that's played together for a long time, but for me there's not another group quite like them. It was nice to watch them have that senior night moment. They're a fun group and it was good for them to win their last home game."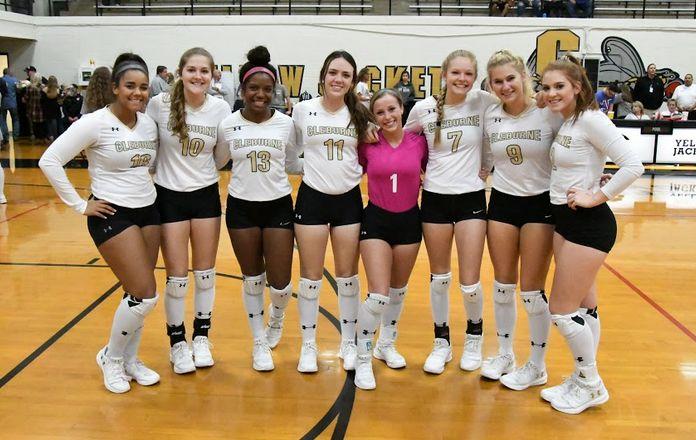 In the opening set, Cleburne took control with a 7-1 run to turn a 10-9 lead into a 17-10 advantage. Waco University battled back with a 6-2 run to make it 22-17, but Cleburne closed it on a 3-1 run, with senior Madie McKinney getting down a kill for a 1-0 lead.
The second set featured a series of 3-0 runs by each team. The largest lead of the second game was five points by Cleburne on three separate occasions. With the Lady Jackets holding a 21-16 lead, University scored four in a row to make it a one-point game, but the Lady Jackets finished strong with a 4-1 run, with McKinney again getting down the set-clinching kill for a 2-0 lead.
In the third set, the Lady Jackets resembled a playoff team as Cleburne dominated early for a 22-5 lead. Even though University managed an 8-1 run late, the Lady Jackets quickly wrapped things up to clinch their spot in a tiebreaker match.
McKinney had a big senior night performance with 19 kills and three aces. Senior Abby Jones had eight kills and 12 assists while senior Allison Coleman directed the offense with 19 assists. Senior Addie Sims added four kills and senior Taytum Thompson added three kills with four assists.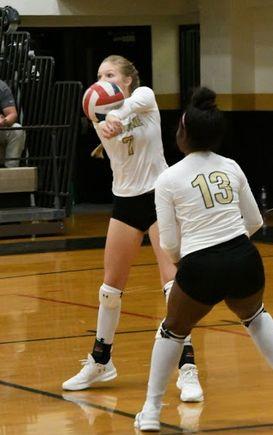 Now Cleburne shifts its focus to a tiebreaker match with the winner qualifying for the postseason and the loser going home.
"It's do or die," Pope said. "That's the conversation we just had [after the Waco University win]. If it's Thursday, that's going to be a quick turnaround, and we talked about how important it is to come out focused Wednesday during practice and to take care of business. Corsicana changes a lot of things up. They'll change defense in the middle of the game. Everybody's got to be ready."
The Lady Jackets took the first meeting in five sets while Corsicana won the second contest in four sets.
Prior to their three-set loss to Joshua on Tuesday, the Lady Tigers were the hottest team in the district as they reeled off six wins in a row at one point, including giving Red Oak its first district loss.
"They're hungry," Pope said. "They've got five core girls that are seniors who play all the way around. Those girls have been together since the eighth grade and they've been in this situation before in the other district. They've been impressive. They only won two games the first round and now they've only lost two in the second round.
"I would just describe them as extremely hungry. They've put it all on the line and that's what our girls are going to have to do and I believe they will."