The Cleburne Lady Jackets used a 14-0 run in the first quarter to take control early in a 66-38 victory Tuesday night over Joshua at Jeff D. Cody Gymnasium.
The Lady Jackets (24-8) improved to 7-3 in league play to keep pace in the crowded District 14-5A standings.
Cleburne turned a 6-4 lead into a 20-4 lead late in the first quarter to pull away early. Joshua ended the opening quarter on consecutive makes to pull to within 20-8, but that was as close as the Lady Owls would get the rest of the way.
The Lady Jackets out-scored Joshua, 11-4, in the second quarter to take a 31-12 lead into halftime. Cleburne pulled away even further in the second half, building a 30-point lead at one point in the fourth quarter.
Unlike the first meeting Jan. 4 at Joshua — where the final score of 65-47 wasn't indicative of how close the game was —this time the Lady Jackets left no doubt from the opening tip.
"We approached the court like it was a playoff game," Cleburne Coach Brooke Robinson said. "If we want to make a run for it, we will have to play and practice like we want it. We also knew the pressure of beating Joshua at home and knowing there is something dangerous about a team that has nothing to lose."
All nine players who entered the game scored for Cleburne, with Caitlyn Cron's 17 points, six steals and four assists leading the way. Jayla Johnson had a double-double performance with 11 points and 10 rebounds while Wendel'lyn Moblin was dominant early as she finished with 12 points, eight rebounds and four steals.
Haley Jones added eight points and four boards, Chloe Scott netted seven points before suffering an injury, Madison Sepulveda added four points, Malea Whiteside scored three points with five rebounds, and Zoe Wilson and Rylea Green added two points each.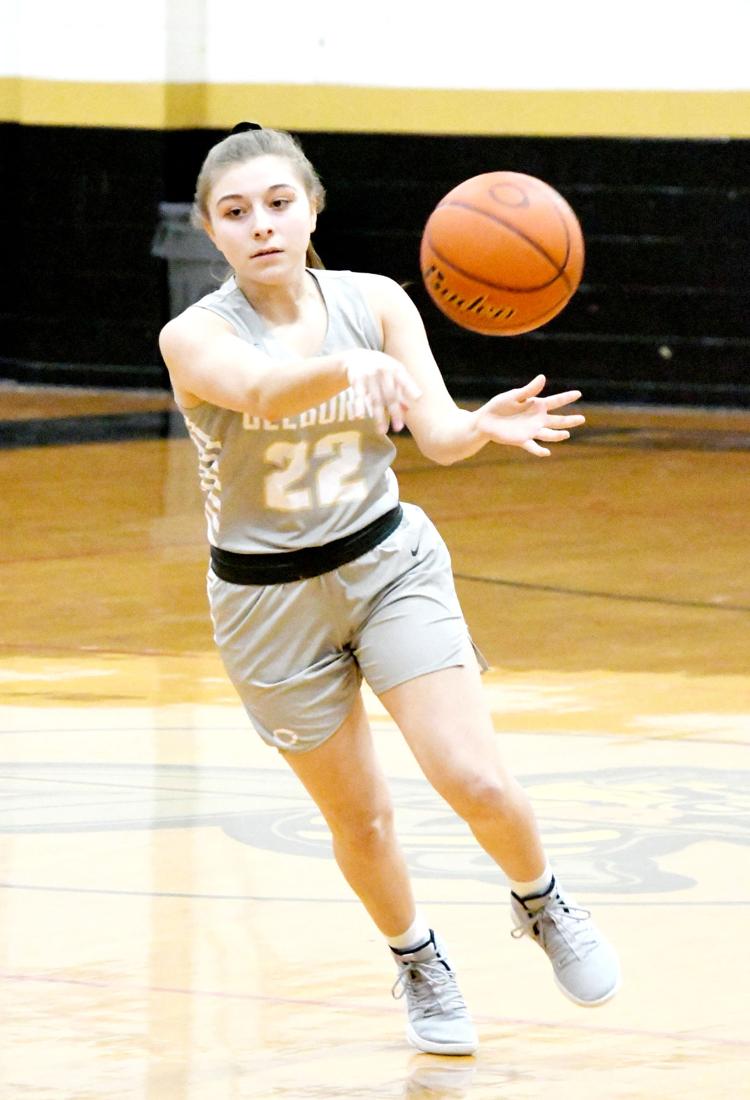 Cleburne shot 47.5 percent from the floor and committed only eight turnovers while Joshua shot 32 percent and turned it over 19 times. The Lady Jackets also out-rebounded the Lady Owls, 30-24.
Cleburne is still one win or one Ennis loss away from officially securing a playoff berth.
"Basketball is a grind and can wear and tear on you mentally and physically," Robinson said. "So we have to remember all the hard work in the offseason and all the long practices is for preparing us for postseason-level play. We can not take any team lightly and we need to be playing our best ball."
Entering the final two games of district play, Cleburne is tied with Waco University at 7-3, although the Lady Trojans own the head-to-head tiebreaker via their season sweep of Cleburne. Midlothian is in fourth place, only a game behind at 6-4, while Ennis is still alive at 5-5. At 9-2, Red Oak owns a 1.5-game lead for first place.
Red Oak has a bye on Friday before wrapping up district play Tuesday at Waco University in what will likely be a showdown to determine if Red Oak is the outright district champ or if two (or possibly three} teams will share that title. There's a chance Cleburne, Waco University and Red Oak could each finish 9-3; then it would come down to whatever the tiebreaker procedure is in according to the district minutes.
If Cleburne wins its final two games and University loses once in its final two, the Lady Jackets would clinch the No. 2 seed for the playoffs.
Cleburne visits Ennis at 6:15 p.m. Friday then the Lady Jackets host Corsicana at 6:15 p.m. Tuesday to wrap up regular-season action.