Haley Jones and Wendel'lyn Moblin, two cornerstones of Cleburne Lady Jacket basketball, signed Tuesday to continue their careers at the next level.
In virtual signing ceremonies, Jones and Moblin were surrounded by their respective families in the front yards of their own homes as Cleburne ISD staff hosted Zoom meetings to honor two Cleburne standouts with "coronavirus-altered" signing ceremonies.
Jones signed with Collin College in McKinney while Moblin will continue her career at Concordia University in Austin.
Jones and Moblin were integral in the Lady Jackets' success the past two seasons as the guard-post duo helped lead Cleburne to back-to-back playoff appearances. And now they'll each have opportunities to expand their games beyond the high school level.
"I've wanted to play college basketball ever since I was little, I just never really thought it was going to happen," Jones said. "But recently I started to realize that it could actually be a goal I could accomplish.
"I had multiple JUCO schools that offered me and a few DIII schools but it came down between Arlington Baptist and Collin College."
Jones said Collin College Head Coach Jeff Allen was one of the primary reasons why she opted to become a Cougar.
"Coach Allen made me feel like I belonged there from the second we started talking," Jones said. "He told me all about the program and the style they play. He is pretty successful with transferring his players on to a bigger school and I feel like he can help me a lot. The campus is also 10 miles from where my sisters stay so if I ever need anything they are right there."
Cleburne Coach Rosalind Lawrence said she believes Collin College is a good fit for Jones as she continues to improve her game.
"I'm super excited for her," Lawrence said. "I'm more excited to see the growth and the type of player she'll become because she has a lot of potential to grow even further. It's an exciting time in your life to be a college athlete and compete against high-quality players. Collin has always had a pretty competitive women's team. Not to mention she's close to home, so we can go see her play. I think it's a great opportunity for her. There's a lot of good basketball coming out of that area."
In her senior season for Cleburne, Jones averaged 17.8 points, 5.2 rebounds, 3.8 steals and 2.8 deflections per game to lead the Lady Jackets to the playoffs. Jones was named the 2019-20 All-Johnson County offensive player of the year in addition to District 14-5A first-team honors. As a junior, Jones was a first-team All-Johnson County and all-district selection after averaging 12.4 points, 3.7 rebounds and three steals per game.
"I am hoping Collin opens up some more opportunities for me," Jones said. "[This opportunity] means a lot. I feel like if I stay focused and take things seriously I could eventually transfer to a bigger school."
Jones said the No. 1 thing she'll be working on is her jump shot. Most of Jones' scoring came on drives to the basket in high school but she's hoping to be a more versatile offensive threat at the next level.
"I could use improvement all around but one thing I will focus on will be my shot," she said. "I will spend a lot of time shooting in the gym."
Jones said she's blessed with a strong support system that has helped her reach this moment.
"I want to thank everyone who has coached me in the past," she said. "Each and every one of them helped me become the player I am today. I'd list them all off but I've had so many and they all deserve a thank you. Most definitely want to thank my mom for always encouraging me to do my best and allowing me to play AAU, which took a lot of time and commitment from both of us."
Jones will join a Collin County team coming off a 24-10 season in 2019-20.
For Moblin, the opportunity with Concordia University is a pay-off of six years of hard work.
"The opportunity to play at the next level validates all the hard work and time I have put in, a rewarding feeling," Moblin said. "The most exciting part is that [my basketball career is] not over. I've only been playing for six years and I'm not ready to be done."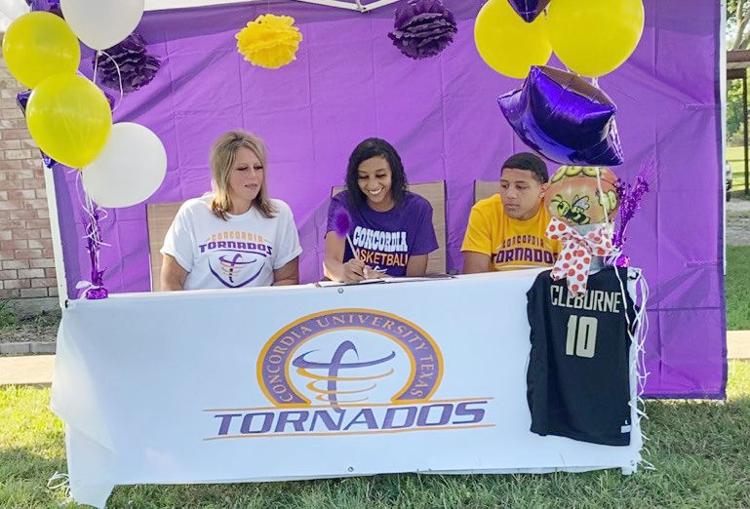 Like Jones, Lawrence said she believes Moblin still has plenty of untapped potential.
"I'm super excited for 'Dub,'" Lawrence said. "Dub has a very high basketball IQ, and she just started playing in middle school. Each and every year, from what I can tell on film, she added to her game. She needs to stay healthy and stay engaged and I'm sure she'll be fine.
"She should come in and play immediately. Dub's got good hands and good feet. I'm sure they'll make her a lot stronger and get her in the weight room. She's a very studious student. I think this is a good match for her."
Moblin has had her eye on Concordia University for the better part of the past year.
"At the beginning of basketball season they actually contacted me and I did my research and fell in love," Moblin said. "I set a goal that that's where I want to continue my athletic and education career. Education is just as important and they offer my major. And it's in an ideal location — not too far, not too close."
Moblin averaged nine points per game and six rebounds per game for the Lady Jackets in 2019-20. Moblin was a first-team selection on the all-district and All-Johnson County teams this season. As a junior, Moblin was an all-district second-team selection after she put up 5.7 points per game with 5.8 rebounds and 1.3 blocks per contest.
Moblin, too, is grateful for strong support, coaching and encouragement over the past six years to allow her this opportunity.
"I would like to give a shout-out to my No. 1 supporter and ride or die no matter what, my mom, Genell Jones," Moblin said. "Also the first coach that ever believed and poured into me Tyshanta Williams, my AAU and high school coaches Larry Holmes, Brooke Robinson and Rosalind Lawrence, and Deon Robinson for the extra hours and weekend sessions, along with everyone who supported me along the way."
Moblin is the second Johnson County product to sign with Concordia University recently, joining Godley's Madi Maxwell. In her freshman season, Maxwell averaged 9.5 points and 4.8 rebounds for the Tornados, an NCAA Division III program that competes in the American Southwest Conference.