The Cleburne Lady Jackets will try to extend their playoff streak to four straight seasons in 2022 but will attempt to do so under new guidance.
Matt Moulden, who served as the assistant boys soccer coach last year, was named Cleburne High School's head girls soccer coach in June 2021 following Aaron Babcock's two-year stint as the Lady Jackets' leader.
Cleburne went 13-6-5 last season and finished third in District 14-5A as the Lady Jackets registered 16 shutouts in 24 matches played but fell to Forney, 2-0, in the bi-district playoffs. When Babcock took over as Cleburne's head coach, his immediate goal was to end the Lady Jackets' playoff losing streak that dates back to 2013. But the COVID-19 pandemic canceled spring sports in 2020 before the Lady Jackets' bi-district loss to Forney last year. Cleburne also lost to Forney in the 2019 bi-district playoffs.
And now Moulden, in his first year as a head coach, has the same goal Babcock did for Lady Jacket soccer.
"Our goal for this season is to end the playoff losing streak, to advance past that bi-district playoff game that has been a hurdle for this program the last several years," Moulden said.
Moulden has a wealth of experience within his roster with 12 returners from the 2021 season.
"We have a good group of returners that know what it takes to compete in our district," Moulden said. "I could go on and on about every one of our returners and even all the new girls on the varsity team and in the program. Every girl brings their all and brings a unique skill set to the team, and we need every piece of the puzzle to be successful."
Headlining those returners include senior Isabel Vasquez, junior Emily Lares, junior Samantha Vesely, sophomore Valeria Valles, senior Taytum Rosette and junior Allyson Reed, a two-time All-Johnson County superlative performer.
"Isabel Vasquez is the heartbeat of the team," Moulden said. "She sets the standard for the other girls in games and in practice. Her leadership and vision on the field are what every coach would want. She keeps the midfield organized, communicates coverage and sets the tone of the team. Emily Lares is a special player in the back line. She is relentless in her defending and expects the same out of everyone. No detail is too small for her to want to fix and improve upon. Taytum Rosette is a leader for us with her endless effort up top in our formation, giving everything in every game. Taytum plays with a passion and intensity that is contagious throughout the whole team. And Emma Rohr is a stabilizing force; she has the ability to score, make a cross, and defend a player 1-on-1."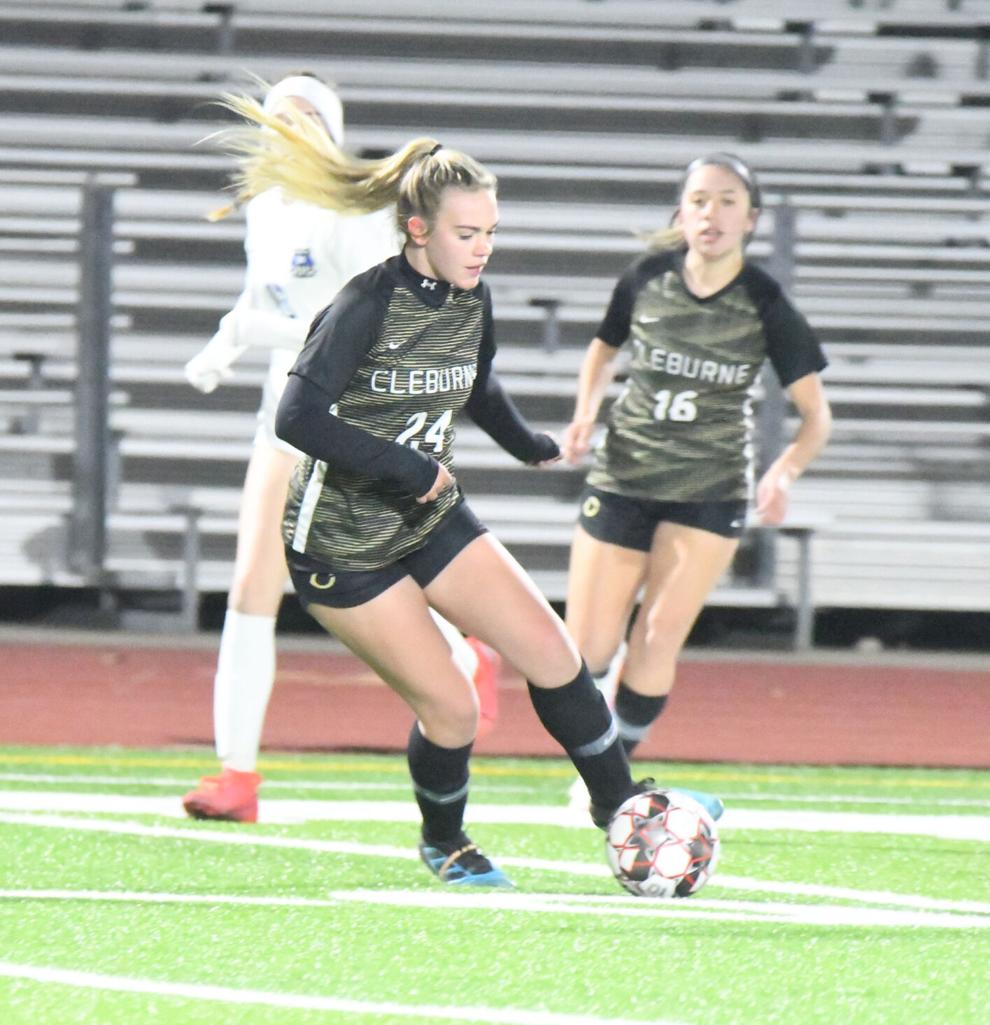 Vesely and Granger are returning after suffering injuries last season and both will bring an impact to the lineup.
"With Sam Vesely, even though she is fighting back from her knee injury that occurred in the playoff game last season, she pushes the team every day with her encouragement from the sideline," Moulden said. "And when she returns she'll play a big role in our defense this season. Trinity Granger is returning from missing most of last season with an ankle injury; this has given her a special drive to take advantage of every day. Trinity can play multiple roles for us this year and will excel at all of them. She holds a high standard for herself on the field, only settling for her best effort and execution."
Reed and Valles each garnered All-Johnson County superlative recognition last year. Valles was the defensive newcomer of the year while Reed, who has 45 goals in 38 career varsity matches, was the all-county offensive newcomer in 2020 and the all-county co-offensive MVP last season.
"Valeria has emerged as an important vocal leader for our team and brings a relentless energy to every practice and game," Moulden said. "Ally will lead with her offensive production, but also in her willingness to fall back and defend."
While the Lady Jackets are rich in experience with 12 returners, Cleburne did lose three key players to graduation in Tessa Scott, Arlett Garcia and Lexie Key, a two-time All-Johnson County goalkeeper of the year. So finding a key presence in goal to replace Key's steady play will be a storyline for the Lady Jackets this year.
"We are excited about the two goalies we have playing for us this season in Karyme Garcia and Aubree Harmon," Moulden said. "They are both hungry to continue the tradition of having outstanding goalies here at CHS for the Lady Jackets program."
As far as Moulden's soccer philosophies and strategies, he said he's grateful to Babcock for the commitment to defense he built the past two seasons.
"Babcock left a great foundation for us to build upon, a tradition of a strong defense and defensive philosophy," Moulden said. "But I am wanting to push that defensive pressure further up the field. Looking to win the ball higher up the field. This will allow us to transition into offense quickly and with numbers. This requires the girls to work together, communicate and have a high level of fitness. All things we have been working on since August, and are finally getting to put together on the field during scrimmages and pre-district games."
While defense has carried the Lady Jackets the past couple years, Moulden said he's excited to see what the Lady Jackets can do on offense with a couple of new faces complimenting Reed and Rosette up top.
"Our defensive unit is full of returners and was a major strength for the team last season," Moulden said. "It's the foundation which we are building upon. But we are also excited about working our new players into the more up-tempo style of play, partnering them with Allyson Reed and Taytum Rosette."
Moulden said the biggest focus for the Lady Jackets this season is working as a cohesive unit in all areas on the field.
"If we trust each other, play as a unit, and play the game we are capable of playing through all phases of the game, we will contend for district and be in the playoffs," he said. "Consistency is our biggest area to improve upon, staying focused on the details throughout a game and throughout the season. For us to achieve our team goals, we have to work as one unit — be relentless in our pursuit of every ball, every goal, and every game, taking nothing for granted."
The Lady Jackets are scheduled to open their 2022 season at 3 p.m. Thursday against Wichita Falls in the Arlington High School Tournament. Cleburne is then scheduled to face Birdville at 1 p.m. Friday before meeting L.D. Bell at 1 p.m. Saturday. Cleburne's first home match is Tuesday against Duncanville.