To say the Burleson Lady Elks dominated Fort Worth Eastern Hills in a Class 5A bi-district match would be an understatement.
The No. 9-ranked Lady Elks swept Eastern Hills, 3-0, as they held the Lady Highlanders to 20 points — in the entire match. Burleson coasted to a 25-10, 25-5 and 25-5 win Monday at Cleburne's Jeff D. Cody Arena to record back-to-back bi-district titles.
Burleson head coach D'Anna Newton said she was proud of how her Lady Elks, back-to-back District 5-5A champs, came out ready for each and every point as Burleson improved to 37-5 on the season.
"That's something I've been saying — we have to focus every single point no matter who the opponent is," Newton said. "I thought we came out and got the job done. It was a whole team effort. All 14 players contributed tonight and I was really proud of their efforts."
In the opening set, Eastern Hills kept it close early, trailing by two points at 7-5. But that was the most competitive the match would be all night. From there, the Lady Elks outscored the Lady Highlanders by a combined 68-15 the rest of the night.
More immediately, Burleson closed the first game on a 17-5 run as Emily Rich and Ellie Strebeck were too powerful for Eastern Hills to defend.
In the second set, Burleson used an 11-0 run to turn a 4-2 lead into a 15-2 lead en route to a 25-5 victory.
In the third and final game, the Lady Elks jumped out to a 10-3 lead then Burleson scored 13 straight to make it 23-3 en route to a second straight 25-5 victory.
Eastern Heights scored back-to-back points only twice.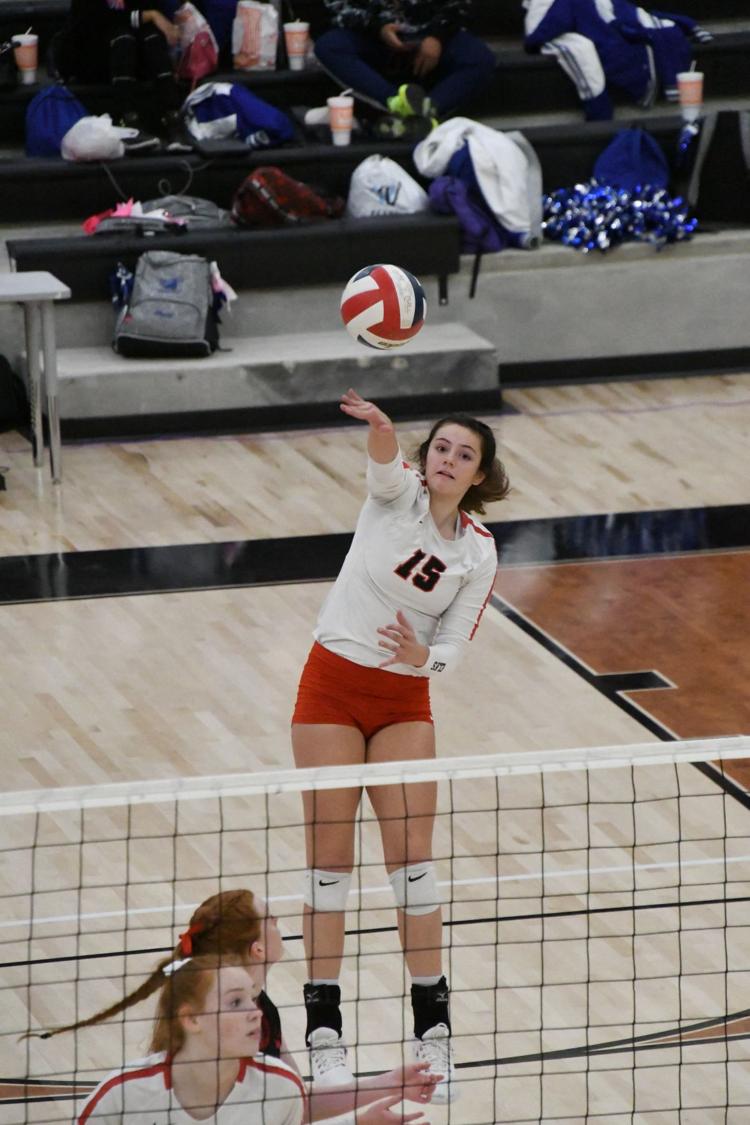 The Lady Elks received contributions from everyone on the roster, led by 13 kills from Rich and 24 assists from Mia Smalls.
Emily White added 10 kills and seven blocks — all in emphatic fashion — while Ellie Strebeck contributed nine kills. Emma Dustin chipped in seven assists with 11 digs.
"She has come full force with her blocks at middle blocker," Newton said. "Whenever somebody is down, whether it's Rich or Ellie or someone else, she's able to help get the job done. Her blocks tonight were really powerful for us.
"We were able to run some different offenses; we put Ellie in the middle, put Ellie on the outside, and then we had Mia hit a little tonight running a 6-2. We're able to go from all different angles. I'm really proud of the way we produced and finished tonight."
Now the Lady Elks advance to the area playoffs — where their season ended a year ago against Birdville.
"We've got to build off of this and go to the next one," Newton said. "It's going to be hard. It's the same matchup as last year; Northwest vs. Birdville. Either one will make for a tough match. I think we're mentally prepared for it and we know it's going to be tough but at the end of the day I know we can do it. We've got to go out there and all 14 of us be in all in."
Northwest and Birdville play at 7:30 p.m. Tuesday at L.D. Bell.