The Burleson Lady Elks are onto the regional quarterfinals after a four-set win over Birdville on Thursday at Cleburne's Jeff D. Cody Arena.
After seeing their 2018 season end in the area playoffs vs. Birdville, the Lady Elks (38-5) got some revenge against the Lady Hawks (35-13) this time around with a 25-18, 25-15, 22-25 and 25-22 victory to claim a Class 5A Region I area championship and move on to the Region I quarterfinals.
"It's something that we've worked towards all year and something we've talked about," Burleson head coach D'Anna Newton said. "This is what we wanted, but even though we reached this milestone it's not over yet. We're going to still work our tails off to get to the next round. I'm so proud of their effort, their drive and their attitude of never giving up."
After Birdville held a 6-5 lead in the opening set, the Lady Elks used a 4-0 run to take a 9-6 advantage and never look back en route to a 1-0 lead. Burleson extended that 4-0 run into an 11-3 lead to take control of the opening game.
In the second set, the two teams battled point for point and found themselves deadlocked at 9-9. From there, however, Burleson took control by closing the game on a 16-6 run for a commanding 2-0 lead.
The Mia Smalls to Emily Rich connection was firing on all cylinders all night, but particularly in the opening set. Rich had 14 kills in the first two sets alone while Smalls directed the offense like a magician with 21 assists in the opening two games.
"Coming in and having that momentum and taking those first two games was so important," Newton said. "We've had a tendency throughout the season to kind of lay low in the third set, and I think that's what we did today. We had too many unforced errors and we weren't focusing, but we were able to take care of business in the fourth game."
In the third set, Birdville jumped out to a 3-0 lead — its biggest of the night. Birdville maintained control of the third set, although Burleson battled back to tie it at 12-12 before a 5-1 run by the Lady Hawks gave them enough momentum to avoid a sweep.
In the fourth game, Burleson scored five straight to turn a 3-3 tie into an 8-3 lead, but Birdville battled back to tie things up at 12-12. The Lady Elks countered with four straight points, but Birdville answered with a 3-0 run to pull to within one point of Burleson at 16-15.
The Lady Elks scored four of the next five points to take a 21-16 lead, and Burleson could feel the victory. But Birdville certainly made the Lady Elks earn it as the Lady Hawks pulled to within 23-21, forcing a Burleson timeout. Two kills by Rich ended the set and match for Burleson.
Finishing it out in four sets and avoiding a winner-take-all fifth game was huge, Newton said.
"Birdville is one of those teams that stays on the straight and narrow," she said. "Nothing really fazes them. So it was important to finish it out in four."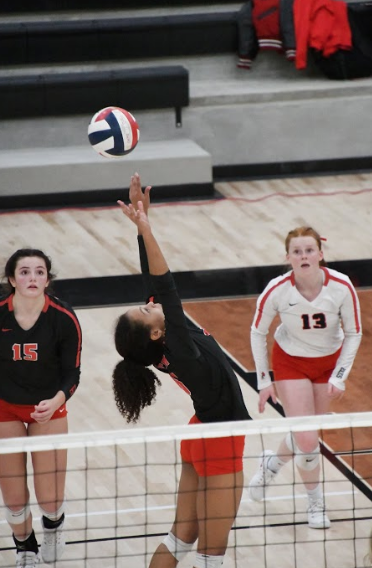 Rich and Smalls led the way. Rich, the defending All-Johnson County MVP, had 26 kills, 15 digs and five aces while Smalls had 47 assists. Ellie Strebeck added 15 kills, two aces and two blocks.
Emily White chipped in nine kills and seven blocks while Maddie Gregory contributed seven kills and four blocks.
Emma Dustin paced the Lady Elk defense with 26 digs against a heavy-hitting Birdville lineup, led by sophomore Maya Duckworth's 22 kills.
"Birdville has some heavy hitters and our defense was key," Newton said. "That's what we really worked on. We were able to find those spots in the holes in our block, and Emma Dustin and Emily Rich did a great job on defense."
Up next for the Lady Elks is the Class 5A Region I quarterfinals against the winner of Boswell and crosstown foe Burleson Centennial.
"It's going to be a tough game no matter who it is," Newton said. "Boswell is a really good team and Centennial has been on the up and up in the second half of district."
Boswell and Burleson Centennial are scheduled to play their Class 5A Region I area playoff game at 6:30 p.m. Friday at Mansfield Summit High School.