KEENE — For the fourth consecutive year, the Keene Lady Chargers are district champions after winning the District 9-3A tournament Monday at The Golf Club of Dallas.
The Lady Chargers shot a 416 as a team in the one-day tournament, beating second-place Maypearl by 41 strokes in a dominant performance.
As evidenced by the wide gap between first and second place in the team standings, the Lady Chargers not only dominated the opposition from a team standpoint but also individually as Keene recorded the top-3 individual medalists.
Keene junior Lily Moore shot a 93 to claim the girls individual district title while junior Isis delmar Rosado finished second overall with a 100 and sophomore Chloey Moore took third overall with a 101.
"Our Nos. 2 and 3 played really, really well," Keene Superintendent and Golf Coach Ricky Stephens said. "For them to shoot 100 and 101 out there was big. Of course, Lily has been breaking 100 all year long. She was trying to get below 90 and had it until the very end. The girls are excited. They were looking all over social media the other night trying to find out what other teams at regionals are shooting to see what they'll have to do to advance to state.
"This year wasn't as jam-packed as last year when we had a big battle with Clifton. The girls are excited getting to go on the two-day trip to regionals. That really adds a lot of realness to the golf season. When it ends in district it doesn't feel like you did much but when you get to practice for another two weeks, it really makes the season feel real. And even moreso when you qualify for state."
Moore has been one of the region's top golfers throughout the season and will have a strong chance to qualify for regionals and potentially beyond.
"Lily is an accomplished swimmer and she's right at 6-foot tall and she's left handed," Stephens said. "She's got a lot of skills that make her a really good athlete, but skills that are kind of hard to be a golfer. She's put in an immense amount of time. The year we went to the state tournament with the Class of 19, she was our No. 6 golfer. She was shooting in the 110s but always had a real knack around the greens. Now she's started hitting her irons — she hits the ball a ton off the tee box. I believe she'll probably shoot mid 80s at the regional tournament and definitely wants to go to state."
Stephens gave a lot of credit to the golfers' parents for keeping them active in the sport year-round.
"A lot of hats off to the parents of these girls who have gotten them out there and played all year," Stephens said. "The pandemic wreaked havoc last year but these girls have played pretty much all year. From being 125 shooters to now being disappointed when they shoot 100, a lot of credit goes to the parents of these girls."
The golf program at Keene has come a long way the past five-plus years, not only for the Lady Chargers but also on the boys side as well. In addition to the girls program capturing their fourth straight district title on Monday, the Chargers qualified for regionals for the first time as a team in program history.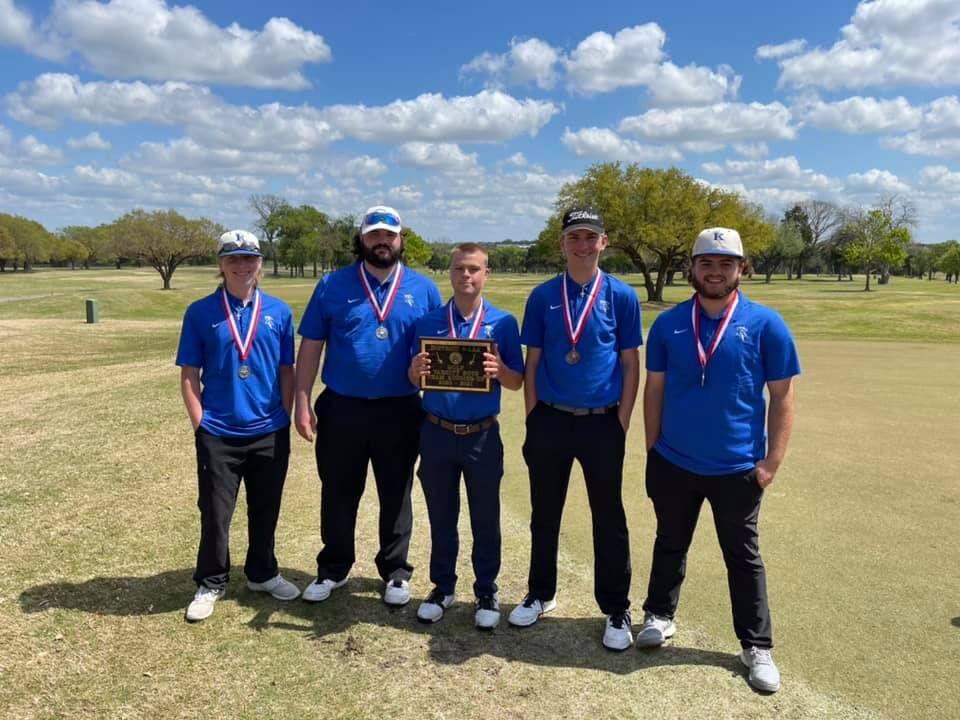 "It was thrilling," Keene Golf Coach Billy Coffin said. "Guys on the team this year have been playing since they were freshmen. We have a couple seniors and couple juniors. It was good to see years of hard work pay off and qualify as a team for the first time in history. It was a neat moment.
"It's real impressive. A lot of that credit goes to them. Since they were freshmen, they all set a goal that they wanted to compete for a district championship. We fell a little short of that but they're excited going to regionals. It's been fun to watch them work throughout the last three years to get their strokes down. It's also a compliment to Dr. Stephens and his vision for Keene athletics. He wants us to be competitive in every sport."
Like Moore, Keene junior Bailey Dooley also won an individual district championship with a first-place finish on the boys side. Dooley shot an 85, nine strokes ahead of second place.
Senior Dalton Habenicht took fifth place individually with a 105. Senior Dominick Patterson was solid with a 109 while and junior Myles Turnage finished at 116.
In the team standings, the Chargers (415) finished 10 strokes behind district champ Maypearl (405).
"It was neck and neck," Coffin said. "Me and the Maypearl coach just kept telling our kids that every stroke mattered. It didn't matter if you were the first place kid or in fourth, all of the strokes added up and made a huge difference. Congrats to Maypearl for the job they did but also congrats to our guys for competing. It was fun to watch throughout the day."
Now Keene golf will head to East Texas for the Class 3A Region II tournament at Oak Hurst Golf Course in Bullard. The girls regional championships are April 19-20 with the boys set for April 21-22.
"Oak Hurst is a big change for us because we've been at Blinn the last six years or so," Stephens said. "But we're excited. Golf is one of those sports we're trying to grow because we can be competitive at that sport with a little bit of effort, so we're excited about it."