GODLEY — After finishing third in District 7-4A, the Godley Lady Cats received six selections in all-district voting across superlative awards and first- and second-team honors.
District champion Stephenville, which advanced to the regional quarterfinals, led the way with 10 all-district honors, including five superlative awards.
Headlining Godley's all-district representation is the Lady Cats' lone superlative selection in sophomore middle blocker Emma Burke as the league's newcomer of the year.
"She did a really good job for us, offensively and defensively," Godley coach Craig Darder said. "She led our team in blocks and was third on our team in kills in district. As a sophomore, that's quite a big deal. She just has really good timing. I've seen a lot of tall kids who should be really good blockers, but it just doesn't work out. Emma is long and lean but what sets her apart from other tall kids is she has great timing on her block."
The Lady Cats snagged a pair of first-team selections in senior libero Taylen Thompson and junior outside hitter Jaime Babbe.
Darder said Thompson's experience as a three-year starter was incredibly valuable in helping lead the Lady Cat defense.
"Taylen continued to do what she's been doing at a high level as far as digging balls and passing well, and just doing what she needed to do," Darder said. "She was very valuable as a three-year starter. She's done everything we asked her to do. She's definitely going to be hard to replace."
Babbe was the Lady Cats' leading offensive threat on the outside, and her tremendous leaping ability made it difficult for opposing defenses to slow her attack down.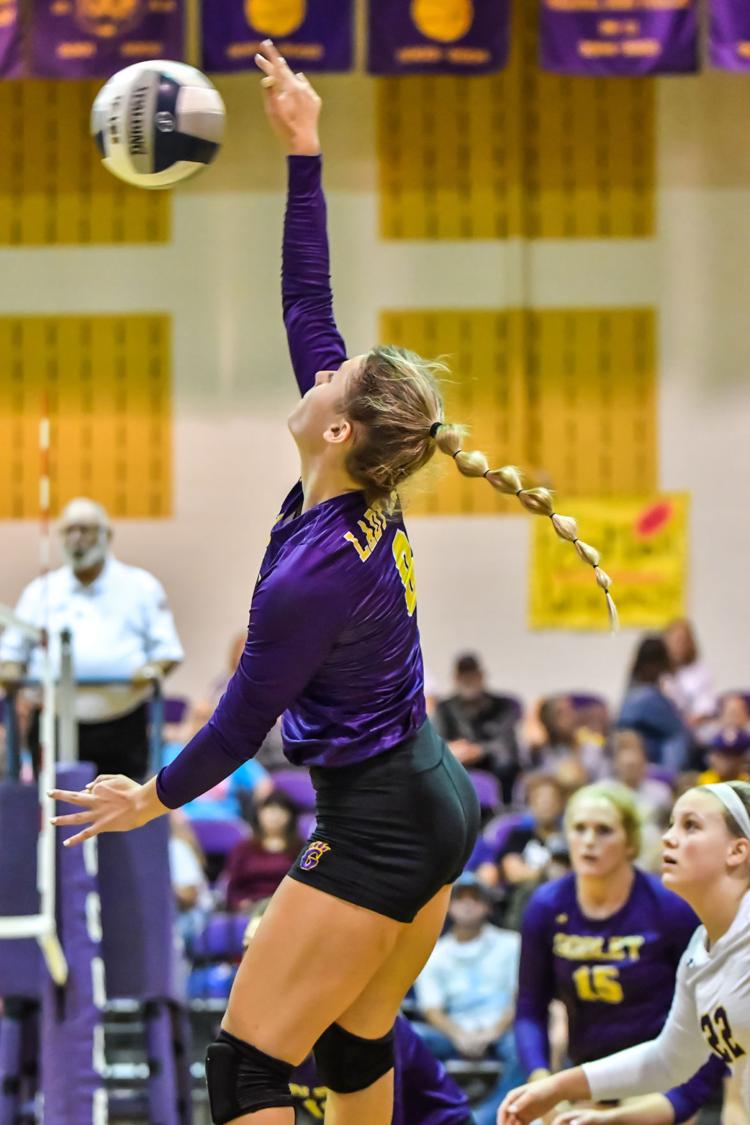 "Jaime led our team in kills and played all the way around," Darder said. "No doubt she was our team MVP. She did an amazing job and I'm glad I got her coming back for one more year. Her arm speed and her jumping sets her apart. You know how people say 'he or she can really hang in the air?' Well, she's not a very big kid but she has great spring and she can get up and really hang in the air. On top of that, she's got a super fast arm swing. She does a really good job. Not only that but she has a great attitude. Always positive, always happy, just a great kid."
Godley also received three selections for the all-district second-team in senior defensive specialist Autumn Darder, senior setter Kenzie Ward, and sophomore outside hitter Taylor McFarland.
For Darder, the last three years have been a special time getting to coach his daughter, Autumn.
"I've loved every minute of it, but I can't say she's always loved every minute of it," Craig Darder said. "It's just been real special to spend that quality time together. It's been a lot of fun. The memories we have will never be replaced. It's been awesome."
As far as her on-court play, Darder said Autumn was the Lady Cats' vocal leader on the court.
"We have a lot of quiet kids who don't talk a lot, but she was our vocal leader," Craig Darder said. "Autumn directed traffic and was always talking on the court. So that and she had the most points scored off her serve with the highest serving percentage. She was my best spot server. Defensively, she did what she had to do. 
"I would put her and Taylen up against any other two back-row kids in the county. They did a very good job and both those kids are really going to be missed next year. For three years, Godley has had two DS's back there that we knew would do their job."
Godley ran a 6-2 rotation and Ward wound up leading the Lady Cats in assists.
"She did a good job and she put the ball where it needed to be," Darder said. "She played hard. She had good hands. She competed and she competed well. I would like to think that all my kids deserved more than what they got but when you finish third, you can't always get what you think your kids deserved. But she was a great competitor. She was our team leader in assists and she's another one that's going to be missed."
And as another newcomer to varsity volleyball, McFarland was key as Godley's secondary offensive option behind Babbe.
"We put her on the outside opposite Jaime and she found a groove there," Darder said. "She didn't have to worry about being in the middle and blocking all the way across the net. Taylor is real long and lean, and she can really get up. She was second on our team in kills as a sophomore. When things are clicking for her, she can't be blocked. She gets over every block we've faced when things line up right. I'm expecting a lot of good things from her in the future. Her potential is really big."
Along with Burke and McFarland, fellow sophomore Brooke Hickey received honorable mention, and Darder said he was pleased with those three players' progression throughout the season, and he has high expectations for the returners for 2020.
"When these sophomores started playing early on, they had that deer in the headlight look," he said. "But by the time we got through, they looked like veterans. I'm super proud of how our sophomores progressed. They did an amazing job.
"I'm graduating a bunch of seniors in key positions, but I've got my entire offense coming back and one setter coming back. If we can find someone to lead the back row and replace those big shoes [of Thompson and Autumn Darder], we should be fine."
Godley juniors Hanna Robertson and Madi George also received honorable mention.