The Joshua Lady Owls and Cleburne Lady Jackets received recognition on the volleyball All-District 14-5A team.
District champion Red Oak led the way with eight total selections on superlative awards and first- and second-team honors, including league MVP Hailey Hunt and coach of the year Hope Porter.
Midlothian, the second-place team, was next in line with six all-district selections while Joshua and Ennis, which finished third and fourth respectively, garnered five selections. Cleburne, along with Waco University and Corsicana, received three selections.
The lone superlative selection from District 14-5A out of Johnson County is Joshua junior Grace Wood as the all-district setter of the year.
"Having a setter who has quick hands, can hit, jump, and play defense is always going to be a valuable part to any team, and that is what Grace was," Joshua coach Jordan Whitworth said. "Her athleticism and ability to move quickly is what makes her a great setter. She was the only setter that ran a 5-1 in the district, and she dominated at that position. She will be a key asset to our success in the upcoming 2020 season."
The Lady Owls garnered a pair of first-team selections in senior outside hitter Reese Rumfield and sophomore outside hitter/defensive specialist Rylie Rumfield.
"Reese is a power hitter that sees the court well and is able to change up her shots," Whitworth said. "She was our go-to hitter who we depended on to put the ball down. She even played some back row this year so that we could use her power from the back row. She is the player that teams had to set up their defense around. She leads by example and will be a hard role to fill.
"Rylie is a dynamic player. She was in almost every area leader board on MaxPreps. She has a powerful serve, reads well on defense, has a deceptive tip, and a great arm swing. She is one of my two six-rotation players who makes her presence on the court a must. I am excited to have her back for another two years."
Representing Cleburne with a first-team all-district selection is sophomore Addison Moore, who went from a supporting role as a freshman in 2018 to a leading role this year.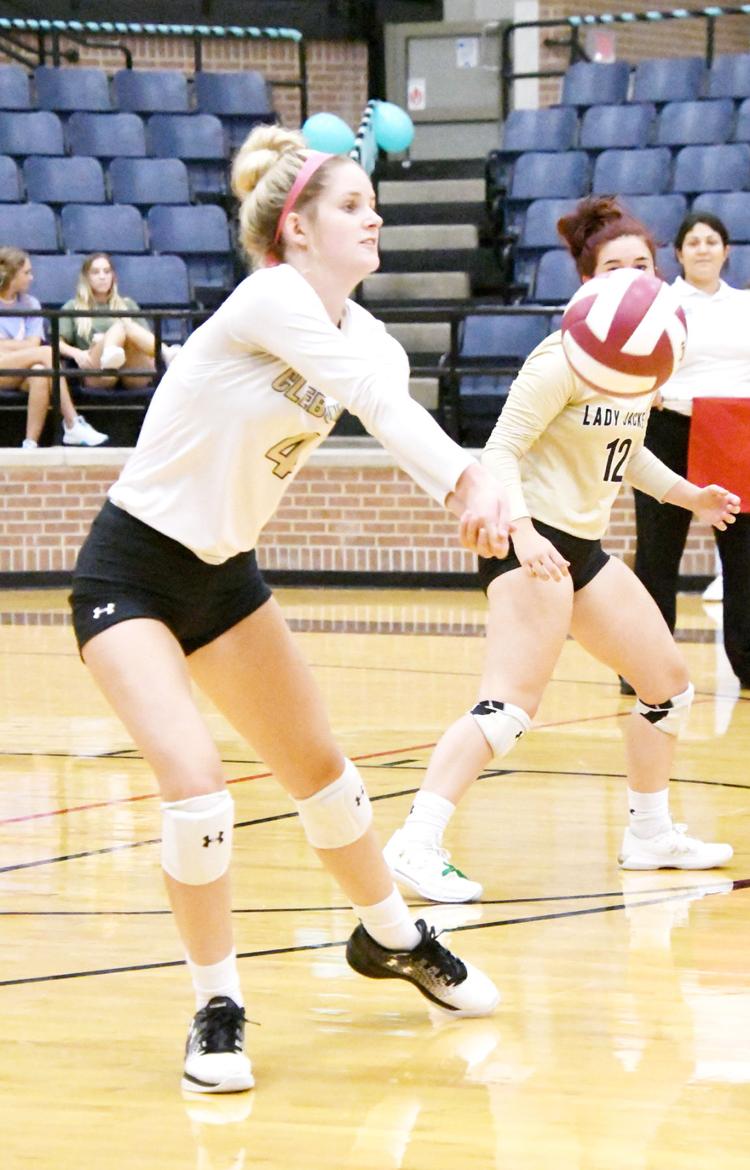 "Addison lead our team in digs and kills this season, providing more depth with the all-around position, which we needed," Cleburne coach Rachell Pope said. "Addison has the ability to stay calm and steady throughout a game and can read the other side of the court well in tight situations. She will always put forth an aggressively smart attack when needed."
Garnering second-team all-district honors for the Lady Jackets are junior defensive specialist Lexie Key and junior setter Joy Smith.
"Lexie is a true competitor; she never backs down to a challenge," Pope said. "She really stepped up her defensive play the second half of district this season. Joy works in silence, never gives up, and will play any position that the team needs her to play at any moment. She covered the court very well this season and was flexible in setting the ball from any spot on the court so that our hitters could have an attempt to attack the ball."
Joshua also had two second-team selections in senior libero Kailey Sasser and junior middle blocker Carissa Stowe.
"Kailey is that player that coaches want taking control of the back row," Whitworth said. "She is always talking and looking for ways to improve herself so that the team can be successful. She held the team accountable for communication on a daily basis. Her energy and communication skills will be missed.
"Carissa has become a key player in the Joshua volleyball program. Her attitude, leadership skills, and work ethic is what everyone should strive to have. Not only is she a great student and athlete, but she is also an amazing teammate. I am excited to have her another year and look forward to watching her lead this team."
Honorable mention for Cleburne include junior defensive specialist Maddi Sepulveda and junior middle blocker/right-side Malea Whiteside.
Honorable mention for Joshua are sophomore middle blocker Peyton Abbot and senior defensive specialist Kassidy Wooten.
After Joshua went on a deep playoff run in 2018, the Lady Owls fell in bi-district this time after a 26-win regular season.
"All the athletes who were recognized were well deserving of their awards," Whitworth said. "Although only seven players were acknowledged, it definitely took all 13 players to get us to playoffs again. I am looking forward to having nine returning players this next season."
Cleburne's season certainly didn't go as planned as the Lady Jackets struggled with inexperience from the beginning, finishing with only two wins in league play. But Cleburne continued to battle throughout the season despite being out-matched most nights.
"I was very proud of how our girls continued to battle in every game regardless of the score and honestly that is a difficult thing to accomplish," Pope said. "The girls really did finish the second round of district much stronger than the first although we didn't end up with the wins that we wanted. You have to give the girls credit for continuing to put in the work even when they didn't get the outcome they wanted. There were moments and glimpses that showed what these girls really could become in the near future."
The rest of the 14-5A superlative awards include: Midlothian's Kenna Buchanan as hitter of the year, Red Oak's Zoe Willis as blocker of the year, Red Oak's Ellie Davis as defensive player of the year, Midlothian's Jenna McMichael as newcomer, and Ennis' Lindsay Rankin as utility player of the year.