The District 14-5A champion Cleburne Yellow Jackets had five players receive all-district accolades while Coach Ross Taylor was selected as the league's coach of the year.
Despite finishing in first place with a 9-3 record, Cleburne's five player selections was only ahead of Ennis' and Waco University's two selections apiece. Corsicana (8-4) and Red Oak (6-6) received the most representation on the all-district team with eight selections each while Joshua (7-5) and Midlothian (7-5) garnered seven picks apiece.
Taylor said the biggest reason why Cleburne only received five selections on the all-district team is because the production wasn't there from several of the everyday starters.
"It's hard to nominate guys when they're hitting .194, .171, .152, and .184," Taylor said. "The numbers for some of our guys didn't add up to be an all-district year. You can't hit .184 and think you're going to be an all-district player, even if you don't make any errors defensively. Now, .284 might make it but hitting down in the .100's generally is not going to cut it."
However, the Jackets did manage to snag four of the league's six superlative awards, including Taylor as coach of the year, which has become an almost annual honor for the Jackets' 22-year skipper.
Cleburne senior Willie Rangel was voted the District 14-5A offensive player of the year after he hit .469 with an on-base percentage of .605 and a slugging percentage of .844 with 16 RBIs and eight extra-base hits in 12 games.
"He had a great district offensively," Taylor said. "He hit .469 in district with a couple of home runs and 26 RBIs and several doubles. It was probably the best hitting time for him during the whole year where he, for the most part, stayed within himself and took his hits and took his walks, and a couple of times he muscled up and got it out of the yard."
Cleburne senior Cason Gregory was selected as the District 14-5A defensive player of the year after a stellar season at shortstop and as a relief pitcher. During district play, Gregory boasted a .974 fielding percentage — only one error in 84 innings — to go along with five double plays started. Gregory was also solid offensively with a .372 batting average with nine RBIs and a team-high 15 runs during 12 games.
"He made some big plays," Taylor said. "The thing with Cason is he plays the game right. When we went into the vote, there wasn't any animosity towards him because he just plays. He's not running his mouth. He knows when to show excitement and when to keep his mouth shut. It was a pretty easy choice for him to be defensive MVP. I think maybe one other guy got one vote. He had a great year defensively and he a had a great year offensively, too, and that helps also."
Rounding out Cleburne's all-district superlative selections is freshman Cooper Schneider as the unanimous newcomer of the year.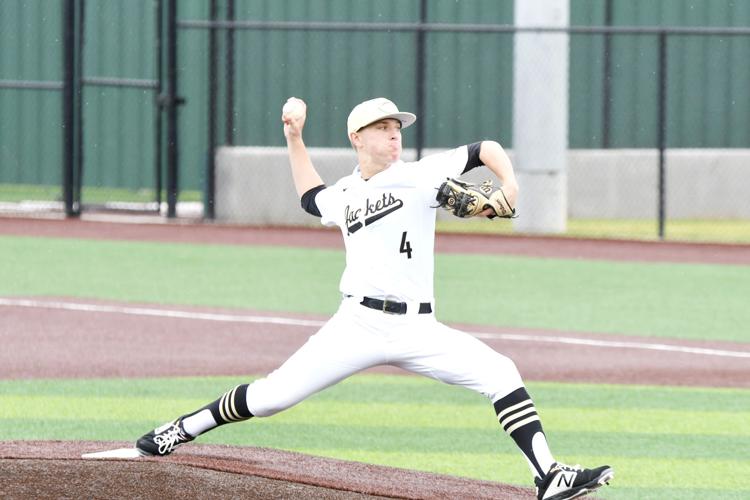 Schneider went 5-0 with three complete-game efforts and two shutouts. He allowed just three earned runs with 29 strikeouts in 32.2 innings pitched for a sparkling 0.64 ERA. If his brilliance on the mound wasn't enough to solidify his case for newcomer of the year, he also hit .387 with a .513 on-base percentage with five RBIs and seven runs in 12 games. And he only committed one error in 84 innings played defensively.
"I think that was a no-brainer," Taylor said. "That was unanimous. He had 10 wins on the season and he was 5-0 during district. He hit .387 during district hitting in the 5- or 6-spot. He had an all-around good year for a freshman. He really plays beyond his years."
The Jackets received a pair of first-team selections in senior catcher Marcos Guereca and junior third baseman Slayton Day.
Guereca swung one of the hottest bats in District 14-5A play with a .472 average with a .578 on-base percentage to go along with eight RBIs. He was also solid defensively with a .966 fielding percentage and only four passed balls in 12 games.
"Marcos had a good district season offensively hitting in the high .400's," Taylor said. "It was a close vote between him and the Midlothian catcher but Marcos prevailed on that, a lot of it due to the offensive side of the game. His numbers were just a little bit better. And defensively he was more than adequate. He threw enough people out where they couldn't run wild."
After earning all-district offensive player of the year honors as a sophomore last year, Day's offensive production dropped a bit in his junior year, but he still played well enough to receive first-team honors. Day hit .259 with five RBIs but he also drew a team-high nine walks for a .500 on-base percentage. Defensively, Day had a .917 fielding percentage with 26 assists.
"For a guy who only hit in the mid .200's, he had a lot of big hits," Taylor said. "He had a home run and four extra-base hits and he also drew nine walks so his on-base percentage was .500. He was always a big threat. I don't know why, but it always seemed like he was the guy that if someone was going to get a questionable call at the plate, it was him this year. He had a lot of strike 3's called that were borderline at best. ... Defensively, he was stellar at third base with 26 assists and started a couple of double plays. He had a good year."
Corsicana senior Devan Lindsey received the District 14-5A MVP honor while Midlothian senior Caden Hawkins was selected as the pitcher of the year.
The Joshua Owls received three selections on the first team in senior pitcher Brek Galbreath, senior shortstop Andrew Bell and senior outfielder Blake Alexander.
Galbreath went 2-1 with a save during district play as he allowed just five earned runs, 17 hits and 12 walks against 46 strikeouts in 33.1 innings pitched for a 1.05 ERA. Galbreath also hit .286 with a .475 on-base percentage with five RBIs. Alexander hit .313 with seven RBIs and five extra-base hits while Bell hit .250 with eight runs, five RBIs and a .400 on-base percentage.
Garnering second-team honors for the Owls are senior pitcher Matt Haley, junior pitcher Zach Peters, junior third baseman Ethan Wood and junior outfielder Landon Gest.
Haley went 3-3 in district play with eight earned runs, 23 hits and 18 walks allowed against 61 strikeouts in 32.2 innings pitched for a 1.71 ERA while Peters recorded four saves in four opportunities with only two earned runs and six hits allowed with 15 strikeouts in 10 innings for a 1.40 ERA. Gest hit .294 in district play while Wood hit .289 with seven runs and five RBIs.