After a big win over Everman last week, the Cleburne Yellow Jackets enter the final two weeks of the regular season with not only a playoff berth within reach but the chance to finish third in a deep and tough District 5-5A Division II.
The simplest path to the playoffs for Cleburne (5-3, 3-3) is to beat Midlothian (6-2, 4-2) on Friday then finish the regular season with a win over Burleson next week, which would not only secure a postseason berth but give the Jackets the No. 3 seed.
"We have an opportunity we haven't had the last two years," Cleburne coach Casey Walraven said. "We're in a situation where we can see the program grow by going into Midlothian and having a chance to be in the driver's seat for third place. In a year, we've gone from having to win to stay alive against Midlothian to now trying to play for a third-place position this year."
For a team that has been inconsistent from week to week the past month, the Jackets' playoff scenarios aren't ideal for a team seemingly better playing with a "back-against-the-wall" mentality. While a win over Midlothian would give Cleburne the upper hand for the No. 3 seed, it really has nothing to do with the Jackets' playoff hopes. Cleburne must beat Burleson in week 11 to secure a playoff berth, regardless of what happens at Midlothian.
"You win this week and you're in the driver's seat for third place and it doesn't mean anything other than that," Walraven said. "We still have to beat Burleson to get in the playoffs. But we have an opportunity for third place with a win this week. It's a unique situation. If we win this week, next week we would be playing for third place or miss the playoffs." 
If Cleburne beats Midlothian this week and Burleson in week 11, the Jackets secure a playoff berth and the No. 3 seed.
If Cleburne beats Midlothian this week but loses to Burleson in week 11, the Jackets miss the playoffs on a three-way tiebreaker (assuming Everman beats Waco University and Joshua). Everman would edge Cleburne and Burleson for the three-way tiebreaker; unless Burleson beats Cleburne by more than 17 points, then the Elks would get in.
If Cleburne loses to Midlothian this week and beats Burleson in week 11, the Jackets clinch a playoff berth and will be the No. 4 seed.
Walraven said it's one of the more odd scenarios his teams have been faced with in his coaching career. The Jackets' head coach said they've discussed with the team what the stakes are over the next two weeks.
"Winning this week does not secure a playoff spot; they know that," he said. "But it does give us a great look at being in third place. They've got some excitement about them because I think they feel how close the playoffs are. I would anticipate us coming out and playing well, but there's been a couple games this year where we really haven't done that.
"I do know we answered the question from last year of, how would we respond from losing a couple games in a row. Our backs were against the wall with Everman and they came out ready to play. We haven't played our best football yet. We've got to be able to go out and put a full game together. It's that time of the year. If we can do that, we can beat anybody."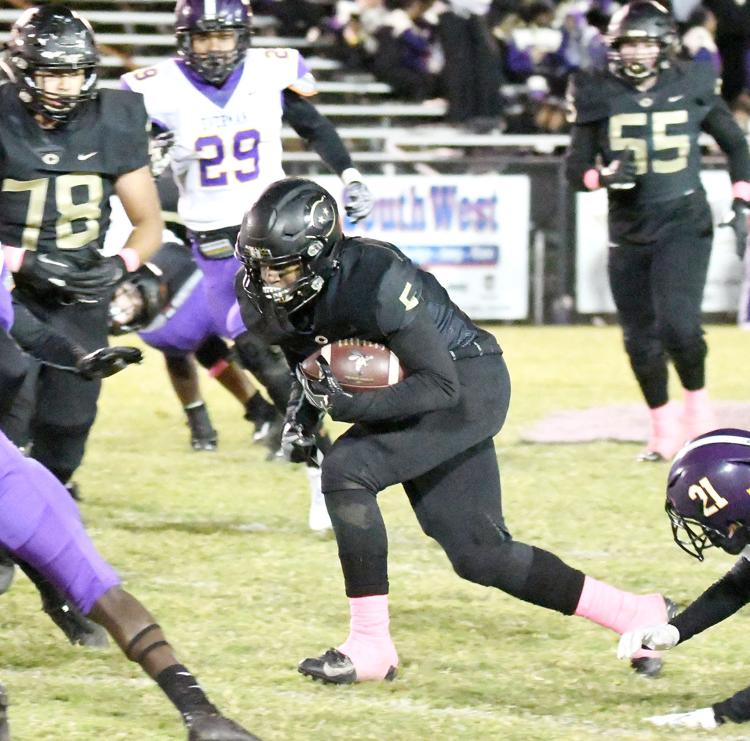 This time last year, Cleburne entered its week 10 showdown with Midlothian needing a win to stay alive in the playoffs, but the Panthers claimed a 57-34 victory.
While it's a big game for Cleburne, it's also big for Midlothian, which can punch its playoff ticket with a win in its home finale on senior night.
"It's a big game for us as it is for them," Midlothian coach Doug Wendel said. "It's senior night for us. Every game is big in [November]. It's going to be important we get off to a fast start. They're a very good football team and seem to be getting better each week. They play as hard as anybody we've played. I'm very impressed with the effort they give on defense every down."
Midlothian's 6-2 record could easily be 8-0 if a couple plays would've broke their way as the Panthers dropped heartbreaking back-to-back losses to Centennial (23-21 on a field goal as time expired) and No. 1 Aledo (34-28 in overtime). After surprising some people last season with their first playoff berth in more than a decade, the experienced Panthers have taken another step this season.
"I think they're a little more experienced all the way around this year," Walraven said. "They have a ton of kids back, especially on their defense. You can tell it's a seasoned group. I wouldn't be shocked at all if they were 8-0. They're very well-coached in every phase of the game. They're smart kids and can do many things. Their intelligence on the field can cause problems. Recently they've become a very good team and turned into a great program and that's because of coach Wendel."
The Panthers' flexbone offense — similar to Burleson Centennial — presents a unique challenge for a Cleburne defense coming off its best outing of the season.
"I would say they're a little less athletic than Centennial but their execution of the offense is tremendous," Walraven said. "They're going to use more of their strength and their size against you whereas Centennial can break a play at any time with their speed and athleticism. Midlothian, almost at will, can get three to four yards and absorb the clock, keep the chains moving and keep your offense off the field.
"We can't get bored on defense. We have to be disciplined in our rules defensively. Just like Centennial, we stayed disciplined on who had who on their triple-option attack, but the minute you let your guard down, that one guy will beat you."
Wendel said he's been impressed with Cleburne's defense all season, but especially in containing — for most of the game — Centennial's flexbone offense.
"They did a phenomenal job against Centennial," Wendel said. "There were big plays made on special teams but I thought they shut Centennial down for the most part. We're built different than Centennial. Formation-wise we look the same but I think we're built a little different and rely on different ways to move the ball. 
"We've got to get a body on No. 15 [Braxton Bailey]. He is really good. Their free safety [Anthony Chanta] is making lots of plays. Those two guys really fly around. But in general, their whole defense does so well and plays their assignments. We have to protect the ball and be a little unpredictable. We need to focus on our assignments and do what we do."
On the other side of the coin, Walraven said Midlothian linebacker J.T. Cavender is one of the best defenders around — similar to Wendel's impressions of Bailey.
"The first thing that stands out about their defense is how well they're coached," Walraven said. "Secondly, they've got probably the best linebacker that we've played all year in No. 44, Cavender. He was great last year against us and everybody. He's really, really good this year. He's not overly fast but plays as hard as anybody can play and he brings a pop to him. He's definitely the leader on that side of the ball."
From the Panthers' defensive perspective, Wendel said they have to be ready for Cleburne's play-calling and ability to out-scheme defenses.
"Talk about unpredictable," Wendel said. "They set plays up really well and disguise things really well. Then their kids execute really well. The play-calling and what they do offensively is really outstanding. If you're not careful they'll get you on your heels. We've got to get lined up and then we've got to find whoever we're responsible for and run to the football."
Wendel said he expects a close game and that most close games are decided by a turnover or mistake in special teams.
"I think we're talking about a real close game," Wendel said. "They are very well-coached in all phases of the game. They're aggressive on special teams. Special teams is probably going to be a big factor and then turnovers will be a big factor in the game, in my opinion."
One of the bigger keys for the Jackets is to find ways to get the ball away from Midlothian's ball-control offense.
"We've got to try to gain some advantages by getting the ball back, whether it's special teams or creating turnovers defensively," Walraven said. "Aledo scored on almost every possession, but the way they were able to take Aledo into overtime is they limited Aledo's possessions by holding onto the ball. So we've got to try to steal possessions.
"Offensively, we've got to avoid the negative plays and penalties that's haunted us. And turnovers have been an issue lately as well. Those things cannot happen for us to be successful. They're a very good football team and we have to make sure we take care of the football and stay away from negative plays. And we have to be very good special teams-wise."
Kickoff is set for 7:30 p.m. Friday from MISD Multi-Purpose Stadium in Midlothian.