Even though playoff berths might realistically be out of reach for both teams, there will still be plenty on the line when the Cleburne Yellow Jackets visit the Joshua Owls on Friday.
Cleburne and Joshua carry identical overall (3-4) and district (1-3) records into Friday's showdown, tied for sixth place in District 5-5A Division II. The Jackets and Owls are a game behind Mansfield Timberview (2-2) and Arlington Seguin (2-2), tied for fourth, in the playoff mix but the Cougars own the tiebreaker over both Cleburne and Joshua while the Wolves, who have yet to play Cleburne, hold the tiebreaker over Joshua.
So while neither Cleburne nor Joshua have been mathematically eliminated from the playoffs yet, both teams are simply focused on Friday's rivalry game.
Over the past couple weeks, effort and execution has been a point of emphasis for Cleburne Coach Casey Walraven's Jackets, who are coming off a 44-0 loss to Everman last week.
"It's important for us to be able to play good football again and give good effort and act like we want to be out there," Walraven said. "I think that they do want that but you've got to back that up with the way you perform. We're at the time of the year where we should be hitting our stride execution-wise and our effort should always be there but we've struggled with both of those the last two weeks. I honestly think that when effort becomes an issue then everything else becomes an issue. We are a young and inexperienced team, there's no way around it. Even some of the juniors and seniors who are playing haven't had much experience. But we're seven games in now and you've got to start showing progress. I just feel like we were playing better ball at the beginning of the season and we shouldn't be seeing that happen. 
"We're going to go out this week and play with more confidence, more effort and more passion, not worry about the scoreboard and instead just worry about one play at a time and I think we'll be successful and try to build some momentum to finish out the season."
Meanwhile, Danny DeArman, in his first year as Joshua's head coach, is pleased with the Owls' progress in their first year under a new coaching staff and playing new systems, even if he believes Joshua should have more wins than they currently do. The Owls are coming off a hard-fought 14-9 loss last week at Arlington Seguin.
"I feel really good about what we've done so far," DeArman said. "I really feel like we should be 5-2 right now and that's the frustrating part. The kids are fighting. Last week I think was the first time we played four quarters of football, whether we won or lost. We're still making improvements and taking positive strides. So I feel good about that. We've battled through, I think we're down five starters now, and it's been next man up. For us to be in the situation we're in with playing teams so closely, I feel really good that if we would've had everybody healthy we'd be 5-2 right now going into this week vs. Cleburne.
"I feel good where we're at, we've just got to keep on plugging away. I think we're going to get better. We've been able to open up the offense a little bit more. We've just got to eliminate some of the mishaps, which, first year with the kids, I think it's common, it's just unfortunate."
A year ago, Joshua's defense allowed more than 50 points per game but the Owls have improved leaps and bounds on defense this year, holding teams to 27 points per game.
"For the most part, we've played a lot of base defense and we've tried to teach the kids to understand their gap integrity and then just run to the football with the right mentality," DeArman said. "I think that's really the biggest key is we are in position and we have kids that are flying around trying to make plays. ... Defense is about heart to me. We had better not be giving up 50 a game. That would mean we are not playing with the right mindset and we're not playing for one another. So [the defensive improvement] is expected."
Not counting losses of 56-6 to Mansfield Timberview and 55-0 to Aledo, the Owls have held opponents to just 15.6 points per game.
"Aledo is a different story and against Timberview I don't think we came out and played like we should," DeArman said. "I think we went in there and got a little wide-eyed and it is what it is. But the rest of the games, I feel really good about what we've done. And I'm honestly disappointed that Seguin scored 14. They had two big runs and a big pass on third-and-long that we gave up that later resulted in touchdowns. Other than that, I feel like we shut them down. 
"Again, you're trying to change everything and you've installed new offense and new defense, and you're going to have some bad things that happen just with the learning curve. But for us to play the way we're playing, I'm really excited about it. Defensivley we're flying around. We've got some kids that are playing for one another and I feel really good about that. Everybody that we've played and everybody that's watched us, I've gotten tons of phone calls on how much different things are and how the kids are playing. We should really be going for our sixth win right now but it is what it is."
Walraven said he's noticed on tape just how much effort and intensity the Owls have played with this season under DeArman's leadership.
"I see a team that believes in their coaches, I see a team that plays incredibly hard and I see a team that has a lot of passion and they want to be successful," Walraven said. "Even though I wasn't in school the same time with Coach DeArman, he's also from Alvarado and I know what kind of work ethic he has and what kind of success he's had and the expectations he brings. I knew he'd get it turned around [at Joshua] but he's getting it turned around quicker than I imagined. They're doing a great job. Those kids believe in themselves and play with a relentless effort."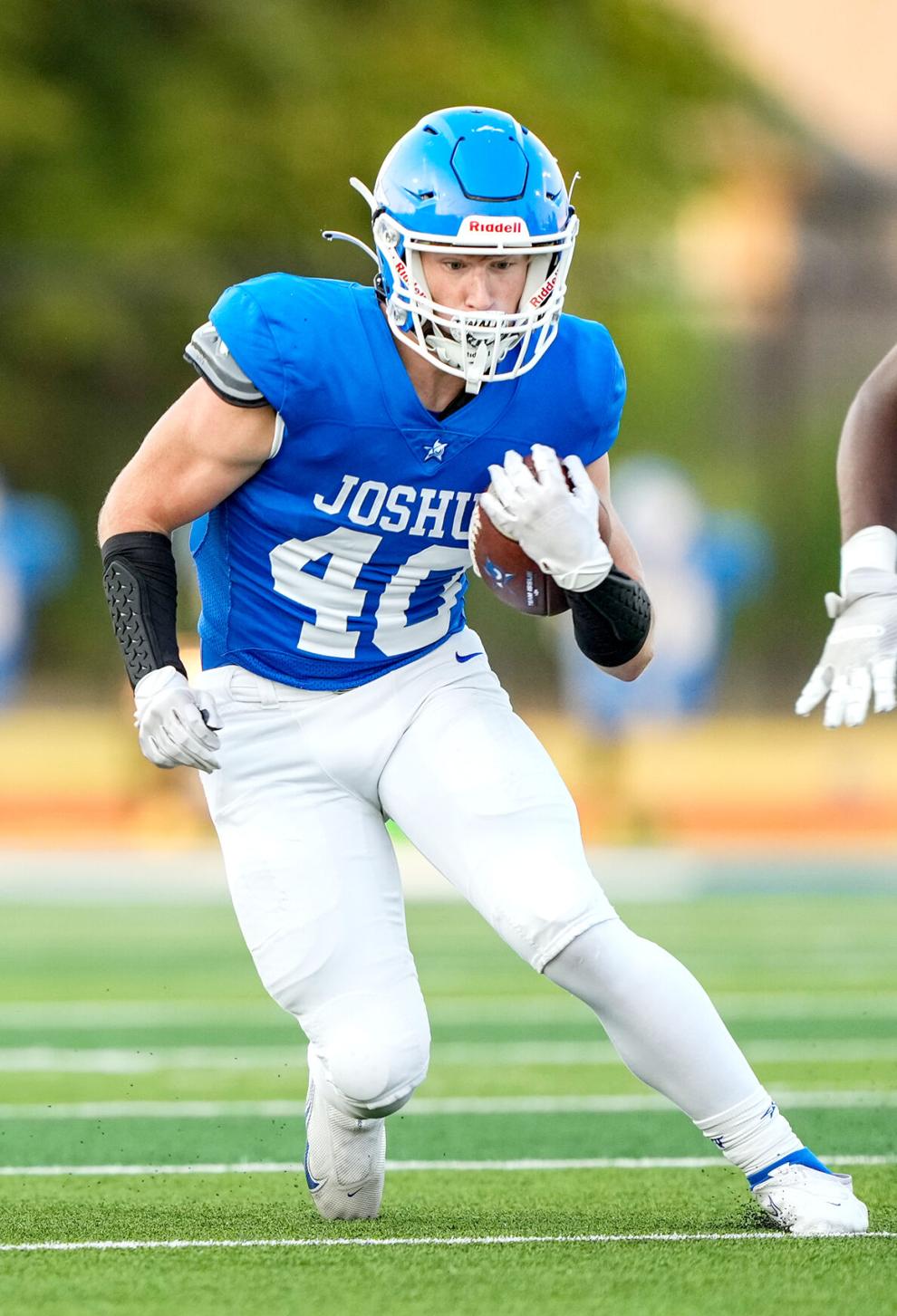 Joshua is led by a physical ground-and-pound run game behind a big and strong offensive line with running back Kolby Smith as the feature back. Walraven said if Cleburne struggles to slow down the Owls' run game, it will make for a tough outing.
"The thing about it their run game is they don't hide a whole lot," Walraven said. "They get in a lot of formations but they want to run right downhill, straight at you and play physical. That's something they haven't done in the past. And they're doing it well. We've got to match that physicality and exceed it to get stops. We have to line up correctly and make sure we're not missing gaps by alignment. We've got to execute it by playing physical football. We've done that this year but we've got to do it on a more consistent basis."
Walraven added that Joshua's coaching staff built their offense to best fit their personnel
"I think [their success on offense] is a combination of things," Walraven said. "They've got a running back who runs really hard and they've got a couple big offensive linemen. That's what they've done well schematically is use what they have over there. That's the most important part of scheme is using your personnel. They're stout up front and their backs run hard, so they lean on that."
Coming off arguably Cleburne's worst offensive performance under Walraven, the Jackets are looking for a bounceback performance on that side of the ball this week. The key, according to Walraven, is to avoid negative plays that kill drives. For example, Cleburne's best drive in last week's game ended after a 15-yard penalty and a 15-yard sack put the Jackets in a third-and-40 situation before having to punt from their own end zone.
"We haven't really turned the ball over much, which is good, but we've had a lot of negative plays or a costly penalty that's killed drives," Walraven said. "We've had good execution on some things but we've shot ourselves in the foot the last couple weeks. That goes back to just focus and locking in and executing one play at a time."
The all-time head-to-head series between the Jackets and Owls has been one-sided with Cleburne owning a 27-4 record over Joshua. The Jackets have won three straight over the Owls since losing to Joshua, 31-21, in 2017.
DeArman said his team has put in another great week of practice as they're ready to host the Jackets.
"The kids are excited," he said. "Last week was a really good week of practice and this week's been really good. Our kids are fired up. Honestly, you would think that we were not necessarily undefeated but you'd think that we had an incredible record right now with the way our kids are practicing with a lot of intensity and they're excited to get the opportunity to go out there and play again. I think it's a huge game. It's definitely going to be a rivalry type atmosphere."
Walraven said they expect to get Joshua's best game of the season.
"I think both teams will be aggressive in special teams and you may see both teams use some trick plays," Walraven said. "I think there will be several things that you see just trying to gain an advantage. It should be a good game. They've played well this year. We've got to get a little momentum and some confidence back."
Kickoff is set for 7 p.m. Friday from Owl Stadium.