WACO — The Cleburne Yellow Jackets built a 19-point lead before needing a couple of big plays late to hold on for a 41-29 win in their District 5-5A Division II opener Friday night at Waco University.
With the win, Cleburne improved to 3-0 for the second consecutive season, although it wasn't the Jackets' sharpest outing nor the type of consistent effort head coach Casey Walraven has been looking for.
Walraven said the Trojans challenged Cleburne, both from the field and from an environment setting.
"I thought Waco University was well-prepared and I thought their fan base was phenomenal," Walraven said. "They packed it out and those kids fed off that. I feel like they came out with a mission to win the ball game and they fought and never gave up the whole time. I kept thinking with a two-score lead that they were going to fold — and they didn't. It goes back to what Coach [Rodney] Smith is doing with their culture."
When Cleburne's Cleo Chandler took a shovel pass from Gunner Hammond 58 yards for a touchdown, it gave the Jackets a 34-15 lead early in the third quarter, and Cleburne appeared headed towards a blowout win. But a much-improved Waco University squad made Cleburne earn it.
After Chandler's touchdown, the Trojans marched 66 yards in 10 plays, capped off by a 43-yard touchdown pass from Jacob Bryant to Corey Sandolph on fourth-and-12.
On Cleburne's ensuing possession, the Jackets were stuffed on fourth-and-2 as they turned the ball over on downs at their own 48-yard line. Six plays later, the Trojans scored on a 19-yard pass from Bryant to Mike Lambert, and suddenly a 19-point game was cut down to a five-point deficit.
If momentum wasn't already on University's side, it was a few plays later when the Trojan defense, for a second straight possession, stopped Cleburne's offense as the Jackets were forced to punt after going three-and-out.
University took over at its own 43-yard line and the Trojans suddenly had a chance to take the lead. After moving the ball to the Cleburne 31, University faced a fourth-and-5 when Cleburne linebacker Nico Keramidis shot through the line of scrimmage to sack the quarterback for a huge turnover on downs.
Five plays later, Hammond connected with Isaak Cunningham for a 52-yard touchdown pass to give Cleburne a 41-29 lead.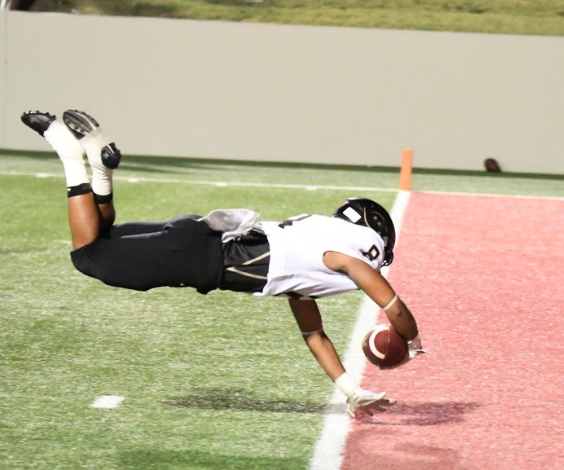 Keramidis' sack and Cunningham's diving touchdown reception were the two big plays Cleburne needed to survive a less-than-stellar second half against the Trojans.
"The momentum swung their way for a bit," Walraven said. "Their fans were into it. With it being loud and with them having momentum on their side, we challenged our kids to see what we're made of. We figured out a way to make a stop, and Nico made a great play. Then Isaak made a phenomenal catch. And we got some breathing room. They faced the challenge and conquered it. I was real happy about that. I don't know if we could've done that in the past couple years."
The Jackets recorded only five first downs in the second half while University had 11. The Trojans also out-gained Cleburne in second-half yardage, 228-192 — with 110 of Cleburne's 192 yards in the second half coming on the two touchdowns.
A lot of Cleburne's offensive struggles in the second half coincided with the absence of Chandler, who didn't play the final one-and-a-half quarters.
Despite missing more than a quarter of the action, Chandler had another phenomenal game as the junior rushed for 148 yards and a touchdown on 25 carries to go along with three receptions for 122 yards and two touchdowns for a combined 270 yards from scrimmage. In the Jackets' week 2 win over Chisholm Trail, Chandler rushed for 261 yards.
"Offensively, I thought we did a lot of good things," Walraven said. "There was a couple times we didn't put the hammer down and finish them off when we had those opportunities. I wish we'd done better there. All in all, I feel like we were solid and efficient offensively."
In addition to Chandler's efforts, Hammond was also solid for a third straight game to start the season as the junior quarterback completed 16-of-22 passes (72.7%) for 363 yards and four touchdowns.
Hammond threw touchdown passes of 62 yards to Ethan Steck for the Jackets' first score and 35 yards to Chandler for Cleburne's second touchdown in the first half.
Hammond also added 55 rushing yards on 10 carries and a one-yard touchdown run that gave Cleburne a 27-15 halftime lead.
"Gunner was very efficient," Walraven said. "I feel like we probably could've thrown the ball a little more, but we're trying to get a little wiser. When a kid's running the ball like what they were doing and our defense being out there a lot, I was trying to make sure we could have longer-play scoring drives so our defense could get a rest. All in all he continues to be very efficient with the ball and smart with the ball. You can tell he's maturing as a QB and a leader. He keeps us in good shape."
Steck finished with two catches for 82 yards while Gavin Naquin added six receptions for 61 yards.
Cleburne senior linebacker Braxton Bailey was all over the field defensively for the Jackets, including three huge tackles for loss, while fellow linebacker Jaxon Bigham delivered several big hits.
While the Jacket defense surrendered 490 total yards, Cleburne's secondary recorded three takeaways as Anthony Chanta, Juan Romero and Cunningham each had an interception. Cunningham's interception came only three plays after scoring the 52-yard touchdown.
Jeremiah Stroupe led Waco University with 197 rushing yards and a touchdown.
"They've got a phenomenal running back," Walraven said. "He's extremely special and as good as anybody in the district along with the Aledo running back."
Bryant completed 20-of-37 passes for 291 yards with three touchdowns and the three picks. Sandolph hauled in five receptions for 117 yards and two scores for the Trojans.
Cleburne will look to stay undefeated in week 5 when the Jackets host Joshua for homecoming.