WACO — Grandview found out the hard way Friday that the old adage 'All great things must come to an end' rings true as the Zebras' historic quest for a three-peat ended in a 24-21 loss to Malakoff in a Class 3A Division I Region II semifinal game at Waco ISD Stadium.
In a battle of top-5 teams that were meeting for a fifth time in three seasons, the Tigers finally got past the hurdle that was Grandview thanks to five Zebra turnovers and some clutch plays down the stretch.
After a 66-yard Malakoff punt pinned Grandview at its own 3-yard line, the Zebras fumbled in the end zone and Malakoff's Cole Gaddis recovered for a 21-14 lead with 8:29 left.
"That play just didn't work out in our favor," Grandview Coach Ryan Ebner said. "In that moment, it was big for them to get that momentum swing because at that point both teams were battling trying to find a play and they got that one right there to go up.
"Both teams are exchanging punches and you're trying to answer when you get punched and vice versa for them. We talked all week long about not riding the roller coaster and just staying in the moment. We had a couple mistakes here and there and they were able to capitalize on them. Both teams battled their hearts out."
The Tigers then recorded another takeaway on Grandview's next drive as Malakoff's Haydin Thomas intercepted a slant pass. But with the Tigers looking for the knockout punch, the Zebra defense came up big to force a three-and-out to get the ball back with 5:54 remaining.
After picking up an initial first down, Grandview faced a fourth-and-3 from its own 46 with 3:53 left. And as he's done throughout his career, Grandview senior quarterback Dane Jentsch made a huge play as he not only picked up the first down, but he rumbled 48 yards to set up a first-and-goal. On the next play, Jentsch scored from six yards out to tie it at 21-21 with 3:38 left.
"When you talk about teams that do special things, you've got to have kids that are like that," Ebner said of Jentsch and the Zebras overcoming the costly turnovers to tie it late. "Against good teams, mistakes or bad plays are going to be made but you've got to put it behind you and play the next play. There's no reason to sit there and talk about something that's already done, you move on. I think time and time again we've done that and won some close games doing that. I was proud to see they did it once again. This time we came up a little bit short."
The ensuing kickoff didn't travel far as Malakoff took over from its own 38-yard line. A couple of big passes from Darion Peace to Riggin Smith, including a 12-yard gain on third-and-8, set the Tigers up at the Zebra 35.
After Malakoff was called for a holding penalty, the Zebra defense had the Tigers in a third-and-16 situation and it appeared the game might've been headed for overtime. But Peace made a big play with a 13-yard run to set up a manageable fourth-and-3 with 58 seconds remaining.
On the pivotal fourth down, Peace ran to the right and picked up 14 yards to set up a 33-yard game-winning field goal by Juan Gonzales with 5 seconds left.
Ebner said when the game was on the line, Peace made the big plays for Malakoff.
"In those moments, their best player made the big plays," Ebner said. "We had everybody covered down field and he made a play with his feet to get some yardage to keep them in a manageable situation. [Then on fourth down], he got around the edge. I think it speaks volumes to what their coach thinks about him because they kept the ball in his hands. They put a lot on his shoulders and time and time again in that kid's career he's come up big for them."
On the final play of the game, Grandview tried a couple of laterals to move the ball down the field but the Zebras fumbled to end it.
In the end, five costly Zebra turnovers were too much to overcome.
"When you're talking about two good teams and you lose the turnover battle, that's tough to overcome," Ebner said. "We had our opportunities. We gave everything we had. We tip our hat to Malakoff. They've given us everything they've had [the past three years]. They've battled us during this run, punch for punch. You have to limit your mistakes in big games like this and they came out on top. We wish nothing but the best to those guys."
Grandview had beaten Malakoff in their previous four meetings, including a 35-21 win in the 2018 state championship game.
Peace completed 14-of-32 passes for 191 yards and rushed for 126 yards on 21 carries.
In the final game of his legendary high school career, Jentsch completed 12-of-22 passes for 262 yards to go along with 95 rushing yards on 16 carries with three touchdowns and three turnovers.
The game started with offensive fireworks as Malakoff needed only two plays to get on the scoreboard. After an eight-yard run by Peace, he threw a screen pass to running back Duce Hart, who weaved his way in and out of the Zebra defense for a 53-yard touchdown and 7-0 lead only 45 seconds into action.
Grandview answered as Jentsch dropped a 44-yard dime into Kason English's hands to even it up at 7-7 barely 2 minutes into play.
Malakoff responded with an 11-play drive but the Zebra defense forced a turnover on downs at their own 37.
The Zebras answered with a long drive as Jentsch had big completions to Gavin Leftwich for 22 yards and English for 14 yards, along with a 17-yard Leftwich run, to set Grandview up with a first-and-goal at the 1. Two plays later, Jentsch punched it in from a yard out for a 14-7 lead late in the first quarter.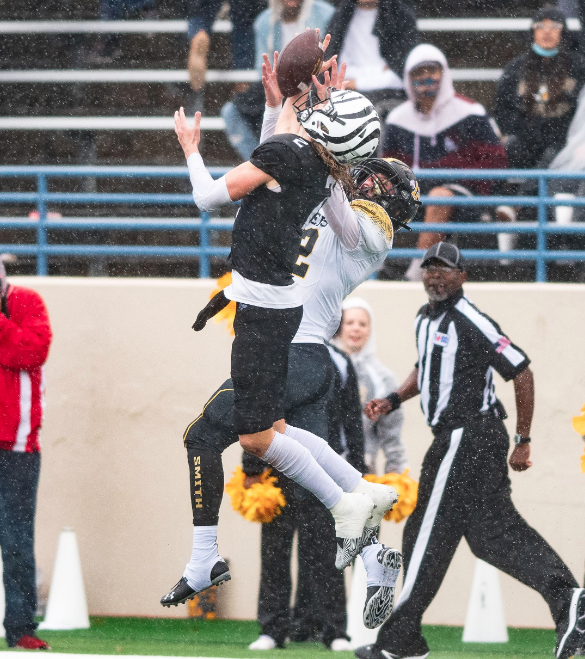 But from there, both defenses shut things down and were aided by sloppy weather that resulted in some sloppy play from both offenses for a stretch.
Following a Malakoff punt, the Zebras appeared on their way to extending their lead. But on first down from the Malakoff 18, a Tiger defender punched the ball out of Jentsch's hands and Malakoff recovered in the end zone for a touchback.
The Zebras and Tigers exchanged punts on the next two possessions, then Grandview's Jimmy Mathis came away with an interception before the Malakoff defense forced and recovered another fumble to keep it 14-7 at halftime.
After a lengthy scoring drought, Malakoff tied it midway through the third quarter on a 32-yard pass from Peace to Smith to set up the fourth-quarter finish.
Grandview finishes its season with an 11-1 record while Malakoff (10-2) will face Mount Vernon in the Class 3A Division I Region I championship next week.
Ebner said it's hard to put into words what this run of back-to-back state championships and an undefeated regular season this year has been like.
"It's been the best it's ever been [for Grandview football] to this point," Ebner said. "You had the classes before who kept setting the bar higher and higher, and then this group set it at its highest. I told them they play for themselves and each other while they're out there but the legacy they leave behind is what will be remembered. They really played their guts out for this town."
The senior group for Grandview — including Jentsch, Dametrious Crownover, Cade Fedor, Luke Ferguson, Matt Lehnhardt, Jacob Bayer and Clayton Hale, among others — will leave a lasting impact with four deep playoff runs and two state titles.
"Speaking for the coaching staff, they've shown up to work every single day," Ebner said. "They've been a blessing. I know our community has really gotten behind this team and we appreciate it. Everything we've ever asked these kids to do, they've always answered the bell.
"Like I said, the most important thing they've done is left the bar set high for the younger guys and they've showed them how to do it. What they mean to me and this program, that's something you could never express with words. The way they went out and did what they did will never be forgotten."