GRANDVIEW — After receiving offers from 25 programs across the nation the past two-plus years, Grandview's Dametrious Crownover announced Monday night on Twitter that he has committed to Texas A&M University to continue his education and football career.
Home sweet home 👍🏾💙 https://t.co/pkGbZpFwWB

— Dametrious Crownover (@Dametrious1) October 13, 2020
Crownover is a consensus four-star recruit and considered one of the top two-way prospects in Texas for the Class of 2021. Since hauling in the game-clinching touchdown catch in the 2018 state championship game to help the Zebras win their first of back-to-back state titles, Crownover's recruiting process went from 0 to 60 in a flash.
In mid-July, Crownover revealed his "top 5" list, which included Baylor, Nebraska, Ohio State and Texas in addition to Texas A&M.
The 6-foot-7, 275-pound defensive end and tight end also held offers from the likes of Auburn, Colorado, Georgia, LSU, Miami, Michigan, Oklahoma State, Oregon, Ole Miss, Texas Tech and TCU, among others.
Ultimately, Crownover decided on Texas A&M for a number of reasons. Chief among them? Family.
One of Crownover's older brothers, Earnest Crownover III, an all-state player for the Zebras in 2016-17, is in his first season playing running back for the Aggies after a standout 2019 season at Kilgore College.
"I been talking about it with my family a while," Dametrious Crownover said. "Knowing my brother's up there and my sister is planning on going there to finish her school, so I've got family there and it's not too far away from home."
Additionally, Crownover said he likes the family atmosphere in College Station.
"I like the tradition and everything they have going on there, it's a big part of their school," Crownover said. "If you're an Aggie, you're an Aggie. It's like, if you're broke down on the side of the road, they're going to help you out. It's a big family-type deal up there with the community."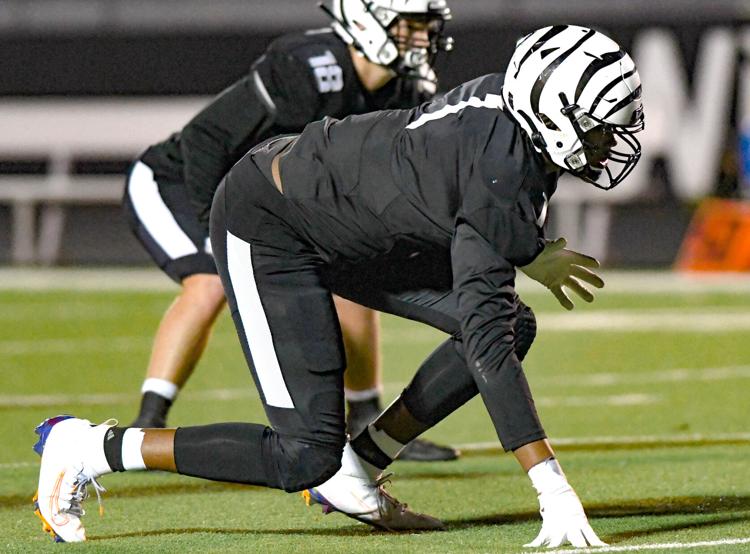 After receiving offers from the top programs in the nation, Crownover said it took a while to land on his final decision, but said he arrived on A&M a couple weeks ago after one of several conversations with his family. Crownover said there was never an "aha" type of moment, but his decision was the result of numerous conversations and plenty of thinking.
"Pretty much just talked to my family about it," Crownover said. "We talked about what's going to be the best decision, just in general, even outside of [football]. If I don't go play in the NFL or anything, they have the Aggie Network and stuff like that to always help you out."
Last May, Crownover said he was going to take his time and go through all of his options before making a decision — and he followed through on that.
"I don't have any specific college in mind right now; I'm just excited to have options," Crownover told the Times-Review in May 2019. "Me and my parents have discussed these colleges. My parents want a program that is stable and will treat me like family. I am in no rush to make a decision."
Crownover has been recruited at tight end by some schools and defensive end by other schools. It's not clear what position Crownover will play at Texas A&M just yet, as reports indicate the Aggie coaching staff will wait to get him on campus before making that decision.
"I don't have any preference [on position]," Crownover said. "Whatever they need me to play, I'll be willing to play."
Some websites, including 247sports, said it's not out of the question that Crownover might get a look at offensive line [likely tackle] considering his size and build.
Grandview Coach Ryan Ebner said he's proud for Crownover to have this opportunity.
"To have a kid from our school be able to go to a big-time SEC school like that is awesome, first and foremost for him but also for this community and program," Ebner said. "I think it's going to be a great opportunity for him not only to be able to further his education and play football there, but also get to play with his brother and it will be an easy trip for their family. I think it's a great decision for him to choose that university."
Crownover received his first Division I offer on Jan. 17, 2019 from Southern Miss and then the Power 5 offers came flowing in from the likes of Oklahoma State, Baylor and Michigan.
"It's been great, knowing I could pretty much go anywhere in the country to play," Crownover said. "It was cool getting to build relationships with coaches and everything."
Crownover, who comes from a tight-knit family, said he's grateful for support he's received from family, teammates and friends.
"I want to give a shoutout to my mom and dad," Crownover said. "And my brothers for being there no matter what and helping me and going up to the field. [I want to thank] my teammates and my head coach, Ryan Ebner. And all of my teammates and family for supporting me every step of the way. And Noah Patterson for helping me with the [commitment] video."
Even though Crownover has received a lot of attention in his recruiting process, Ebner said he's remained an unselfish player when it comes to helping the team win. And the Zebras' head coach also said Crownover's impact in Grandview goes beyond the field.
"He does it a bunch of different ways," Ebner said of Crownover's contributions to Zebra athletics. "He's always willing to help anybody that's trying to get better such as younger kids if they've got questions. He does a lot of things fundamentally sound. He doesn't have a problem from someone else making plays because he's the one facing a double team. He's always been really great about that.
"And just for the community, the time he spends with younger kids in elementary, taking pictures with them and going to talk to them and helping them. When you're a coach and you're trying to build on a program that's had a lot of success with players like him and Dane [Jentsch] and [Matt] Lehnhardt and [Luke] Ferguson, if they're willing to donate their time to the younger kids, that's big. Your success is great for you now but long-term for the program it's what you give to the kids. I think he's done a great job of buying in and doing that. These kids in Grandview look up to him. So for him to have the willingness to take time for those kids, it's a huge impact in our community."
Crownover burst onto the scene at Grandview High School as a star basketball player his freshman season, helping lead the Zebras to the UIL state basketball tournament in 2017-18.
He provided a huge impact in helping Grandview beat Malakoff for the 2018 Class 3A state title when he caught a 15-yard touchdown pass in the final minute for a 35-21 win. Additionally in that game, he had a sack and several quarterback pressures, catching the eyes of recruiters across the nation with that performance as it was the first look at Crownover for many coaches.
Crownover has earned all-district and All-Johnson County honors for Grandview football after his sophomore and junior seasons. 
As a junior in 2019, he was a first-team selection on the all-district and All-Johnson County football teams after racking up 62 tackles, 15 tackles for loss, 5.5 sacks and four passes defensed as he helped the Zebras win back-to-back state titles. In 2018, Crownover earned second-team all-district and all-county honors after he recorded 61.5 tackles and four sacks that season.
And Crownover made his presence known right away in week 1 this season as he had a game-sealing forced fumble and fumble recovery in overtime against Malakoff.
The multi-sport standout has even more accolades in basketball as a three-time All-Johnson County superlative selection, earning newcomer of the year honors as a freshman in 2017-18 and defensive player of the year accolades as a sophomore and junior the past two seasons.
Crownover's father, Earnest 'Jojo' Crownover, played college football at Baylor.